PolyU supports the Government's InnoHK initiative
InnoHK is a flagship innovation and technology (I&T) initiative of the HKSAR Government that aims to promote international research collaboration with a view to putting Hong Kong on the global advanced technology map. After a rigorous selection and assessment process, 28 research laboratories have been admitted to the InnoHK initiative, pooling around 2,000 researchers locally and from all over the world.
The InnoHK Launch Ceremony was successfully held in May, officiated by Mrs Carrie Lam, the then Chief Executive of the Hong Kong Special Administrative Region; Professor Tsui Lap-Chee, President of the Hong Kong Academy of Sciences; Dr Sunny Chai, Chairman of the Hong Kong Science and Technology Parks Corporation; and heads of universities.
PolyU is strongly supporting this landmark initiative, and in partnership with world-renowned institutions, has established three pioneering research centres under InnoHK, which focus on artificial intelligence, design, and vision science technologies to positively impact the world. The three research centres are the Laboratory for Artificial Intelligence in Design (AiDLab) with the Royal College of Art; the Centre for Advances in Reliability and Safety (CAiRS) with the University of Maryland, College Park; and the Centre for Eye and Vision Research (CEVR) with the University of Waterloo. At the launch event, PolyU's President, Professor Jin-Guang Teng, met the researchers at the centres and learned about their latest activities and research endeavours.
Click here to read comprehensive details about the centres.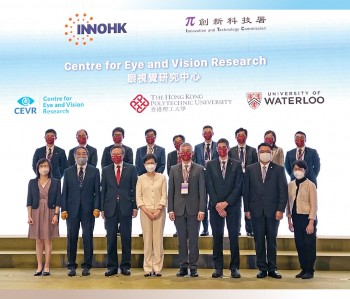 PolyU has also become the first local collaborating institution of the Centre for Artificial Intelligence and Robotics, Hong Kong Institute of Science & Innovation, Chinese Academy of Sciences (CAS). Established by the Institute of Automation of CAS, the Centre has been admitted to AIR@InnoHK (Artificial Intelligence and Robotics) under InnoHK Clusters.
PolyU will remain devoted to leveraging its expertise in interdisciplinary research and technological innovation for the benefit of Hong Kong, the Nation and the world.