Mobile app offers timely English support to students on capstone projects
To facilitate final year students' preparation of their capstone projects as part of the graduation requirements, PolyU has led a joint-university team of English language teachers and academics from multiple disciplines to develop the 'Capstone Ninja' mobile app, offering discipline-specific English support to students.
Discipline-specific English materials and project management solutions
Spearheaded by PolyU, the development of Capstone Ninja is an inter-institutional English Across the Curriculum (EAC) project funded by the University Grants Committee. The project team includes experienced educators and technical staff from City University of Hong Kong, Hong Kong Baptist University, The Chinese University of Hong Kong, and The Hong Kong University of Science and Technology.
Capstone Ninja addresses the needs that final-year students have when writing and presenting their capstone projects. It delivers customised and discipline-focused English learning materials specific to the needs of students from different disciplines and institutions, and offers mobile learning solutions through its interactive features.
---
The Capstone Ninja
• contains discipline-focused English learning materials
• provides a customisable to-do list to manage project timelines
• facilitates single and/or group chats between students and supervisors
• enables effective remote learning
---
Dr Julia Chen, Director of the Educational Development Centre, described Capstone Ninja as both a 'language skills app' and a 'one-stop shop app': "We have designed this app to help improve students' overall competence in writing, organising, presenting and defending their capstone projects".
| | | |
| --- | --- | --- |
| | | |
| Dr Julia Chen | | Dr Grace Lim |
Undergraduate students were involved in the app development and video content production processes. They reflected that they "now understand the importance of preciseness and conciseness" in language use.
International recognition for this widely used app
Capstone Ninja contains 76 English learning modules that have been used by students and teachers from 21 departments across the five universities on the project team, as well as over 10 other tertiary institutions in Hong Kong, Mainland China and East Asia.
Capstone Ninja won a Community Award in the 2020 Learning Technologist of the Year Awards organised by the Association for Learning Technology (UK) and was selected as a Finalist in the 2021 EdTech Cool Tool Awards from EdTech Digest.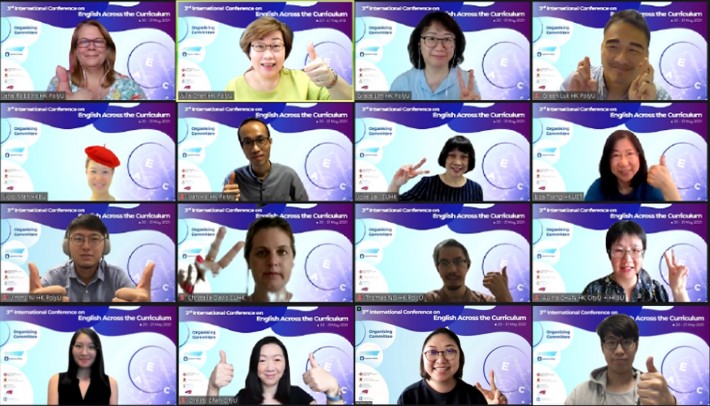 The main project team members of Capstone Ninja at the international EAC conference that they organised in May 2021.