Service-Learning pedagogy wins international award
PolyU strives to give future leaders a strong sense of social responsibility and a global perspective by offering a holistic education and varied learning opportunities. The success of this approach was recently recognised when the University received the Times Higher Education Awards Asia 2022: Teaching and Learning Strategy of the Year award.
The University, which competed against nearly 500 entries to win the award, has integrated a comprehensive Service-Learning component into its undergraduate curriculum to help meet demand for adaptable, socially responsible, and civic-minded professionals. The mandatory pedagogy focuses on experiential learning, and integrates meaningful community service with academic study and critical reflections to deepen students' understanding of academic concepts and how they can be applied for the betterment of society. It also trains the students to collaborate with others, solve problems creatively and think critically, and builds their character, preparing them to be 21st-century global citizens.
[The Service-Learning programme] gives students a chance to apply what they have learned in their professional fields to solving real-life problems. In this way, PolyU instils a sense of social responsibility in its students.
~ The judges of THE Awards Asia 2022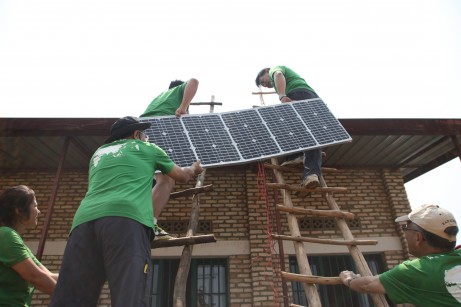 The programme has had a positive impact on its community partners and beneficiaries, while also contributing to multicultural and cross-cultural engagement, and the enhancement of international efforts for service learning and community engagement.
Since the introduction of the pedagogy in 2012, nearly 29,000 students have engaged in Service-Learning projects in Hong Kong, Mainland China, Cambodia, Vietnam, Rwanda and beyond, contributing close to 1.2 million service hours. In 2021 alone, 4,508 students took part, contributing 180,000 hours of service, including 33,000 hours of offshore online service to communities in Mainland China, Southeast Asia and Africa.