PolyU honours six young innovators
Emboldened by energy, passion and courage, young researchers have much to offer in identifying and addressing complex global problems. Recently, six PolyU young researchers were honoured with the PolyU Young Innovative Researcher Award (YIRA) 2022 in recognition of their outstanding research efforts in tackling global challenges in the opening ceremony of the PolyU InnoTech Open Day. Congratulations!
Committed to research excellence and creating positive social impact through innovation, PolyU launched YIRA to honour young PolyU researchers under the age of 35 who have demonstrated innovative thinking, contributed to technology advancement and turned innovative ideas into solutions for social problems, bringing forth positive changes.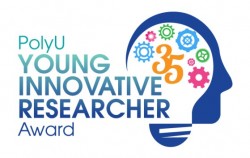 The YIRA assessment panel, comprising Professor Jin-Guang Teng, President of PolyU; Professor Wing-tak Wong, Deputy President and Provost; Dr Miranda Lou, Executive Vice President; Professor Christopher Chao, Vice President (Research and Innovation); and Professor Larry Chow, former Director of Research and Innovation, had reviewed over 59 submissions across 22 departments before selecting the six YIRA awardees this year.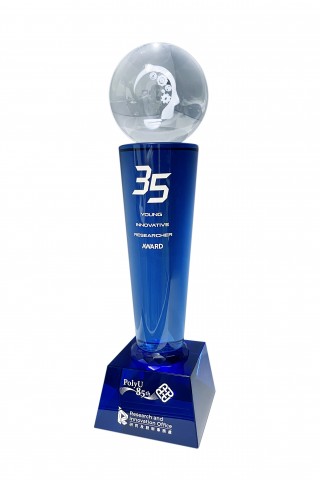 The research achievements of the six awardees covered a wide range of research areas, including engineering, education, sustainability, transportation, and social care. The selected awardees have shown advanced knowledge in their fields and developed unique, practical technology or innovation with global impact.
"The Young Innovative Researcher Award is for talented faculty members who epitomise PolyU's commitment to research excellence. I offer my heartiest congratulations and thanks to each of them for their contributions to a better and brighter future," Professor Teng said.
---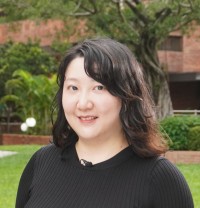 Dr Chen Si
Assistant Professor, Department of Chinese and Bilingual Studies, Faculty of Humanities

Research Area: Robot-assisted training for children with autism spectrum disorder
Innovation for me is to use finite building blocks to create infinite possibilities.
Our team aims to develop robot-assisted training programmes to improve the use of speech prosody by autistic children. Our research has potential clinical applications and the developed training programmes can be used in various settings.
Specifically, the research team is developing training programmes to improve the use of speech prosody and emotion recognition of autistic children.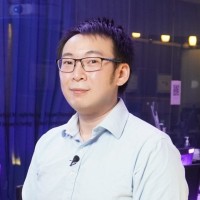 Dr Chen Zibin
Assistant Professor, Department of Industrial and Systems Engineering, Faculty of Engineering

Research Area: Ferroelectric materials for new generation memory devices
I am a material scientist, providing solutions to increase the data storage capacity of computers and extend the lifetime usage of memory devices. My research will help build a green world with less electronic waste.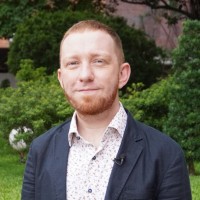 Mr Daniel Keith Elkin
Assistant Professor, School of Design

Research Area: Tai O village pedestrian traffic monitoring project, stilt house 3d scanning project, Lantau conservation fund village revitalization project
Innovation means understanding how knowledge, problems, and their solutions are intersectional. In urban and post-colonial space, innovation means working with the right viewpoints, actors, and technologies to create long-term change.
My collaborators and I want to address challenges posed by changing urban environments and the contests between individual choice, collective needs, and collective resources. Our research is significant in its conservation of the stilt houses in Tai O, and in developing collaborative solutions for Tai O's changing future.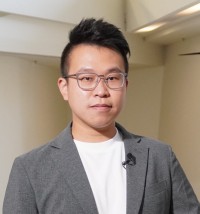 Dr Franco Leung King-chi
Assistant Professor, Department of Applied Biology and Chemical Technology, Faculty of Science

Research Area: Photo-responsive amphiphiles for supramolecular robotic system
Nature, as the source of inspiration to scientists, encodes numerous supramolecular assembled systems to perform sophisticated biological functions.
My research project aims to develop a research platform for fabrication of novel biomimetic supramolecular soft robotic systems with the smallest machine in the world: 'artificial molecular machinery'. This research approach creates the photo responsive soft materials with excellent biocompatibility for future advanced biomedical materials and related technological developments.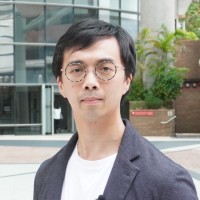 Dr Benedict Lo Tsz-woon
Assistant Professor, Department of Applied Biology and Chemical Technology and Department of Applied Physics, Faculty of Science

Research Area: Designing multinuclear solid atomic catalysts for energy and sustainability applications
With a strong passion for chemistry and materials, my research vision is to tackle one of the biggest challenges in heterogeneous catalytic science – the design of catalytic landscapes with high precision and ease of green production.
The objective of my current research is to build a solid foundation for developing a research platform for new-generation solid atomic catalysts which will ultimately reach the molecular frontier. Our team is devoted to two major directions, namely 1) green and modern drug development by C–C and C–X cross-coupling reactions, and 2) decarbonization by electrocatalytic CO2 conversion to valuable chemicals.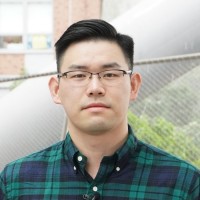 Dr Tommy Wei Minchen
Associate Professor, Department of Building Environment and Energy Engineering, Faculty of Construction and Environment

Research Area: Human vision-based solutions for lighting and imaging systems
My research focuses on fundamental colour science, which aims not only to reveal new mechanisms about how the human visual system responds to light and colour, but also to develop new algorithms and solutions for the various relevant industries.
Many of our research findings and solutions have been adopted by various world-leading high-tech companies, and are widely adopted by various products used in daily lives, such as lighting equipment, cameras, displays, smartphones, and VR/AR/MR enabled metaverse systems.