Celebrating our 85th Anniversary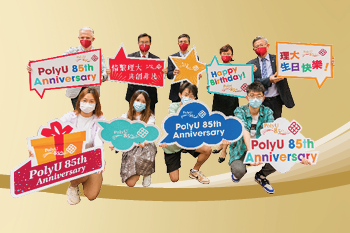 'We Are PolyU. Together We Excel' is the theme of the University's 85th Anniversary celebrations. It highlights that PolyU's impressive growth is the result of the University community and the broader Hong Kong community working together. To celebrate this anniversary, which marks a significant milestone in its development, PolyU has organised a series of art and culture events. The events, which range from music performances, to street dance, to a drama show, create a festive atmosphere on campus for staff, students and alumni to enjoy.
PolyU 85th Anniversary Art and Culture Series
PolyU Alumni Band Concert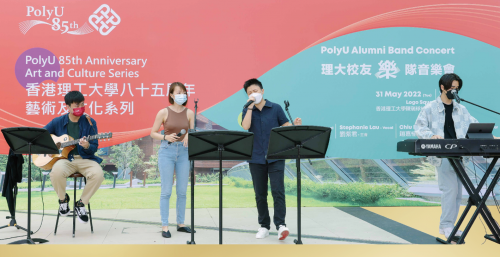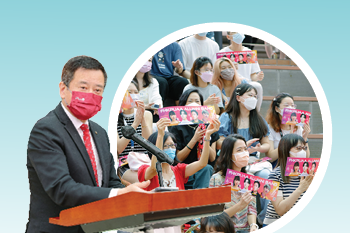 In May, around 200 PolyU members gathered at the Logo Square to enjoy a pop concert performed by the PolyU Alumni Band. The performance comprised of Western and Cantonese pop music, as well as original compositions by band member Eagle Chan, and the University's 85th Anniversary Theme Song. Professor Ben Young, Vice President (Student and Global Affairs), delivered opening remarks to introduce the concert.
'The Power of Passion' – A Concert by PolyU Orchestra and PolyU Choir
Hundreds of music lovers packed the Jockey Club Auditorium in mid-June for a feast of classical music performed by the PolyU Orchestra and PolyU Choir, led by Mr Leung Kin-fung, Artistic Director and Conductor of the PolyU Orchestra, and Mr Alex Tam, Conductor of the PolyU Choir.
Their repertoire included Schubert's Symphony No. 9 'The Great', Verdi's Overture for his opera 'La Forza del Destino', John Rutter's choral work 'The Lord Bless You and Keep You', and a unique medley interweaving the PolyU 85th Anniversary Theme Song and popular Canton pop hits from the past eight decades.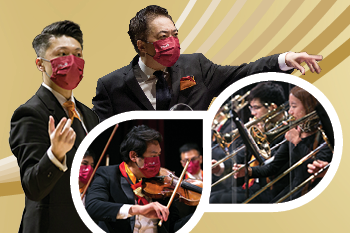 Street Dance Performance by Youth Outreach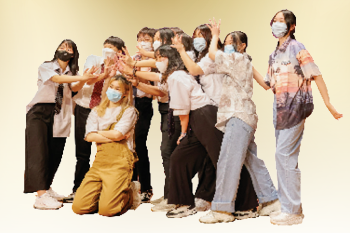 On a regular day in late July, staff and students enjoyed a blend of different forms of street dance during a lunchtime performance by instructors and students from the School of Hip Hop, part of Youth Outreach.
Energetic young dancers showed off their hip-hop skills at the PolyU Chiang Chen Studio Theatre. Their street dance performance got everyone grooving.
FHKPUAA Chinese Orchestra Concert
In early August, Chinese music lovers enjoyed an enchanting concert performed by the FHKPUAA Chinese Orchestra, made up of PolyU alumni and students. Conducted by a seasoned instructor of Chinese music, Mr Wong Chi-wah, the concert began with the PolyU 85th Anniversary Theme Song, followed by pipa solo 'Dance of the Yi Tribe', guzheng ensemble 'South of the Cloud', and piano concerto 'Love River'. The programme also included two captivating orchestral pieces.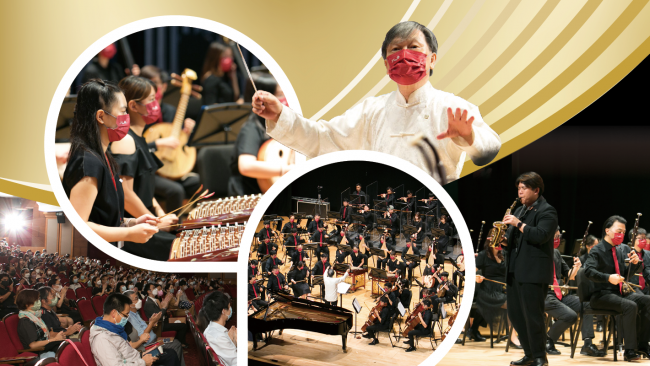 The FHKPUAA Chinese Orchestra started out as a music group founded by Chinese orchestral music enthusiasts in 1973. It was officially established in 2019 with the support of the University and The Federation of The Hong Kong Polytechnic University Alumni Associations.
PolyU 85th Anniversary - more to come
- Public lecture - A New Vision for Carrying the Traditional Culture Forward (October)
by Dr Louis Ng Chi-wa, Director of Hong Kong Palace Museum
- Dialogue with Edgar Cheung Ka-long (October)
Dr Edgar Cheung Ka-long – PolyU Honorary Doctorate 2021 and 2021 Tokyo Olympic Gold Medalist
- Grand Concert (November)
- Gala Dinner (November)
Click for even more.
---
PolyU Power Up Exercise x 85th Anniversary Theme Song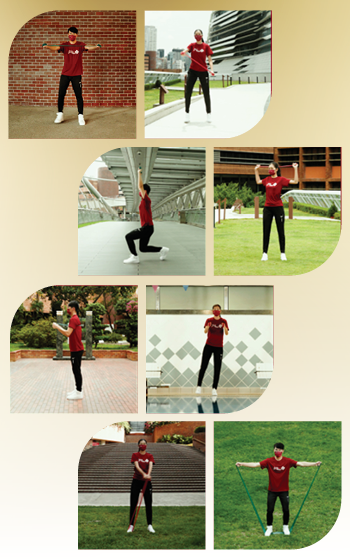 To promote health and wellness, the University asked its Department of Rehabilitation Sciences (RS) to draw on its clinical expertise to design the PolyU Power Up Exercise. The Exercise is featured in a video which uses the 85th Anniversary Theme Song as background music.
In the video, PolyU's Council Chairman Dr Lam Tai-fai and President Professor Jin-Guang Teng join Associate Head of RS and Director of PolyU Rehabilitation Clinic Professor Amy Fu, who led the design of the Exercise. Six PolyU student-athletes demonstrate the eight different movements which help to train various muscle groups to improve cardiorespiratory fitness.
Alongside the launch of the video, the University distributed a 'PolyU Power Up Exercise Band' to all full-time PolyU staff, to encourage them to practisethe Exercise with their colleagues, friends and family members to stay healthy together.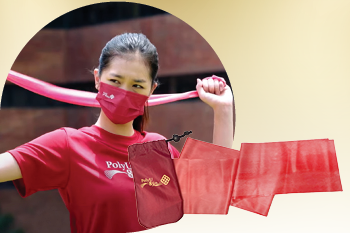 Watch the video and exercise now.
Share your version of the Theme Song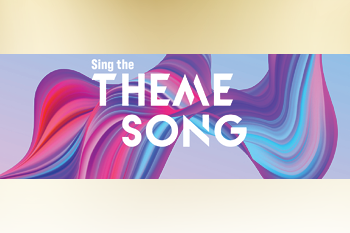 Together We Sing
PolyU members are encouraged to sing the 85th Anniversary Theme Song in any way they like and share their audio or video files on the Anniversary website. All participants will receive a PolyU souvenir!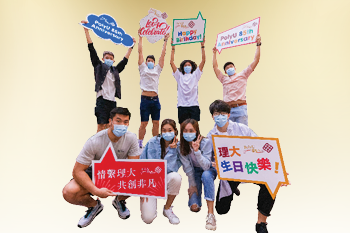 Create Your Theme Song Music Video (MV)
PolyU fans may also create a Theme Song MV. They may perform the song by rapping, a cappella, as band music, singing in foreign languages, or any other way their creativity inspires them. They can submit their MV for the opportunity to win a staycation voucher for Hotel ICON, as well as to perform at one of the University's future events.
More details about the contest