House of Dreams captures prestigious Human City Design Award Grand Prize
The 'House of Dreams', a pioneering and impactful collaborative design project led by PolyU researchers, brought home the Grand Prize of the Human City Design Award, in a three stage competition that had over 100 entries from around the world. The Award scheme, now in its third year, is organised by the Seoul City Municipal Government, Seoul Design Foundation and UNESCO to recognise design projects that benefit people, society and the environment.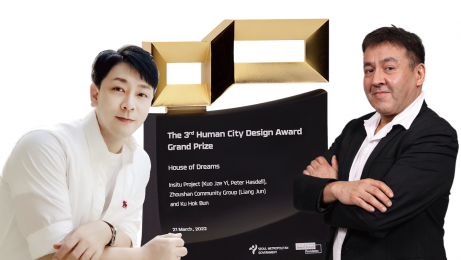 An exemplar of human-centred design
The House of Dreams, which aimed to revitalise and re-energise a cave settlement in Zhoushan village in Henan Province, is a community action research by design project by the Insitu Project research platform, led by Associate Dean Peter Hasdell of PolyU's School of Design and Kuo Jze Yi, Assistant Professor of the School of Architecture and Urban Planning at Shenzhen University. The revitalised cave settlement, completed in 2020, was co-designed and implemented by the Insitu Project together with Liang Jun of the Zhoushan Community Group, Dr Ku Hok-bun from the Department of Applied Social Sciences of PolyU and other parties.
The three-year project involved participatory design and construction, with the area being rebuilt by local villagers from recycled construction and household waste. The revitalised space has guest rooms, amenity facilities, a shared kitchen, a dining room and an exhibition space. A villager who participated in the project said, "Through this project, we were able to take pride in our community and deeply understood ways to reuse waste."
Professor Rachel Troye, a jury member, praised the project, saying "It created and developed a model by allowing participation of under skilled local residents based on true cooperation and community. Its result was also aesthetically excellent."
Apart from the Human City Design Award Grand Prize, the project has also received the 2022 International Union of Architects 2030 Award, the 2022 Azure Magazine Award for Social Good, a Golden Award in the Taipei International Design Award 2021, and First Prize in the 2021 Architecture MasterPrize.
Click to watch a video to learn more about the project.