PAIR to lead interdisciplinary research
The PolyU Academy for Interdisciplinary Research (PAIR) combines expertise across disciplines to support innovation and find practical solutions to major global and societal issues. PAIR, which is made up of 11 Research Institutes (RIs) and five Research Centres (RCs), was inaugurated at the PolyU InnoTech Open Day. It is the largest research platform of its kind in Hong Kong and the Greater Bay Area (GBA) to foster interdisciplinary research, partnerships with internationally renowned scholars, and technology transfer.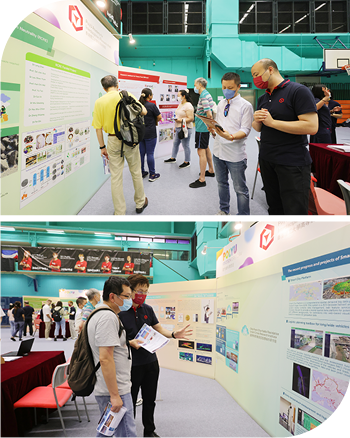 An exhibition introducing PAIR's cutting-edge research projects caught the attention of visitors.
Research Institutes under PAIR
Research Institute for Advanced Manufacturing
Research Institute for Artificial Intelligence of Things
Research Institute for Future Food
Research Institute for Intelligent Wearable Systems
Research Institute for Land and Space
Photonics Research Institute
Research Institute for Smart Ageing
Otto Poon Charitable Foundation Smart Cities Research Institute
Otto Poon Charitable Foundation Research Institute for Smart Energy
Research Institute for Sports Science and Technology
Research Institute for Sustainable Urban Development

Research Centres under PAIR
Research Centre for Chinese Medicine Innovation
Research Centre for Deep Space Explorations
Mental Health Research Centre
Research Centre for Resources Engineering towards Carbon Neutrality
Research Centre for SHARP Vision