PolyU Shenzhen Base fostering talent, innovation and technology development in GBA
PolyU keeps on expanding its Mainland reach to seize different opportunities and contribute to the development of the Nation.
In 2000 and 2006, the PolyU Shenzhen Research Institute and PolyU Industry-Education-Research Base (Shenzhen) Company Limited were established respectively. Collectively known as PolyU Shenzhen Base, they are the extensions of PolyU and important footholds in the Greater Bay Area and have made outstanding achievements in scientific research, education, knowledge transfer and innovative entrepreneurship over the years.
Multi-dimensional scientific research
Currently, the PolyU Shenzhen Base has a number of laboratories and research platforms as listed below, occupying more than 6,500 square metres of floor space.
PolyU Shenzhen Base: Laboratories and Research Platforms
State Key Laboratory of Chemical Biology and Drug Discovery (Shenzhen Base)
State Key Laboratory of Ultra-precision Machining Technology (Shenzhen Base)
Shenzhen Key Laboratory of Food Biological Safety Control
Shenzhen Key Laboratory of TCM Formulation, Toxicology and Pharmacology
State Key Laboratory of Chinese Medicine and Molecular Pharmacology (Incubation), Shenzhen
PolyU-CSRD Joint Innovation Centre for Rail Transit Safety Monitoring Technology
Centralised Animal Facility (Shenzhen)
Photonics Research Centre (Shenzhen)
Life Science Research Laboratory
Biophotonics Laboratory
Land Surveying and Geo-informatics Research Centre
Research Centre for Sustainable Urban Development
Advanced Textile Design (Kansei Engineering) Laboratory
Brain Science and Language Technology Laboratory
CAS AMSS-PolyU Joint Laboratory of Applied Mathematics
Biomedical Material and Bio-manufacturing Laboratory
University Research Facility in Life Sciences (Shenzhen)
University Research Facility in Chemical and Environmental Analysis (Shenzhen)
---
Involvement in national scientific research projects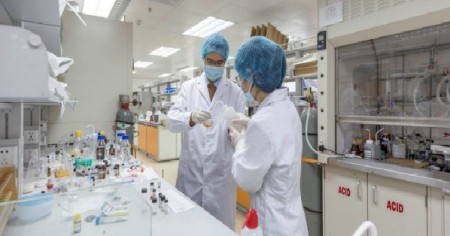 Since 2011, the PolyU Shenzen Base has undertaken over 800 scientific research projects from different levels of government agencies and industries including the Ministry of Science and Technology, the National Natural Science Foundation of China, as well as the Guangdong Province and Shenzhen City governments with an overall value amounting to nearly RMB600M. These projects include the Chief Scientist projects of the National Key Research and Development Programme of China and major projects or issues related to the Nation's Sci-Tech Innovation 2030 Agenda.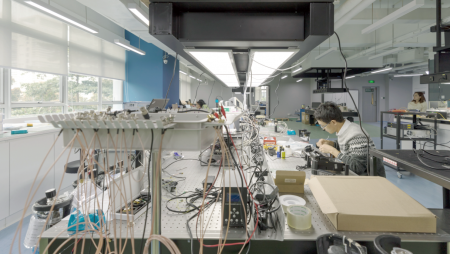 More than 200 projects are now underway in these research platforms, involving about 200 researchers. Over the years, the PolyU Shenzhen Base has been granted 151 patents and 17 software copyrights and has nurtured 28 postdoctoral researchers. The PolyU Shenzhen Research Institute has been awarded 'Outstanding Research Institute' by the Science, Technology and Innovation Commission of Shenzhen Municipality for 16 years consecutively, starting from 2005.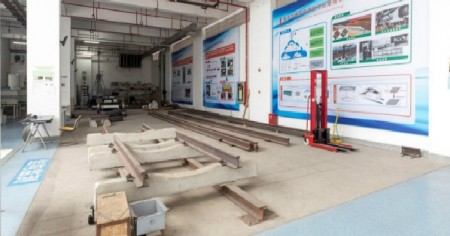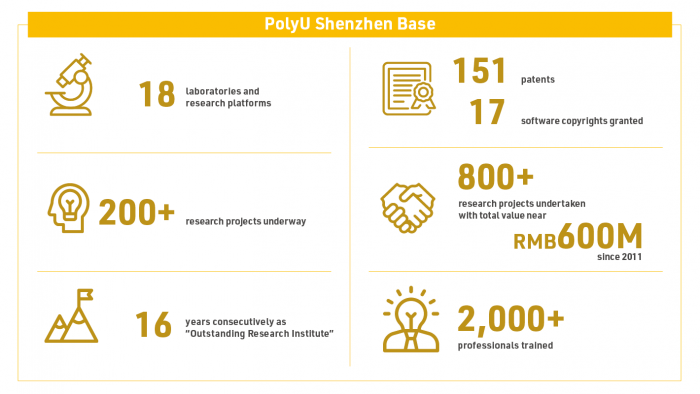 Nurturing talents
The PolyU Shenzhen Base also nurtures talents for the Greater Bay Area by harnessing PolyU's strengths and featured disciplines. Since 2001, the Base has undertaken a number of courses that PolyU co-organises with colleges in the Mainland such as Master of Business Administration, Master of Social Work, Master of Science in Hotel and Tourism Management, and Master of Arts in Fashion and Textiles. The total number of students enrolled to date is nearly 1,000.

Meanwhile, the PolyU Shenzhen Base also customises courses for governmental institutions and different industries, covering areas such as sustainable development, innovation and entrepreneurship, and healthcare. More than 2,000 professionals, business leaders and elites have attended these courses so far.
Knowledge transfer enhances industrial competitiveness
Many companies have recognised that cutting-edge research and technology can help them innovate and develop sustainably, so their demand for the commercialisation of scientific research results is rising. The PolyU Shenzhen Base is also committed to transferring the latest scientific research results to various industries. It promotes industry-academia-research cooperation by holding lectures, salons, exchange meetings, international conferences, etc., thereby driving scientific research "from bookshelves to product shelves".
In recent years, the Base has held a number of events on topics such as big data, photonic technology, food safety, the Belt and Road Initiative, smart cities, biomaterials, and sensor networks, promoting extensive exchanges with industry.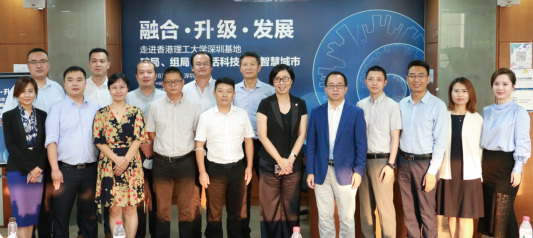 PolyU Shenzhen Base, China New Industry Alliance, China Merchants Shekou and Surbana Jurong Group jointly organised a knowledge transfer seminar with the theme of "Integration, Upgrade, Development" to explore cooperation opportunities in urban planning and development.
After years of development, the Shenzhen Base not only undertakes scientific research projects of the Nation and government agencies but also cooperates with industries to accept commissions and joint R&D projects. The Base has undertaken a number of scientific research projects, and has obtained more than 150 patents, which can be divided into the following categories:
Computer and communication, including image recognition, virtualised environment technology, etc.;
Biological and medical, including pharmaceutical preparations and applications, food testing, etc.;
Construction machinery, including mechanical devices and platforms, damping devices, etc.;
Construction engineering, including land surveying and geo-informatics, remote sensing technology, etc.;
Electronic and optical communications, including optical fibre technology, 3D ultrasound imaging, etc.;
Clothing and textiles, including macromolecule materials, polymer materials, etc.
These patented technologies can help industry partners improve their competitiveness, thereby promoting technological innovation as a new engine of economic development.

Entrepreneurial cradle
In 2015, PolyU InnoHub@Shenzhen was set up atPolyU Shenzhen Base. Functioning the same as its Hong Kong counterpart, InnoHub@Shenzhen serves to empower innovative entrepreneurship by providing research teams or startups with shared spaces and facilities, as well as various sorts of financial support.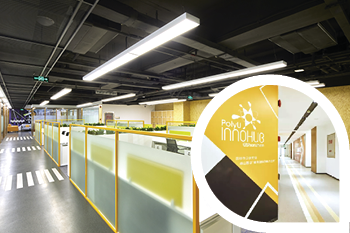 Shared spaces and facilities in InnoHub@Shenzhen
In the past few years, more than 180 startup teams or companies from diverse sectors such as artificial intelligence, healthcare, and education have enrolled in InnoHub@Shenzhen. Among them, 70% have been granted seed funding or other funds from PolyU. Currently, there are 95 teams or enterprises being incubated in the facility, including 66 teams that are being jointly incubated by InnoHub@Shenzhen and InnoHub@Hong Kong.
With a view to promoting entrepreneurial exchange, InnoHub@Shenzhen has been actively organising a number of entrepreneurship competitions and events and has recommended over 100 PolyU teams to participate in different innovation and technology (I&T) entrepreneurship competitions, bringing home more than 50 awards in total.
Outstanding PolyU InnoHub@Shenzhen entrepreneurs
Dr Aotian Song, Founder and Chairman of Leadus Glass Technology (Shenzhen) Company Limited and Dr Li Siyang, Co-founder & CEO of Goal Technology (Shenzhen) Company Limited, are two PolyU alumni whose companies were recommended by InnoHub@Shenzhen to compete in the Shenzhen Innovation and Entrepreneurship Competition, and both advanced to the National Competition of China Innovation and Entrepreneurship Competition.
Dr Aotian Song
PhD in Building Environment and Energy Engineering, PolyU
Founder and Chairman, Leadus Glass Technology (Shenzhen) Company Limited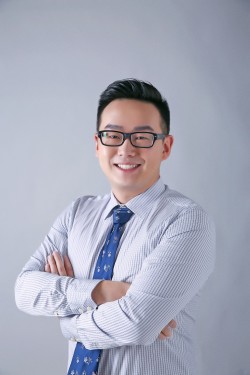 In 2021, Leadus Glass Technology emerged out of 6,432 entries in the Shenzhen Innovation and Entrepreneurship Competition through the Shenzhen-Hong Kong-Macao University Qualifier Area, subsequently advanced to the National Competition of the 10th China Innovation and Entrepreneurship Competition, and finally won the Excellence Award in the Enterprise Group of the National Competition.
Leadus Glass Technology invented vacuum insulated glazing technology which enormously increases the energy-saving performance of glass, thus increasing the energy efficiency of buildings.
---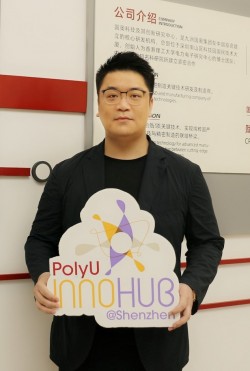 Dr Li Siyang
PhD in Electrical Engineering, PolyU
Co-founder & CEO, Goal Technology (Shenzhen) Company Limited
In 2019, Goal Technology advanced to the industry finals of the 8th China Innovation and Entrepreneurship Competition through the Shenzhen-Hong Kong-Macao University Qualifier Area and finally won the Outstanding Enterprise Award.
Goal Technology specialises in producing high-precision manufacturing equipment and motors.
---