'Dolphin' leads your way in indoor venues PolyU-supported startup finds success with positioning system
Dr Gary Leung
---
MBA, PolyU (2001)

MSc in Multimedia & Entertainment Technology, PolyU (2012)

MSc in eCommerce, The Chinese University of Hong Kong

Engineering Doctorate programme, PolyU (2022)

Co-Founder and CEO of Blue Pin (HK) Limited
---
Dr Gary Leung, Co-Founder and CEO of Blue Pin (HK) Limited, turned his PhD research project to a startup business with the help of PolyU's entrepreneurship education and funding support.
Excelling with an indoor positioning solution
If you get lost in the streets, the apps in your phone with the global positioning system (GPS) can be a lifesaver. However, GPS satellite signals are blocked or reflected by walls and thus do not work indoors. Gary has spent years on research and development to find a solution. Now, his 'Dolphin' can be your indoor guide.
Dolphin Indoor Positioning System (IPS) is the flagship product of Blue Pin. It surpasses other IPSs with its accuracy, improved security, and convenience of use by incorporating two major technologies. It uses Bluetooth Low Energy (BLE) beacons instead of Wi-Fi, magnetic field and other popular IPS solutions in the market and is powered with Blue Pin's patented Cooperative Positioning technology, which can extend the IPS network and strengthen its signal where reception is poor.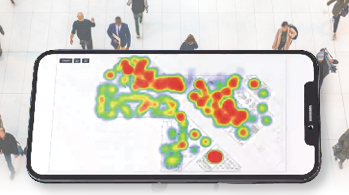 "The idea is to send the positioning signal from a beacon to nearby smartphones, which in turn act as beacons themselves to spread the signals like a relay race," Gary explained. "In this way, the signals can go around barriers and remain strong and stable throughout the whole venue without any dead spots."
With an accuracy of up to three metres, Dolphin IPS helps users navigate indoors and find directions with ease, enhancing user experience. Besides, it also serves marketing or research purposes by providing data for people flow analysis on visitor behaviours and demographics.
Celebrating initial success
The promising solution has been widely recognised locally and internationally. Patented in the US, China and Hong Kong, Dolphin IPS has already been deployed in various indoor spaces in Mainland China and Hong Kong, such as Hong Kong's Asia World Expo, InnoCentre, and PolyU's Industrial Centre, as well as exhibition centres and a shopping mall in the Mainland.
For its technological excellence, Blue Pin has won a string of awards including a Bronze Award at the Hong Kong ICT Awards 2021, a Gold Medal at the 2021 Special Edition of the Geneva International Exhibition of Inventions, and a Gold Medal at the 71st International Trade Fair for Ideas, Inventions and New Products (iENA 2019) in Germany.
Launching a tech startup while pursuing an engineering doctorate
While doing his Engineering Doctorate study at PolyU, Gary received practical entrepreneurial training in areas such as financial management, marketing, and patent application. "That was a turning point in my life," he recalled. "My then project advisor Ir Dr Daniel Lun of the Department of Electronic and Information Engineering believed that my research has the potential to tackle real-life problems, so he encouraged me to translate the results of my research project into a product to capture the market needs." In 2018, Gary plucked up the courage to start the tech enterprise Blue Pin, which successfully received funding support from PolyU's Micro Fund and PolyU Tech Launchpad Fund shortly after its establishment.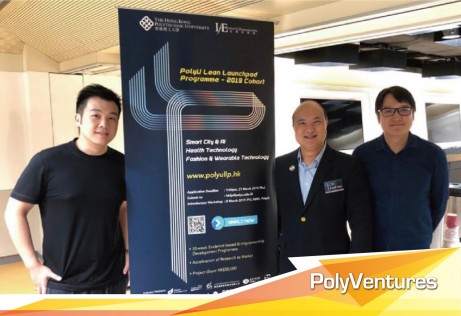 The University has also helped Gary and Blue Pin to take wing with its entrepreneurship programme, the Lean Launchpad. Gary was assigned a mentor, Mr Frank Yam, Founder and Chairman of Focus Strategic Group Inc. Mr Yam did not only broaden Gary's horizons, but also connected him with many industry players, including the management of Asia World Expo which subsequently became Blue Pin's first customer.
Blue Pin now has 13 team members, most of whom are from PolyU. Gary attributes Blue Pin's success to his partners, including Mr Yam and a current engineering doctorate student of PolyU Mr Eric Cheok, as well as other teammates who have demonstrated a good team spirit and the ability to cope with the daunting work pressure. "I am truly grateful to my alma mater PolyU, not only for its support for Blue Pin, but also for the creative and courageous talents it has nurtured."
Staunch support from PolyU
Gary has been granted considerable amounts of funding, coaching and support through PolyVentures' entrepreneurial programmes and connections:
PolyU Micro Fund 2019: HK$120,000
PolyU Tech Launchpad Fund 2020: HK$500,000
PolyU Lean Launchpad Programme: business model validation
IncuTech programme by The Hong Kong Science and Technology Parks Corporation: three-year grant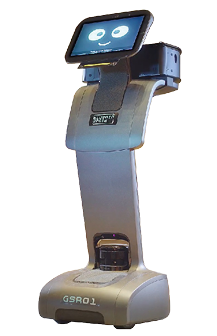 ---
Serving the hotel industry with guest services robot
By incorporating the IPS system, Blue Pin's guest services robot eases the pressure on hotel front desk staff by performing customer services such as check-in, on-the-spot payment, key cards pick-up, etc. This solution has been awarded a Silver Medal at the 2021 Special Edition of the Geneva International Exhibition of Inventions. Blue Pin is now a business partner in hotel management solutions with Oracle, the world's largest database management company, and has collaboration with PolyU's Centre for Advances in Reliability and Safety (CAiRS) on improving products' performance with AI algorithm.