PolyVentures InnoTech Showcase
PolyVentures is the University's signature technology startup ecosystem tailored for aspiring entrepreneurs among PolyU students, alumni, academics, and research staff. It aims to foster an entrepreneurial mindset, and to accelerate the translation of innovations and technologies from the University to the marketplace, thereby creating impact.
The PolyVentures InnoTech Showcase at the PolyU InnoTech Open Day provided a key opportunity for innovation and technology entrepreneurs, industry partners, startups and young talent to network and share their views and experience. The event included a Startup Exhibition, which showcased the impressive achievements and innovations of 14 PolyU startups; a ceremony to show appreciation for PolyVentures' strategic partners; a startup pitching session; and sharing by PolyU unicorns and students.
Generous support from industry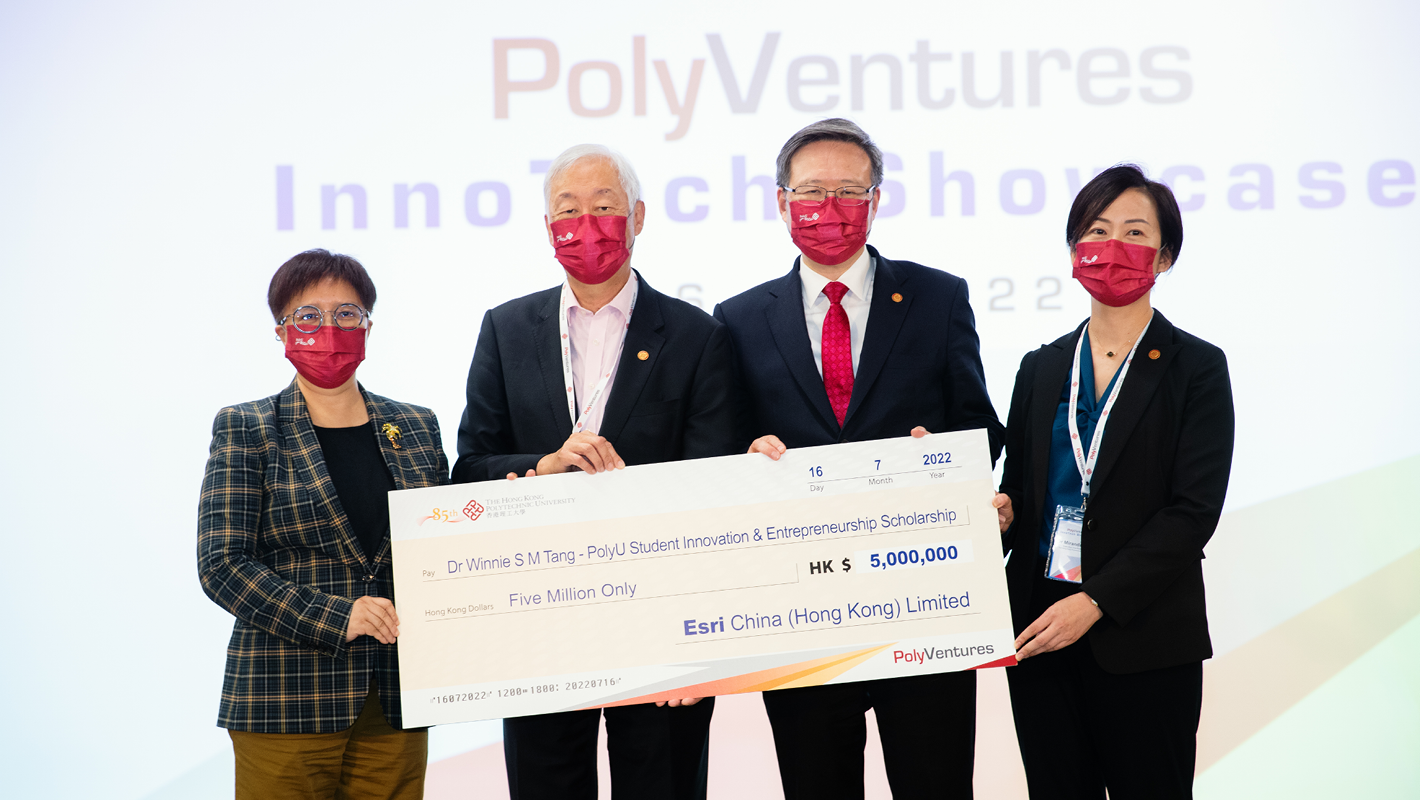 Dr Winnie Tang (left), Founder and Chairman of Esri China (Hong Kong) Limited, presented a cheque for HK$5 million to set up a scholarship promoting entrepreneurship among students at PolyU. Deputy Chairman of PolyU's Council Dr Lawrence Li (second from left), PolyU President Professor Jin-Guang Teng (second from right), and Dr Miranda Lou (right) received the cheque on the University's behalf.
---
PolyVentures
Through PolyVentures, the University nurtures entrepreneurs, accelerating their startup journeys and equipping them for long term success. So far:
7,600+ Young Entrepreneurs Trained
1,000+ Entrepreneurs Nurtured
310+ International and Local Awards
230+ Startups of Social / Design / Business Innovation
220+ Tech Startups
29 Academic-led Startups
13 Ponies (US#10M+ valuation)
4 Unicorns (US$1Bn+ valuation)
---
Ceremony of appreciation for PolyVentures' strategic partners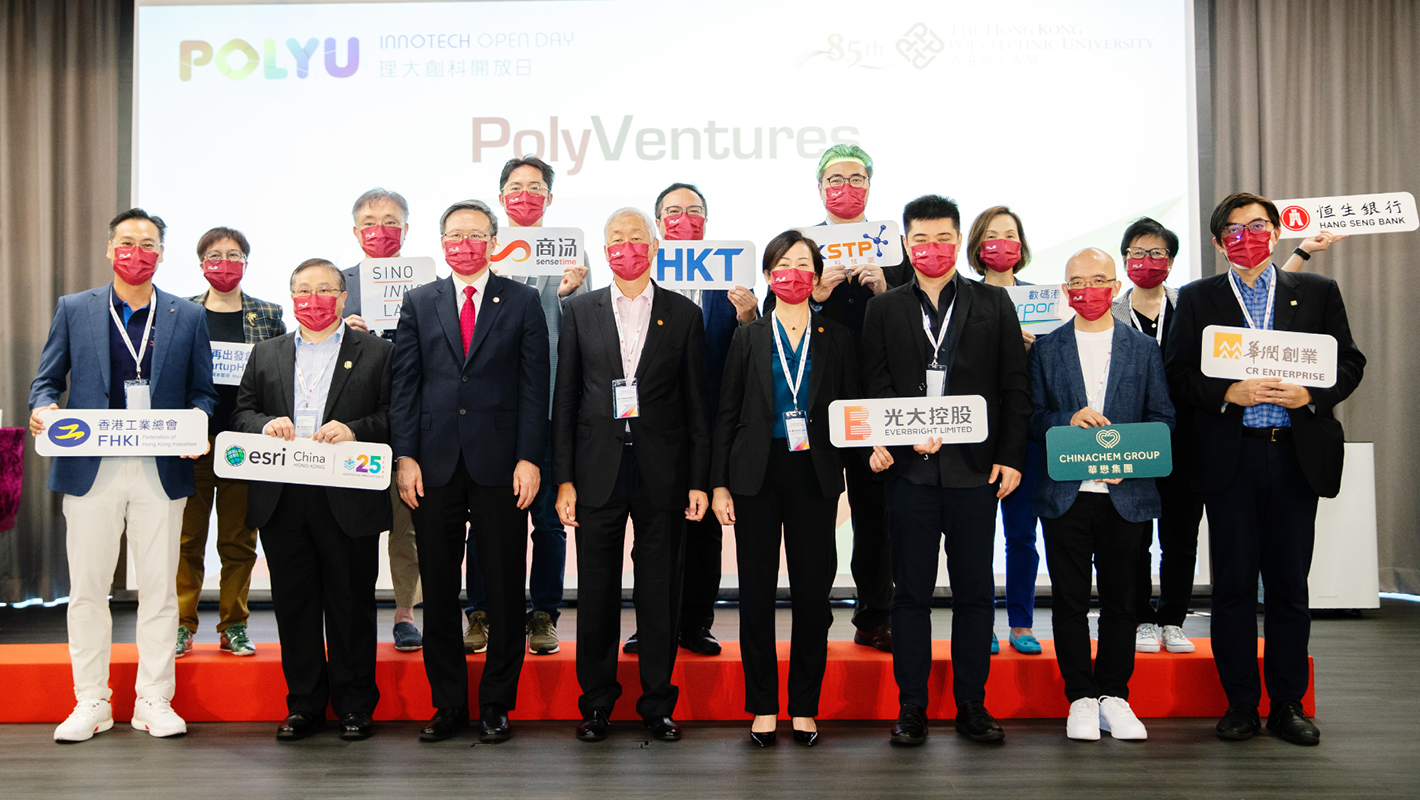 PolyU honoured PolyVentures' strategic partners in the appreciation ceremony.
Startup Exhibition
Fourteen PolyU-nurtured startups, each with unique business ideas and high technical competence, were featured in the Exhibition. These budding companies employ advanced technologies, ranging from artificial technology and biotechnology to medical robots and wearable electronics, to meet the needs of the medical, hotel, and education sectors.
| | | |
| --- | --- | --- |
| | | |
| Active Biotechnology (Hong Kong) | Asiabots | Blue Pin (HK) |
| | | |
| CLAIRE Clinical AI Research | EightOSix Technology | Fleming MedLab |
| | | |
| Grand Rise Technology | iMeddy | Immune Materials |
| | | |
| PlusD Technology | Storius | Telefield Medical Imaging |
| | | |
| viAct | WeExpand | |
Unicorn sharing
The event also saw three founders of PolyU unicorns share their success stories with aspiring technopreneurs.
| | | |
| --- | --- | --- |
| | | |
| Mr Fang Bing (Electronic and Information Engineering, 2014) is Chief Operating Officer and Cofounder of Hai Robotics, which uses logistics robots to increase warehouse and factory efficiency. | Mr James O (Advertising Design, 2008) is Co-founder of GoGoX, one of the first mobile app-based logistics platforms in Asia. | Dr Bruce Wang (Mechanical Engineering, 2010) is Founder and CEO of EcoFlow, which develops portable power and clean energy products. |
Startup pitching
The event came to a climax with a pitching session in which participating startups had the opportunity to introduce their business ideas to industry guests. The panel of judges of the startup pitching included PolyU Council Members Dr Lawrence Li, Ir Arthur Lee, Dr Daniel Yip; Court Members Dr Raymond Leung, Ms Amy Lung; and Members of the Entrepreneurship Investment Fund Steering Committee Mrs Sophia Chan and Ir Dr Samson Tam.