Commissioner for Innovation and Technology visits PolyU InnoHub to understand anti-epidemic inventions by academic-led startups
PolyU-supported startups are continuously translating scientific research outcomes into impactful solutions for societal benefit. This can be exemplified by the various commercialised PolyU research projects for combating COVID-19 and other common viruses.
Ms Rebecca Pun, Commissioner for Innovation and Technology, visited the PolyU InnoHub in April, a co-working space for startups, and met three PolyU research teams to understand how their anti-epidemic innovations are applied to combat viruses. These inventions have been commercialised and put into use by different organisations and enterprises.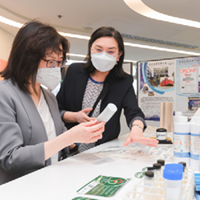 The first invention, CareCoatexTM, is a non-toxic and eco-friendly antibacterial and antiviral coating that can kill 99% of common bacteria and viruses. It is effective for up to six months and can be applied to various equipment for disinfection, contamination control and anti-epidemic protection. Professor Li Pei (right), Professor of the Department of Applied Biology and Chemical Technology, led a research team to develop the disinfectant coating, which won a Gold Medal in the 2021 International Exhibition of Inventions of Geneva. She is leading the startup Grand Rise Technology Limited to commercialise the invention.
Another featured innovation is the anti-virus 3D printing material developed by Dr Chris Lo Kwan-yu (left), Associate Professor of the School of Fashion and Textiles, and his research team. This novel material, which can terminate COVID-19 and other common viruses, can be used to produce equipment that is touched frequently, such as door handles and elevator buttons, to reduce the chance of virus transmission. The technology has been commercialised by Immune Materials Limited, a PolyU academic-led startup.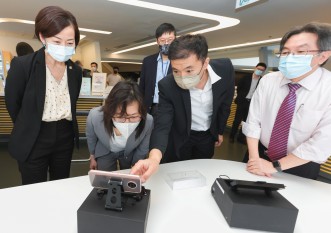 Meanwhile, Professor Yip Shea-ping (first from right), Chair Professor and Head of the Department of Health Technology and Informatics, Dr Thomas Lee (second from right), Associate Professor and Associate Head of the Department of Biomedical Engineering, and their research team have founded the startup Pocnat Limited to commercialise the portable nucleic acid testing device for COVID-19 they developed. The device can test both human and environmental samples with 100% sensitivity and specificity, in full agreement with the reverse transcription-polymerase chain reaction (RT-PCR) standard, to facilitate personal and environmental hygiene management.