PolyU's world-class research competence leads InnoHK Centres in AI, design and vision science
With the rapid development of the Nation and the Greater Bay Area bringing unprecedented opportunities for innovation and technology, Hong Kong will play an even more important role in the ongoing process of innovation. PolyU will strongly support the Hong Kong Government's important new initiative, InnoHK Clusters, which aims to develop the city into a hub for international research collaboration.
By harnessing its research competence in artificial intelligence, design, and vision science, PolyU has partnered with world-leading institutions to develop three research centres under two research clusters – AIR@InnoHK (focusing on artificial intelligence and robotics technologies) and Health@InnoHK (focusing on healthcare-related technologies). The centres are established in an effort to bring together leading researchers from around the world to conduct collaborative research in Hong Kong.
These three world-class research centres, which have commenced operation at the Hong Kong Science Park are:
the Laboratory for Artificial Intelligence in Design (AiDLab), established in collaboration with the Royal College of Art, UK;

the Centre for Advances in Reliability and Safety (CAiRS), established with the University of Maryland, College Park, USA as the key research collaborator; and

the Centre for Eye and Vision Research (CEVR), established in partnership with the University of Waterloo, Canada.
PolyU has also become the first local collaborating institution of the "Centre for Artificial Intelligence and Robotics, Hong Kong Institute of Science & Innovation, Chinese Academy of Sciences". Established by the Institute of Automation of the Chinese Academy of Sciences, the Centre has been admitted to AIR@InnoHK under InnoHK Clusters.
PolyU Deputy President and Provost Professor Wing-tak Wong says, "PolyU hopes to fully leverage each institution's academic strengths to bring about significant research breakthroughs, and thereby create impactful technology that boosts the economy and brings benefits to society."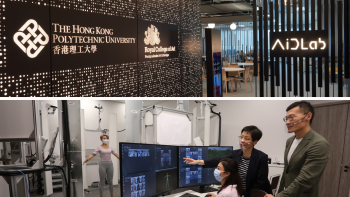 Laboratory for Artificial Intelligence in Design (AiDLab)
— the region's first research platform specialising in interdisciplinary AI and design innovations
Partner: Royal College of Art, UK
Mission: AiDLab brings together top international academics, designers and engineers to conduct human-centred interdisciplinary research providing multi-faceted solutions for current global issues using AI and distinct innovative designs.
Research focus: Ergonomic and Inclusive Design, Innovation in Product and Service Design, and Intelligent Fashion Design and Quality Control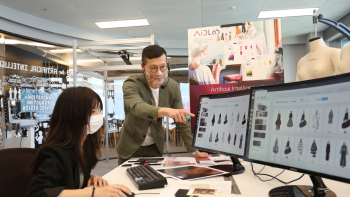 "AiDLab utilises novel technology to facilitate intuitive and effective product and service design processes that can enhance human-computer interaction and address society's needs for creativity, efficiency and sustainability," says Professor Calvin Wong, Centre Director of AiDLab and Cheng Yik Hung Professor in Fashion of PolyU.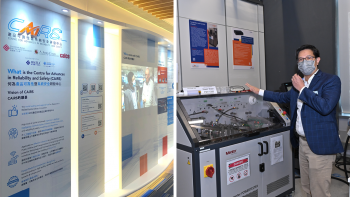 Centre for Advances in Reliability and Safety (CAiRS)
— focusing on the use of AI to develop new personalised management tools
Key research collaborator: University of Maryland, College Park, USA
Mission: CAiRS gathers top researchers from all over the world, uses the most advanced equipment and leverages innovative artificial intelligence technology in order to conduct various product reliability and system safety research to accurately predict the occurrence of failures and prevent them from occurring.
Research focus: Anomaly Detection and Syndromic Surveillance, Innovative Diagnostics for Product Health Management, Prognostics for Remaining Useful Life Assessment, Safety Assurance to improve Functional Safety, and Data Analytics Platform for Reliability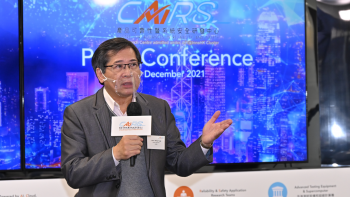 "CAiRS will build an international brand for the products and systems in Hong Kong, and contribute to the development of smart cities and advanced manufacturing," says Ir Professor Winco Yung, Centre Director and Executive Director of CAiRS.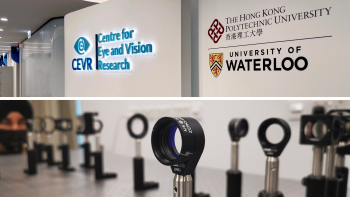 Centre for Eye and Vision Research (CEVR)
— tackling the world's biggest challenges in the field of vision science
Partner: University of Waterloo, Canada
Mission: CEVR promotes eye health with clinical, basic and applied research, and develops ground-breaking technologies to prevent vision loss and preserve sight among the ageing population.
Research focus: Myopia and Eye Growth, Ocular Drug Discovery and Delivery, Vision Enhancement, Tear Film and Ocular Surface, and Advanced Optometric Technology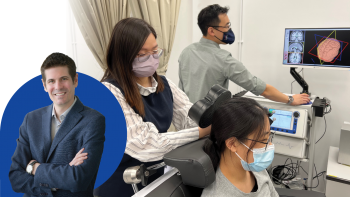 "Research conducted within CEVR has the potential to improve quality of life for millions of people around the world," says Professor Ben Thompson, CEO and Scientific Director of CEVR. He adds that the collaboration between PolyU and Waterloo will "bring together multiple scientific disciplines to tackle the worldwide problem of vision loss."