Students shine in innovation and entrepreneurship competition
Innovation and entrepreneurship training is a hallmark of the holistic education PolyU offers to enable students to excel in today's dynamic environment and make a difference to society. In the 7th Hong Kong University Student Innovation and Entrepreneurship Competition, PolyU student teams scooped 12 awards, including the Grand Prize, for advancing technology development in areas ranging from mathematics and physics, to social enterprises.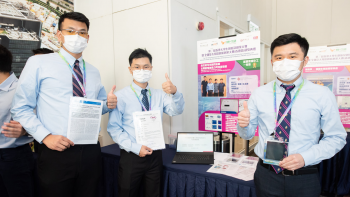 Out of more than 70 winning projects, the PolyU submission "High Performance Solution-Processed Perovskite Solar Cell Towards Sustainable Development" not only won First Prize in the Energy, Environmental and Chemical Engineering Category, but it was also selected as the only Grand Prize winner from the Innovation Stream of the competition.
The project was praised for the potential of its new approach in the further development of producing high-quality, high-efficiency perovskite solar cells. Solar energy is an important source of renewable energy for industrial production and domestic consumption. Perovskite solar cells are the most promising type of photovoltaic technology and are a game changer for converting sunlight into electrical energy due to their low fabrication cost, high power conversion efficiency, and the flexibility offered by tunable bandgaps, and a facile manufacturing process. As a result, the novel method developed to produce high performance perovskite solar cells has the potential to make a significant contribution to sustainable development globally.
Organised by the Hong Kong New Generation Cultural Association, and co-organised by Hong Kong Science and Technology Parks Corporation with funding support from the Innovation and Technology Commission, the competition aims to inspire outstanding students with the potential to become future innovation and entrepreneurship leaders.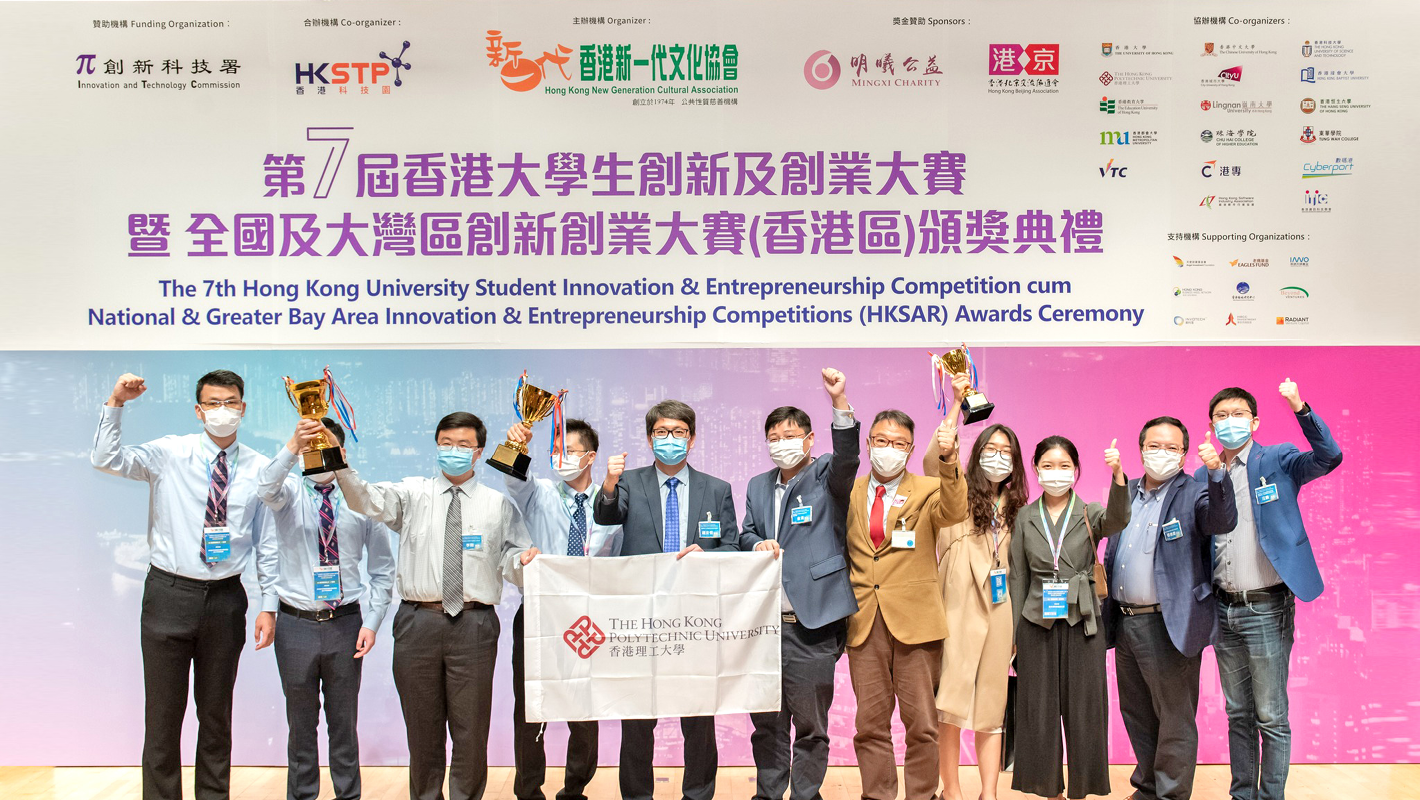 Professor Christopher Chao (fifth from left), PolyU Vice President (Research and Innovation), celebrates with the winning teams.
Innovation Stream
Award
Project
Awardees
Grand Prize
High Performance Solution-Processed Perovskite Solar Cell Towards Sustainable Development
Zhang Heng-kai, Ren Zhiwei and Liu Kuan
Energy, Environmental and Chemical Engineering
First Prize
High Performance Solution-Processed Perovskite Solar Cell Towards Sustainable Development
Zhang Heng-kai, Ren Zhiwei and Liu Kuan
Merit Prize
Construction Noise Permit Application System Based on Geographic Information System and Noise Control Ordinance
Chiu Kai-yim, Wong Ho-lun, Lee Wing-sze, Chantel Alexandra Lee, Suen Lok-fai, Ivan Jasper Istanto and Kong Yiu-lun
Merit Prize
Performance Analysis of Bifacial Solar PV Module and its Application in Hong Kong
Hung Tak-lam, Nico Lam and Leung Chun-kuen
Information Technology
Second Prize
Intelligent Driver Health Assessment System Based on the Optical Fiber Interferometer
Yu Jianxun, Chen Shuyang and Qu Jiaqi
Merit Prize
Milky Assistant
Leung Yee-ting
Mathematics and Physics / Mechanics and Control Systems
Merit Prize
Adopting VR and AR Technology to Minimise Human Casualty in Construction Site
Ho Ho-nam and Wong Kwong-sau
Entrepreneurship Stream
Award
Project
Awardees
Entrepreneurship Proposal
Second Prize
Electricity-free Smart Cooling Coating
Yang Ning and Fu Yang
Startup
Third Prize
FJ005
Max Lee Jwo-lem, Ng Hoi-fung, Wen Weisong, Josua Chan Wing-hei and Hsu Li-ta
Third Prize
Probiotics Protected by Aerospace Material
Gu Yinlin, Yu Xuanjie, Chang Jinhui and Jin Yong
Merit Prize
APRINT-3D Printing for STEM Education
Chui Cheuk-long, Kwong Hing-tim and Tang King-hung
Social Enterprise / Cultural and Creative Services
Third Prize
Best Value
Ng Hoi-kam, Lam Pui-yi, Yip Pui-sze, Ng Yim-hung, Marcus Pang Chee-tsun, and Karen Ashley Yue