Enabling sports talents to thrive and fulfil their aspirations
PolyU has a proud tradition of nurturing the development of local sports talent and supporting elite student-athletes to achieve both sports and academic aspirations through the Outstanding Sportsmen Recommendation Scheme (OSRS). Since 1998, PolyU has admitted more than 1,200 remarkable athletes through the OSRS.
To further enhance its support, from the academic year 2022/23 onwards, PolyU will join the Student-Athlete Learning Support and Admission Scheme (SALSA) launched by the University Grants Committee (as a sub-scheme of OSRS). This initiative will provide opportunities for student-athletes who are eligible to represent Hong Kong in significant international competitions with exceptional achievements in sports to pursue their undergraduate studies at PolyU. Here are two exemplary athletes, Leung Kwan-yi and Tinky Ho Nam-wai, who have been admitted into the undergraduate programmes of the Faculty of Humanities through the Scheme.
PolyU's Vice President (Education) Professor Kwokyin Wong welcomed the elite athletes in joining the University and said, "We hope students will receive high-quality education from PolyU and continue to unleash their potential and diverse strengths."
PolyU offers more than 200 scholarships to studentathletes every year to recognise their distinguished sports achievements. The University also provides residential college accommodation to studentathletes to facilitate their holistic development. Students admitted through the SALSA will receive a scholarship of up to HK$100,000 and a range of support from PolyU, including individual academic mentorship, flexibility in learning and study assessments, and extension of study periods.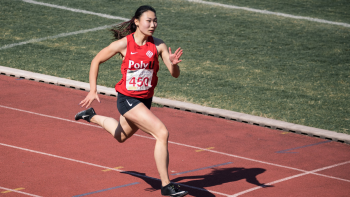 Leung Kwan-yi (Sprinter)
Represented Hong Kong in the Women's 4 x 100m Relay at the 2018 Asian Games in Jakarta
I am grateful for this opportunity from PolyU, which will enable me to excel in both academia and sports. I will leverage the qualities I have as an athlete in order to push myself towards my goal of achieving excellent results in my studies.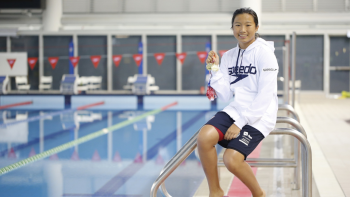 Tinky Ho Nam-wai (Swimmer)
Hong Kong's record holder in 1500m Freestyle and 4 x 100m Freestyle Relay

Represented Hong Kong in the 4 x 100m Freestyle Relay at the 2020 Tokyo Olympics
Balancing studies and sports life could be challenging, but that does not undermine my anticipation for university experience. I am confident that with the support of PolyU and my coaches, I will continue to improve my performance and achieve academic and swimming success.