Gifted PolyU researcher in supramolecular chemistry wins Croucher Innovation Award
Dr Franco Leung
---
Bachelor of Science in Chemical Technology, PolyU (2011)

Master of Philosophy, PolyU (2013)

Doctor of Philosophy in Electronic Chemistry, Tokyo Institute of Technology (2017)

Postdoctoral Fellow, University of Groningen, the Netherlands (2017)

Croucher Fellowship Postdoctoral Fellow, University of Groningen (2017 - 2019)

Assistant Professor, Department of Applied Biology and Chemical Technology (2019 - present)
---
"I have been obsessed with chemistry since secondary school," said Dr Franco Leung, a PolyU-trained academic who is one of the two winners of the Croucher Innovation Award 2021. This prestigious accolade recognises a small number of exceptionally talented scientists, offering substantial support to these "rising stars" at a formative stage in their careers. Award recipients each receive research funding of up to HK$5 million from the Croucher Foundation over five years.
Franco was bestowed the honour in recognition of his outstanding achievements in supramolecular and material science research. The 33-yearold scientist is currently an Assistant Professor of PolyU's Department of Applied Biology and Chemical Technology. His main research interests include dynamic supramolecular polymers, functional molecular assembly, and biocompatible functional materials.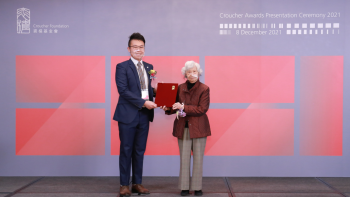 Franco's aspiration in research is to design novel supramolecular functional systems for developing stimuli-responsive functional soft materials. One of his research areas is Life-like Supramolecular Soft Actuators. These highly dynamic, reversible and biocompatible supramolecular soft actuators are expected to be applicable in the field of soft robotics, which involves the use of materials with mechanical properties similar to those of living tissues.
The young scholar is honoured to receive the Award, and considers it a strong endorsement of his research. He said, "I am most grateful to the Croucher Foundation for its recognition of my research on a Supramolecular Robotic System of Photo-responsive Molecular Amphiphiles. I hope this research can facilitate the development of a supramolecular robotic system, which is applicable in the medical field to achieve more precise treatments, as well as in other fields to make a positive impact on society."
One possible application is to deliver tiny drugs to a precise location inside the human body.
What does supramolecular research entail?
Supramolecular chemistry is an interdisciplinary field of science involving the chemical, physical, and biological features of molecular assemblies that have greater complexity than the individual molecules themselves. As the binding force between the smaller molecules in supramolecular structures is weak, it is often possible to develop larger molecules of a desired shape or functionality.
A PolyU-grown scholar coming home
Franco is also thankful to his alma mater for laying a solid academic foundation for his scientific research. He graduated from PolyU in 2011 with a Bachelor of Science (First Class Honours) degree in Chemical Technology. After receiving a Master of Philosophy degree in Chemical Technology from his alma mater, he proceeded with his Doctor of Philosophy studies in Electronic Chemistry at the Tokyo Institute of Technology, Japan.
In 2017, Franco joined the group of Professor Ben L. Feringa (2016 Nobel Laureate in Chemistry) at the University of Groningen, the Netherlands, as a postdoc fellow and subsequently a Croucher Foundation Postdoctoral Fellow, to develop photoresponsive soft materials of molecular motors and switches. He then embarked on his academic career at PolyU in June 2019, bringing with him the lessons he had learnt from Professor Feringa.
An innovative mindset to create positive impact
When in the Netherlands, Franco cycled to work every day. At the campus entrance, he would often run into Professor Feringa, who was also on a bike. They would start their incessant discussion on chemistry right away. The professor often brought up new ideas and asked Franco for opinions.
"If I didn't think his idea was viable, I would tell him directly," Franco recalled. "He would not consider my bluntness offensive." The young researcher was impressed not only with how the professor shared his ideas candidly but also how the Nobel Laureate humbled himself by taking note of a junior's comments. "By answering his questions, I was engaged and became appreciative of his innovative thinking," Franco added.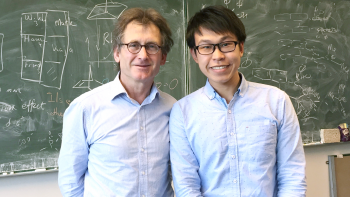 Now at PolyU, Franco is leading a research team with members younger than him. Having adopted Professor Feringa's attitude and method, Franco has been cultivating an innovative mindset in his own students, encouraging them to ask each other challenging questions in regular meetings.
Professor Wing-tak Wong, PolyU's Deputy President and Provost, congratulated Franco on his success and said, "Dr Leung's achievements demonstrate the promising potential of young scientists. PolyU will continue to offer staunch support to interdisciplinary research, and we look forward to the further discoveries of Dr Leung's research."