PolyU stands united with the Hong Kong community
The COVID-19 pandemic has posed unprecedented challenges to Hong Kong in recent months. During these critical times, PolyU has been devoted to collaborating with the Hong Kong community and the Government to fight the virus. Hundreds of students, staff and alumni with a professional healthcare background have drawn on their expertise and provided assistance on the frontlines to those in need.
Supporting the operation of a pop-up community vaccination centre
A team of 300 students, teaching staff and alumni from the School of Nursing is supporting the operation of the Caroline Hill Road Pop-up Community Vaccination Centre in a non-profit making mode. The School's final year students are assisting in the administration of vaccines under the supervision and support of the teaching staff and alumni who are experienced registered nurses.
It is estimated that the Centre can serve 800 to 1,000 people each day with a daily capacity of up to 3,000 people as the need arises.
Accompanied by PolyU's Council Chairman Dr Lam Tai-fai and President Professor Jin-Guang Teng, Mrs Carrie Lam Cheng Yuet-ngor, Chief Executive, and Mr Patrick Nip, Secretary for the Civil Service of the HKSAR Government, visited the Centre to understand its operation and expressed their gratitude towards PolyU for its strong support of the Government's vaccination programme. Professor Wing-tak Wong, Deputy President and Provost, and Dr Miranda Lou, Executive Vice President, also cheered for the team.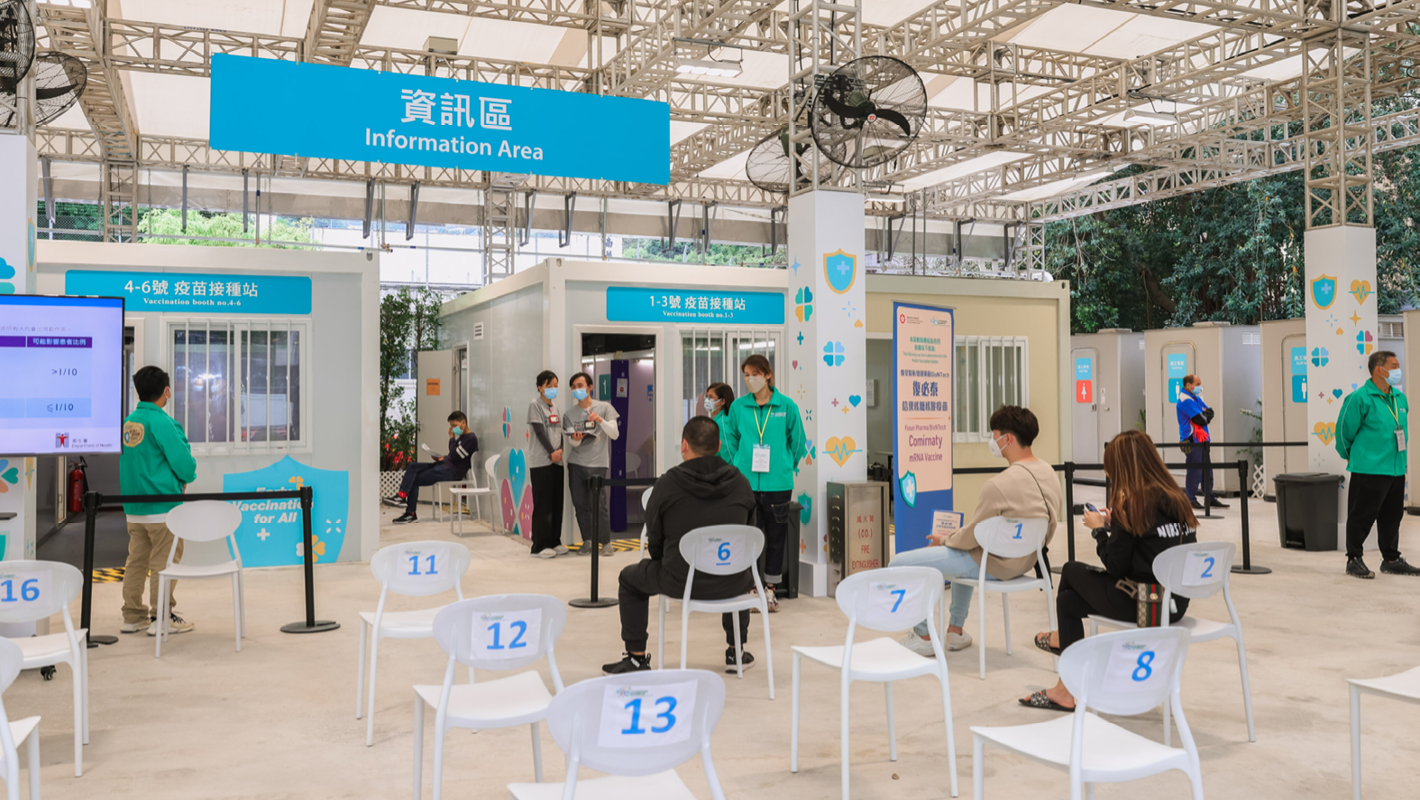 New call centre on campus supports Hospital Authority's hotline
Motivated nursing students and teachers from the School of Nursing have set up a new call centre on the PolyU campus to support the Hospital Authority's hotline service for COVID-19 patients. The centre initially provides 10 hotlines for 14 hours each day, handling nearly 600 calls daily. Professor Sophia Chan, Secretary for Food and Health, accompanied by Professor David Shum, Dean of Faculty of Health and Social Sciences and Professor Alex Molasiotis, Head of School of Nursing, visited the centre to understand its operation.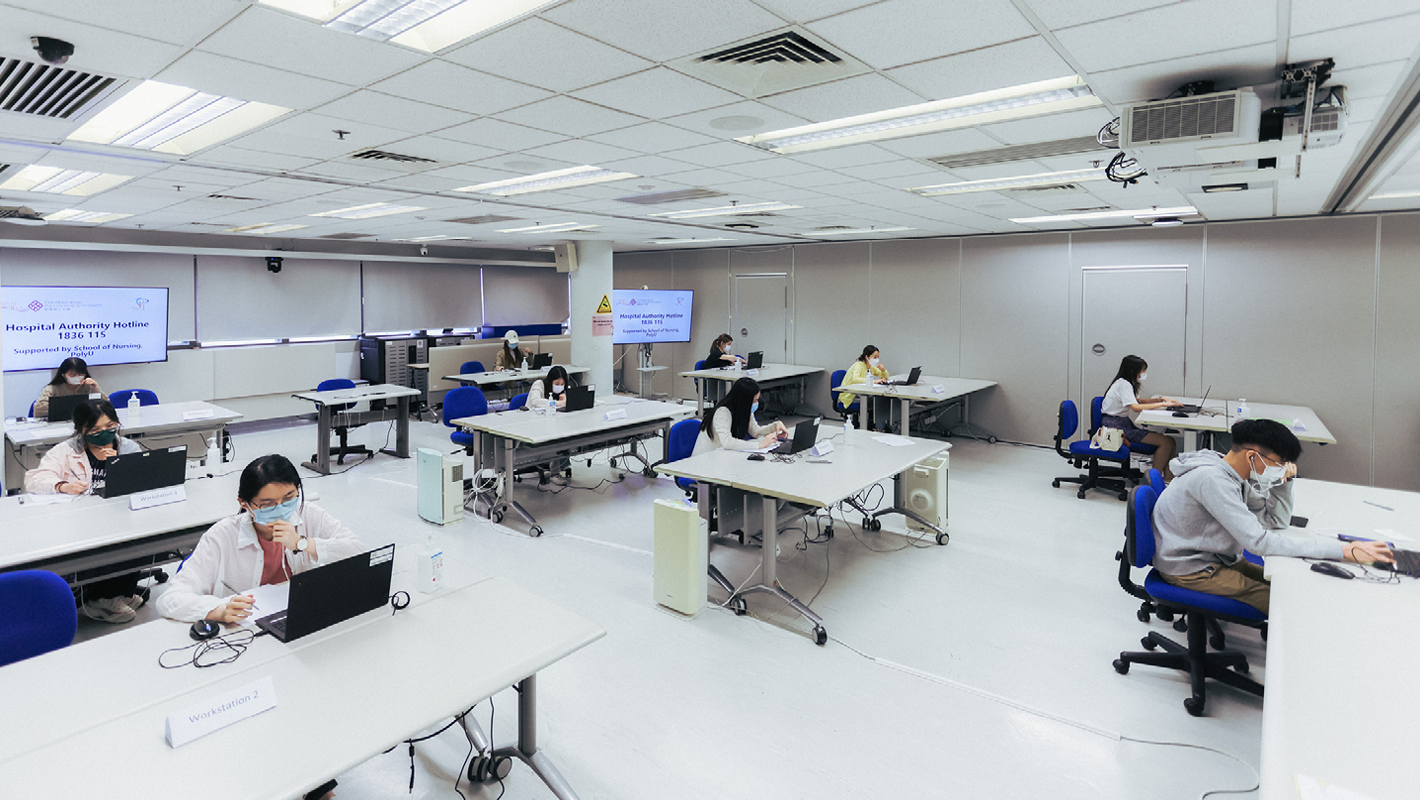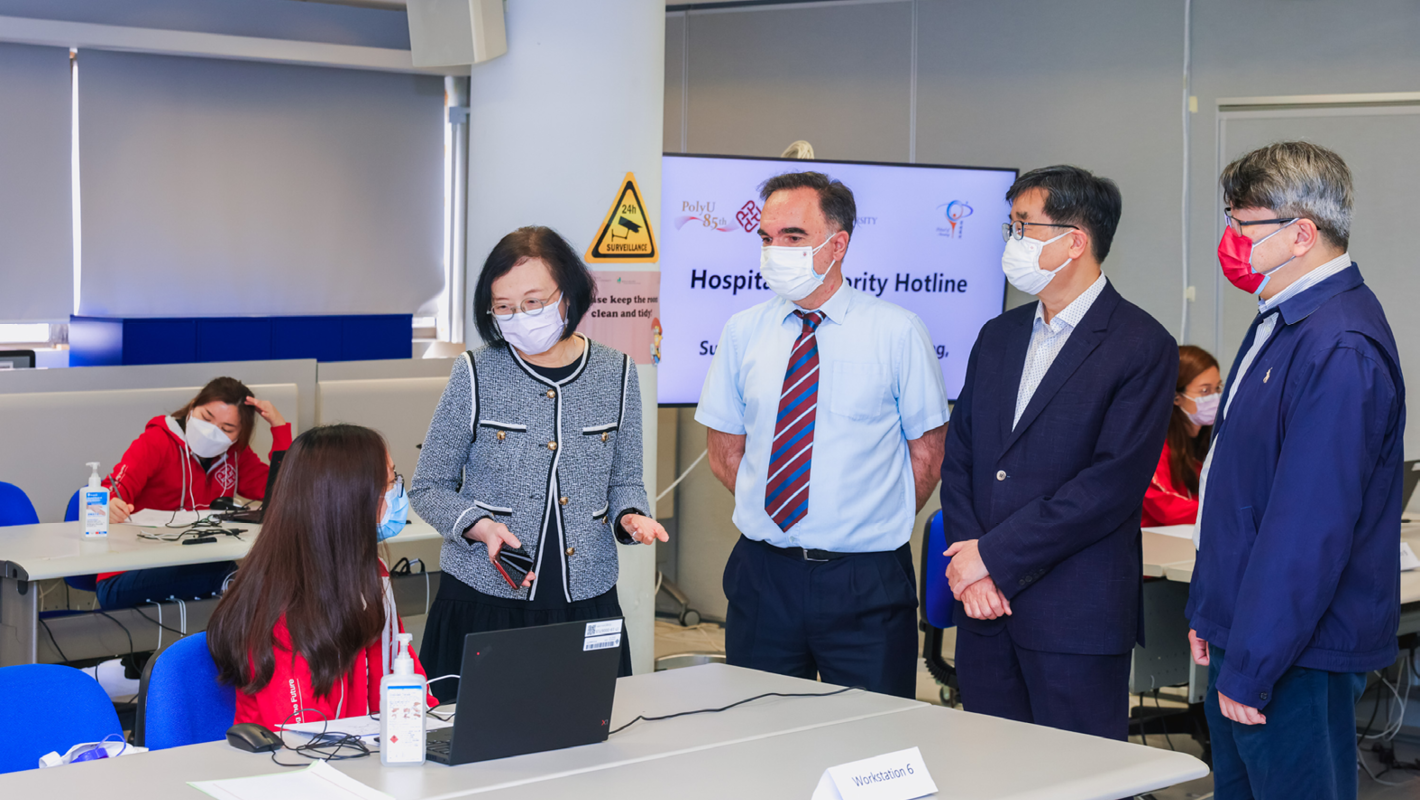 Anti-epidemic platform co-created to provide useful resources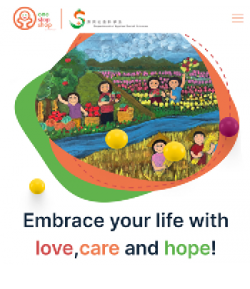 In partnership with social services organisations and professional bodies, the Department of Applied Social Sciences has mobilised its students, staff and alumni to provide a range of valuable resources to the community on an online anti-epidemic platform, "One Stop Shop", including professional talks, physical-and-mental health workshops, and advice from COVID-19 patients.
There will also be online workshops on play therapy and healing for wellness and a "Learn from Home" video series.
Donating a patented disinfectant coating to a community isolation facility
An academic-led startup, Grand Rise Technology Limited, established by Professor Li Pei, Department of Applied Biology and Chemical Technology, and alumnus Tenny Lam donated its patented innovation, the CareCoatex™ disinfectant coating, to the San Tin community isolation facility.
The coating can be applied to various equipment to disinfect and control microbial infection and contamination on surfaces that are touched frequently, providing a safer isolation environment for the staff and patients in the facility.
PolyU-nurtured startup provides an online platform for medical and healthcare services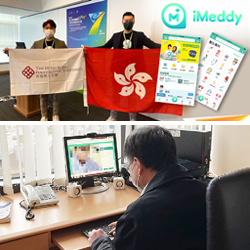 A PolyU-nurtured startup, iMeddy, founded by alumni Mr Alex Cheuk Ka-hou and Mr Stephen Tsoi Kwok-chun, is providing a free video medical consultation service on its online healthcare platform to more than 3,000 COVID-19 patients. iMeddy collaborates with more than 300 private medical practitioners in Hong Kong. The service is targeted at lowincome families, as well as singleton elderly and those living in nursing homes.