Engineering innovation to ease the public health crisis
Ir Dr Yuen Pak-leung
---
Higher Diploma in Mechanical Engineering, Hong Kong Polytechnic (1979)

Bachelor of Science in Mechanical Engineering, University of Hong Kong (1981)

Executive Master of Business Administration, The Chinese University of Hong Kong (1999)

Engineering Doctorate (Engineering Management),City University of Hong Kong (2012)

President, Hong Kong Institution of Engineers (2020-2021)

Vice President, Chartered Institution of Building Services Engineers UK

Adjunct Professor, Department of Building Environment and Energy Engineering, PolyU
---
Veteran hospital engineer Ir Dr Yuen Pak-leung has battled both SARS in 2003 and the recent waves of COVID-19. His experience has convinced him that his profession is not just about problem-solving, but instead its main purpose is serving people.
Dr Yuen had worked in the HKSAR Government's Electrical and Mechanical Services Department for more than 10 years focusing on public hospital construction and maintenance, before he joined the Hospital Authority (HA) in 1993. Drawing on his significant expertise in hospital engineering systems and on specialized ventilation, he is currently a member of the HA's senior management, overseeing the design, construction and maintenance operation of the engineering infrastructure of all public hospitals in Hong Kong.
Innovative solutions to combat SARS
The fight against SARS reshaped Dr Yuen's professional outlook. One night during the outbreak, he received an urgent call from Dr Ko Wing-man, the then Acting Chief Executive of the HA, asking him to urgently try to deliver more than 100 isolation beds for SARS patients within one day, as all the existing isolation rooms were occupied.
"I felt an enormous sense of responsibility to help, as doctors and nursing staff had lost their lives treating SARS patients during the epidemic," Dr Yuen recalls.
Dr Yuen solved the problem by coming up with the idea of installing exhaust fans in general wards to create negative pressure and an isolation effect, preventing contaminated air within the wards from flowing outside them.
Subsequently, in response to the unexpected surge of SARS patients, he quickly applied his innovative thinking again to come up with a design which enabled isolation wards, during periods they were not needed, to be easily converted back into general wards. This invention, being the world's first convertible design of its kind, has greatly enhanced the flexibility of how hospitals are able to use their wards. As a result, the total number of isolation beds in Hong Kong hospitals increased from 177 to more than a thousand in a short period.
The experience changed Dr Yuen's attitude towards his job. While he had previously considered his main focus to be technical projects, he now saw himself as part of the hospital system, breathing the same air as staff working there.
Once SARS had subsided, he devoted several years up to 2012 to researching how to improve the ventilation design of hospital general wards to enhance their isolation capability to cater for hidden disease spreaders. The design has already been widely adopted by local public hospitals. Also, he has set down fast-track means to convert existing general wards into makeshift isolation wards with negative pressure function facilities to meet patient isolation requirements in the event of a possible pandemic surge in the future. Due to his unique expertise, he was invited by the World Health Organisation and United Nations Office for Project Services as expert advisor for constructing isolation wards in public hospitals across Indonesia.
A rapid response to COVID-19
When COVID-19 hit Hong Kong in early 2020, there was an immediate need to increase the supply of isolation wards. Leveraging his SARS experience and earlier research findings, Dr Yuen invented and later collaborated with an engineering team to develop a pioneering mobile fan filter unit equipped with high efficiency air filters that could create a negative pressure system, preventing the coronavirus from being circulated outside of a ward. By installing over 150 of such units, they converted 16 general wards in public hospitals into isolation wards, adding 400 isolation beds in just a couple of weeks. Later on, he continued to spearhead the ventilation transformation of Asia World Expo Halls 1 and 2, changing these two venues into a largescale community treatment facility equipped with 900 isolation beds within a week. The fan filter unit was recently awarded a Silver Medal at the Geneva Invention Exhibition 2022.
In addition, Dr Yuen teamed up with several fellow PolyU alumni, who were also top engineers, including Mr Thomas Chan of WSP, Mr Gilbert Tsang and Mr Thomas Ho of Gammon Construction Limited, to adopt the modular integrated construction (MiC) approach invented by Dr Yuen to swiftly build high-standard negative pressure airborne isolation wards for use in the community treatment facility.
Dr Yuen not only helped relieve the pressure created by the shortage of isolation facilities, but he also took up chairmanship of the Working Group on Implementing the Requirement on Air Change or Air Purifiers in Dine-in Restaurants to help more than 18,000 eateries in Hong Kong improve their ventilation in a few months, further contributing to pandemic control in the community.
For his contributions to combating COVID-19, Dr Yuen was awarded the Chief Executive's Commendation for Community Service in 2020.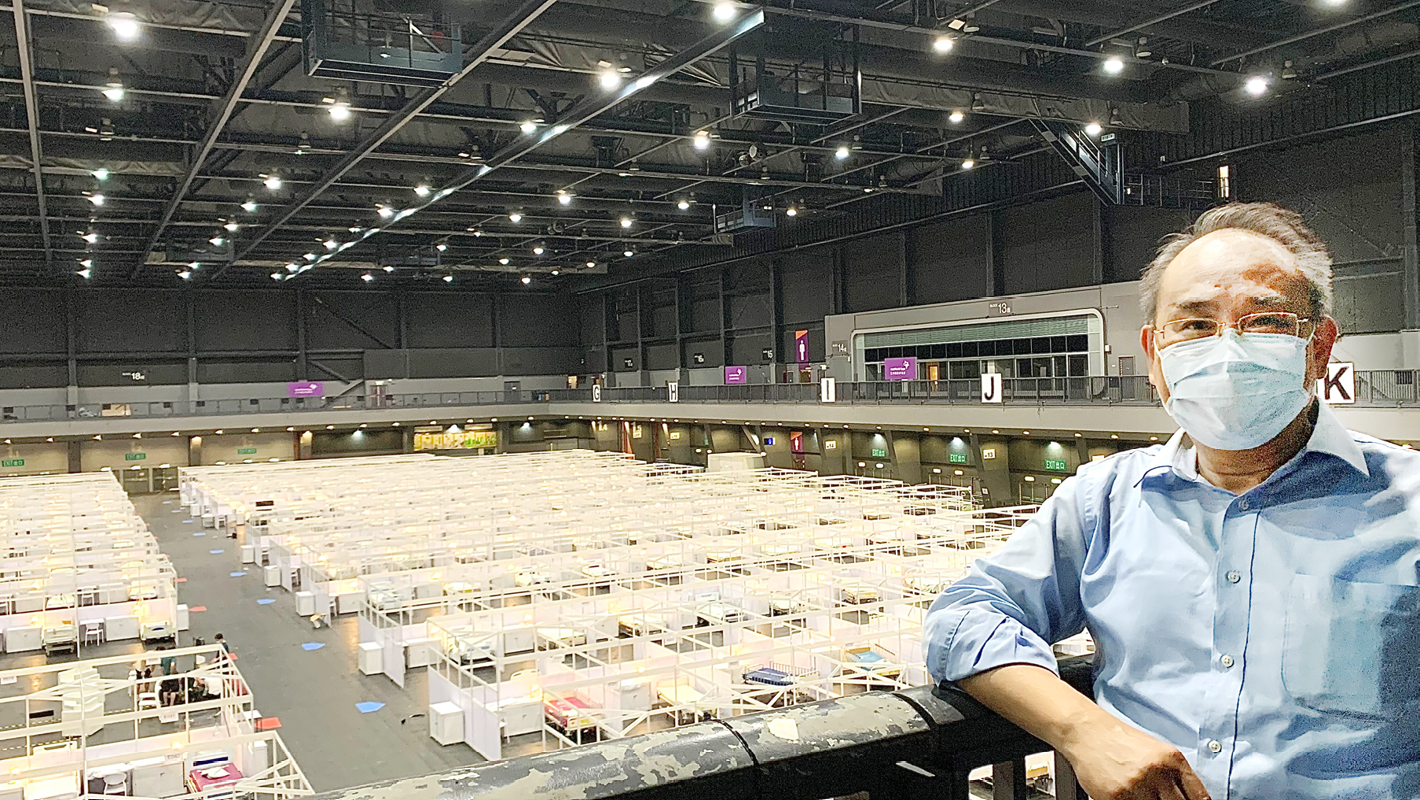 With his rich engineering knowledge and experiences, Dr Yuen led a team to improve the ventilation system in the Asia World Expo Halls to allow the venue to transform into a large-scale community treatment facility during the early phase of COVID-19 outbreak.
A deep concern for people
Dr Yuen is always conscious of the life and death consequences a facility incident or emergency can have in a hospital. As a result, he is committed to being the first to respond to such incidents, so that he can personally provide help and find a resolution.
Dr Yuen attributes his professionalism and desire to serve to the education he received from the Hong Kong Polytechnic, a predecessor of PolyU. Two professors in particular inspired him. He was one of the top students of Professor Wang Shan-kuo, a world-renowned scholar and a pioneer in the air-conditioning industry. Dr Yuen was also deeply influenced by Professor Leung Tin-pui, a former Vice President of the University, to practise the PolyU motto "To learn and to apply, for the benefit of mankind".
Today, Dr Yuen is an adjunct professor at PolyU's Department of Building Environment and Energy Engineering. To aspiring young engineers, he says: "Excellent problem solving skills, innovation, attention to detail, staying curious, as well as being constantly observant and prepared, are all among the qualities that make a great engineer." To that list, he adds having deep concern for people, which he has demonstrated throughout his career.