PolyVentures: GBA Startup Postdoc Programme nurtures technopreneurs "mushroom spaceship" to escort probiotics
Besides being a nutritious food, mushrooms can also be used as furniture and packaging materials – and even more. In fact, PolyU researchers have discovered that by utilising mushroom cells, "mushroom spaceships" with super-hard outer walls can be created, with an ability to protect fragile probiotics from damage and preserve them in food products, providing more health benefits when people consume them, and even helping with weight loss and obesity control.
Turning research outcomes into innovations with impact
In 2019, Dr Gail Chang, Research Assistant Professor of PolyU's Department of Applied Biology and Chemical Technology, was admitted to the PolyU GBA Startup Postdoc Programme (Postdoc Programme) with her project about mushrooms.
With an expertise in food and nutrition, Gail developed her interest in studying the use of mushroom cells as shells to protect fragile probiotics, after noting that mushroom cells, as an external wall material, are so strong that they are even able to withstand the harsh environment of outer space. With perseverance and diligence, she has succeeded in developing an innovative technology. "Our technology can protect probiotics against damage from heat or pressure and enables different types of probiotics to be included in snacks, hot drinks and pet food to provide health benefits," Gail said.
Her team has also discovered a new way to provide an environment that increases the percentage of a potential probiotic, namely Akkermansia, in the gut, helping people to lose weight and reduce obesity. She hopes this novel technology can make an impact in benefitting mankind. With the help of the Postdoc Programme, her dream has been realised by turning her research outcomes into innovations with realworld impact through technology ventures.
PolyU GBA Startup Postdoc Programme
First of its kind in Asia

Nurtures doctoral graduates to pursue their ambition as "technopreneurs"

Offers dual career prospects for doctoral graduates to commercialise their research technologies while exploring startup opportunities

Provides a competitive salary and benefits, entrepreneurship training, dual mentorship by academia and industrialists

Provides preferential IP licensing terms
Dual guidance on academic and entrepreneurial skills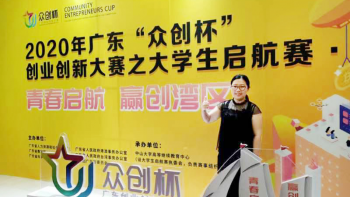 Through the Postdoc Programme, Gail received dual mentorship with guidance from both industrial and academic supervisors. They provided her with technical support in doing experiments, offered her professional advice from an industry perspective, helped her formulate entrepreneurial strategies, guided her in building industry networks, helped her participate in startup competitions, and brought collaboration opportunities with firms. Gail's team was supervised by Dr Jimmy Jin, Assistant Professor, School of Accounting and Finance; Professor Wingtak Wong, Deputy President and Provost and Chair Professor of Chemical Technology at the Department of Applied Biology and Chemical Technology; Dr Amber Chiou Jiachi, Assistant Professor, Department of Applied Biology and Chemical Technology; and also Dr Li Qiang, an alumnus from the Faculty of Business.
PolyU's GBA Startup Postdoc Programme features dual guidance from academic and industry mentors, who have assisted me in participating in various innovation and entrepreneurship competitions and arranged meetings with investors and industry partners. They also offered me technical support so that I can continue to pursue excellence in research and entrepreneurship.
A good start brings a more promising future
Under the guidance of her mentorship team, Gail successfully established Bo InnoHealth Biotechnology Company Limited, a research-based, deep tech academic-led startup. She was subsequently granted support by the PolyU Micro Fund and admitted into the Incu-Tech Programme of the Hong Kong Science and Technology Parks Corporation, furthering her motivation to embark on an entrepreneurial journey. Gail has also received numerous awards in entrepreneurial competitions, including the Gold Award of the China International College Students "Internet +" Innovation and Entrepreneurship Competition, and the Silver Award of the "Challenge Cup" China College Students Entrepreneurship Competition. Earlier this year, she was also awarded a Silver Medal at the International Exhibition of Inventions of Geneva – Special Edition 2022 Inventions Geneva Evaluation Days – Virtual Event.
Recently, Gail has applied her technology in AkkMore™, a fungi- and plant-based meal replacement powder against obesity or prediabetes, which has been tested on animals with promising results. Though her company and its technology are still in their infancy, she envisages a bright future for her research and entrepreneurial endeavours.
Expediting entrepreneurial success
With the assistance of PolyU, Dr Gail Chang has received several government grants and startup subsidies in a short time, which include:
PolyU Micro Fund 2020: HK$120,000

HKSTP Incu-Tech Programme: HK$1.29 million

Angel round financing: HK$1.5 million

PolyU Tech Launchpad Fund: HK$900,000
Nurturing doctoral students to become technopreneurs
Gail is one of the entrepreneurs supported by PolyU. Over the years, the University has adopted a multipronged approach to nurturing and supporting aspiring entrepreneurs. Through putting in place a variety of initiatives such as the GBA Startup Postdoc Programme – the first of its kind in Asia – PolyU provides candidates with diversified entrepreneurial and academic training, preferential IP licensing terms, as well as competitive benefits.