Bamboo Court named after generous couple
The University held a naming ceremony for the Bamboo Court on campus, in appreciation of the generous support offered to PolyU by Mr Cheung Che-man and Mrs Cheung Kwok Yuen-ho.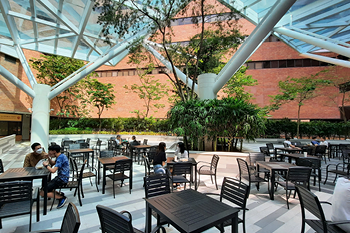 Known for its serenity, abundant sunshine and a welcoming open-air café, the Bamboo Court is a favourite hangout spot for many PolyU teachers, students and visitors.
Mr and Mrs Cheung share the belief that 'Knowledge can change the fate of a person and a nation'. Over the years, the selfless couple has made contributions in support of various charitable causes, in particular those focusing on nurturing young people and supporting education. Deeply impressed by PolyU's achievements, Mr Cheung has not hesitated to offer his support, helping the University to make a greater positive impact on the community through its holistic education and advanced research.
At the Ceremony, Dr Katherine Ngan, Chairman of the University Court, thanked Mr Cheung for his generosity. While sharing Mr Cheung's belief of 'Life affecting life', she also highlighted the fact that PolyU is the only university in Hong Kong that participates in the Nation's space exploration missions. She believes PolyU will continue to make contributions to the development of Hong Kong, the Nation and the world for the foreseeable future.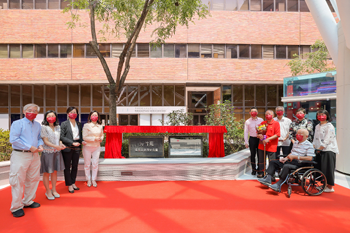 The naming ceremony was a joyful event celebrating a couple who are an uplifting example of gaining happiness by giving. The kind-hearted Mr Cheung, whom people fondly call Uncle Man, is not only popular among those he has helped in Hong Kong and in the Mainland, but also deeply loved by his family, friends and neighbours.