RGC Senior Research Fellow Scheme recognises four PolyU outstanding scholars
Innovative inventions from PolyU have contributed positively to the world and are widely supported by the government and research funding bodies. In another testament to PolyU's accomplishments and research excellence, scholars at the University have been awarded four out of ten grants under the Research Grants Council's (RGC) Senior Research Fellow Scheme 2022/23.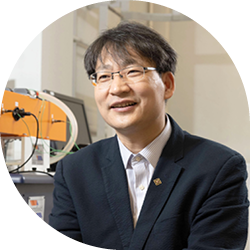 Professor Wang Zuankai
Associate Vice President (Research and Innovation)
Chair Professor of Nature-Inspired Engineering, Department of Mechanical Engineering
Professor Wang made many multidisciplinary research and breakthrough achievements in the fields of advanced manufacturing, surface science, fluid mechanism, thermal energy, materials science and physics. He is a founding member of the Hong Kong Young Academy of Sciences, a Fellow of the International Society of Bionic Engineering and has received many awards including the Croucher Senior Research Fellow (2023) and BOCHK Science and Technology Innovation Prize (2022), and is recognised as a 2022 Highly Cited Researcher by Clarivate.
Research Project: Superwettability: From Fundamentals to Applications
This project aims to answer a few important scientific and technological questions related with superwettability of surfaces under extreme environments. Take for example, under the freezing temperature, how to design nature-inspired materials for anti-icing; and under high temperature, how to achieve superwetting state on superhot surfaces for efficient heat transfer. Answering these questions will fill the gap in the fundamental understanding of superwettability in extreme conditions and trigger many new applications such as anti-icing and thermal cooling.
---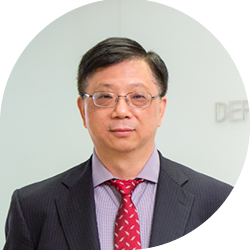 Professor Sun Defeng
Chair Professor of Applied Optimisation and Operations Research and Head, Department of Applied Mathematics
Professor Sun was ranked among the world's top 2% most-cited scientists in an index compiled by Stanford University in 2022. He was conferred as an Inaugural Fellow of the China Society for Industrial and Applied Mathematics and a Fellow of the Society for Industrial and Applied Mathematics in 2020.
Research Project: Nonlinear Conic Programming: Theory, Algorithms and Software
Solving the problem of nonlinear conic programming can advance research in Mathematical Optimisation. The success of this project will contribute to a broad range of important applications, including sixth-generation wireless communication technology (6G), investment portfolio management, financial risk management, supply chain management, production planning and autonomous vehicles.
---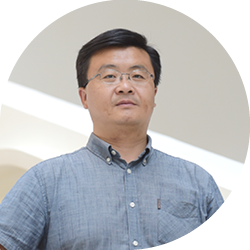 Professor Li Gang
Associate Director, Otto Poon Charitable Foundation Research Institute for Smart Energy
Sir Sze-yuen Chung Endowed Professor in Renewable Energy, Department of Electronic and Information Engineering
Pioneering the field of organic polymer photovoltaic (OPV) technology, Professor Li has made significant contributions to device physics, device architecture, materials development, and printing technology. He is a Fellow of the Royal Society of Chemistry in the UK; a Fellow of SPIE, the international society for optics and photonics; as well as a Fellow of the professional optics and photonics society Optica.
Research Project: Printable Organic Solar Cells: Materials and Device Investigations towards Applications
Organic solar cells (OSC) are an emerging photovoltaic technology with distinct advantages in many areas. This project will significantly push forward OSC technology in terms of efficiency, operation stability, compatibility with unique applications and being printer-friendly, in the hope of furthering scientific understanding and developing solutions to challenging issues in the field of renewable energy.
---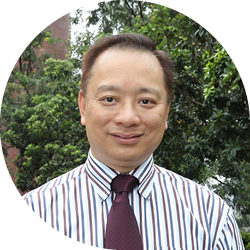 Professor Edward Chan Ko-ling
Professor, Department of Applied Social Sciences
Professor Chan is committed to preventing family violence through the development of high-impact and socially relevant research. He is an internationally leading scholar in family violence studies with groundbreaking research on child and family poly-victimisation (FPV).
Research Project: Family Polyvictimisation and Social Policy Responses in East Asian Societies
FPV refers to the co-occurrence of at least three types of family violence, including intimate partner violence, child abuse and elder abuse. This project will be conducted in five East Asian cities, namely Hong Kong, Beijing, Tokyo, Seoul and Taipei. With cross-cultural data, the research team will examine and compare cultural practices in the different cities, aiming to develop clinical protocols and policies in response to FPV. The project will facilitate the development of integrated prevention and multi-disciplinary collaboration, and bring significant benefits to families experiencing FPV in East Asian contexts.
---
RGC Senior Research Fellow Scheme
The scheme aims to provide sustained support and relief from teaching and administrative duties to exceptionally outstanding researchers (full professors) at UGC-funded universities in Hong Kong, with a view to facilitating their dedication to research and development and helping universities attract and retain research talent.

In each round of the yearly exercise, each awardee will be conferred the title "RGC Senior Research Fellow" and the supporting university will receive a fellowship grant at around HK$7.8 million per award over a period of 60 months.