Combining Innovative Technology and Sustainability with Fashion Design
PolyU's School of Fashion and Textiles (SFT) has held its first Master of Arts (MA) and Bachelor of Arts (BA) graduate fashion shows since being established as the University's third flagship independent school. Through integrating fashion and textile education with innovation and technology research, SFT aims to increase the competitive advantage of its graduates and enhance Hong Kong's fashion and textiles industry. The fashion shows demonstrated the graduating students' ability to apply innovative technologies to fashion.
Bachelor of Arts (BA) Graduation Fashion Show
Thirty-two graduating BA students from SFT showcased their creative designs at the PolyU Fashion Show held at the Hong Kong Convention and Exhibition Centre. The event marked the return of the annual iconic show after a two-year break due to the pandemic.
The show covered three major areas of fashion design, namely knitwear, intimate apparel and activewear. Each finalist demonstrated three pieces from their collection, competing against each other for various awards and scholarships
Providing an opportunity for the students to share their amazing designs on the catwalk, the Show attracted nearly 700 guests including influential figures from the industry, famous fashion designers, media friends and fashion bloggers, while an audience of over 7,000 watched the live show online.
Interim Dean of SFT Professor Raymond Wong said, "The Institute of Textiles and Clothing has been upgraded to an independent school – the School of Fashion and Textiles. During our 65-year history, the School has aligned its operation with the mission of PolyU in many ways, including through its ground-breaking innovations, effective pedagogies and critical contributions to scholarship." Read more about the establishment of SFT here.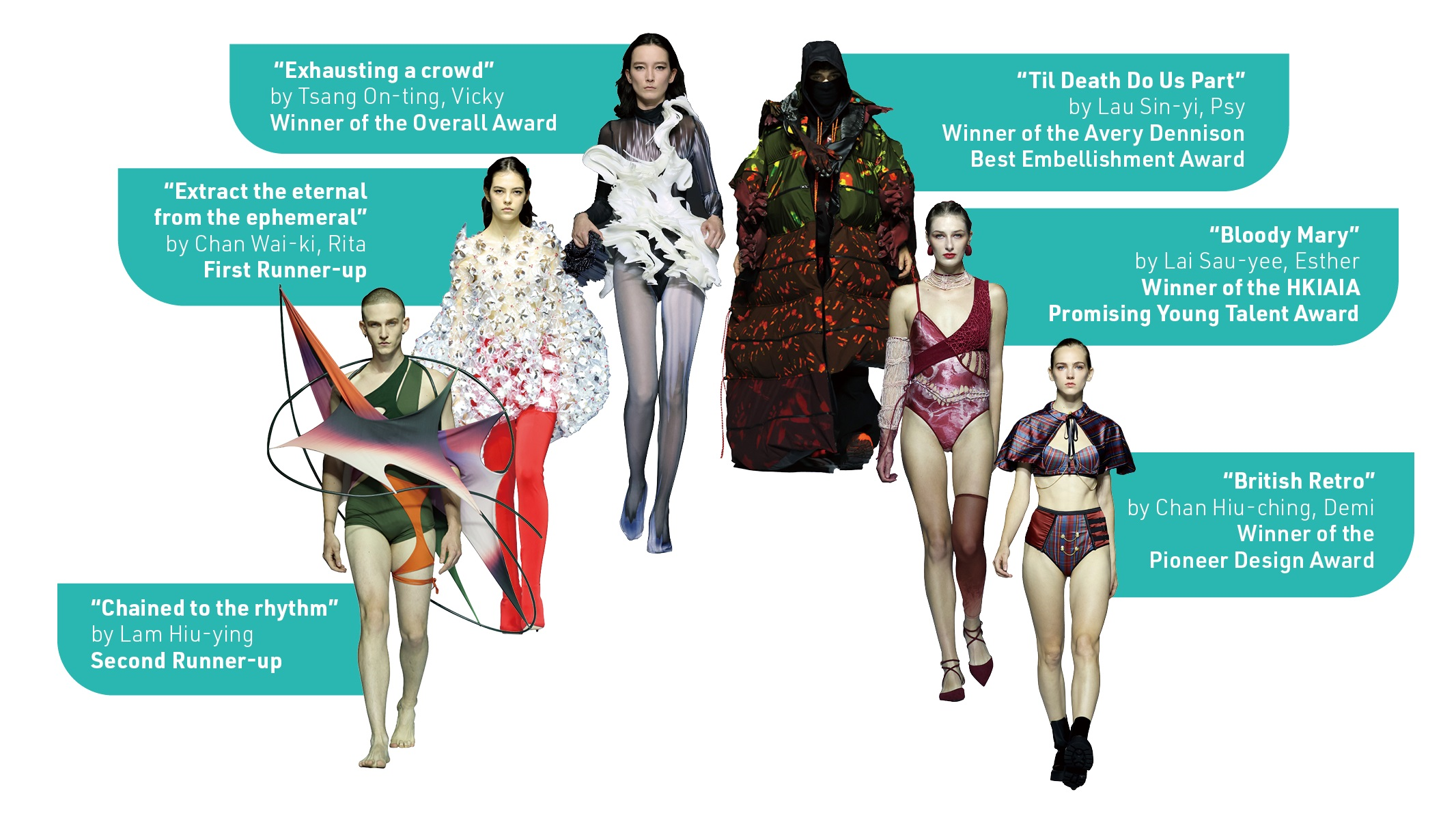 PolyU MA Graduate Fashion Show
The MA Graduation Fashion Show 2022 had the theme "Then, Now, Meta" to reflect the collective yet diverse journey students had undertaken through their work.

The event was held at the Mills, a revitalised former cotton mill, reflecting the show's theme. It was attended by guests, industry representatives, fashionistas and reporters.
Seventeen graduating students from the MA in Fashion and Textile Design showcased their work. While some students explored the past and incorporated fashion techniques from yesteryear in their collections, others reacted to current times and questioned the reality of today, while some explored the future and contemplated the boundless opportunities of tomorrow.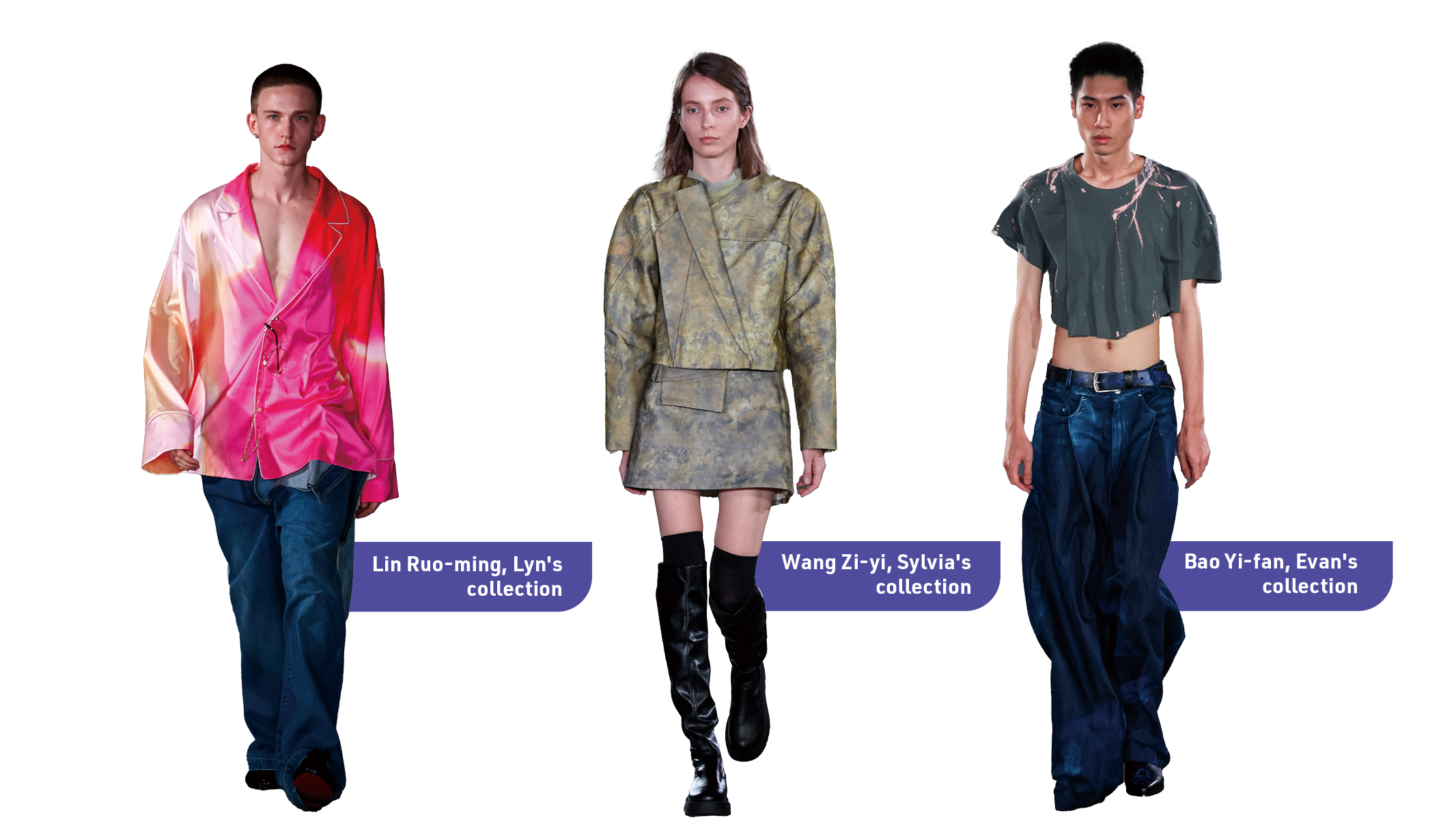 Applying innovative technology to fashion design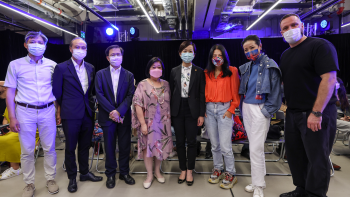 The graduates incorporated innovative new technologies into their designs by creating their own materials. Some students produced unique fabric finishes using natural plant dying techniques, while others established new approaches to embroidery and embellishment using epoxy resins. Three-dimensional design software was also used to minimise the materials consumed in the production process and to improve the sustainability of the designs.