PolyU Sports Teams win fourth-straight grand slam championship
PolyU's Sports Teams have won the Yearly Men's and Yearly Women's Overall Championship in the 2021/22 Inter-Collegiate Competition for the fourth time in a row.
The University's Sports Teams achieved another sweeping victory this year, snatching the Grand Slam and bringing home 12 championships, seven 1st runner-up and two 2nd runner-up places in the 24 sports they participated in. They beat fierce competition from 12 other local tertiary institutions in the tournament, which is organised by the University Sports Federation of Hong Kong, China (USFHK). In the basketball, squash, swimming and woodball competitions, PolyU won both the men's and women's championship.
In addition, nine PolyU students were named 'Most Valuable Players' or 'Individual Champions'. The accolades recognise their impressive performances in their respective events. Among them, Toto Wong Kwan-to from the swimming team was also honoured as 'Sportswoman of the Year'. Competing at the Tokyo Olympics for the Hong Kong Team in 2021, the 22-year-old swimmer said the awards showed athletes could strike a balance between academic pursuits and sporting achievements when studying in Hong Kong. Toto has now set her sights on the Paris 2024 Olympic Games. She hopes her experience can inspire other junior student-athletes.
'Most Valuable Players' or 'Individual Champions'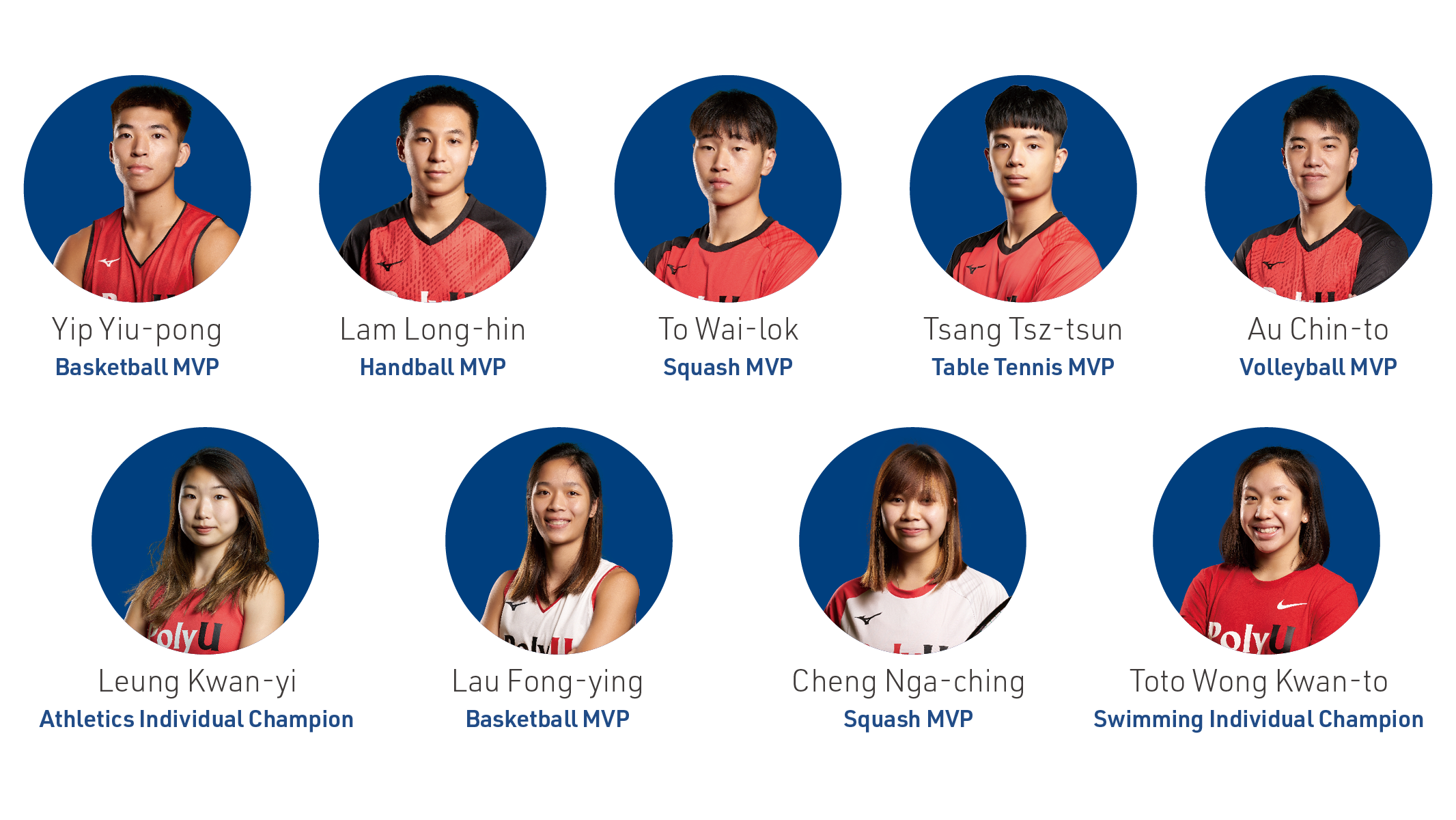 To nurture future athletes, PolyU fully supports students pursuing both sports and academic goals. Please click here to read the joint programme for elite atheletes co-organised by the Hong Kong Sports Institute and PolyU, and click here for the University's new flexible admission plans.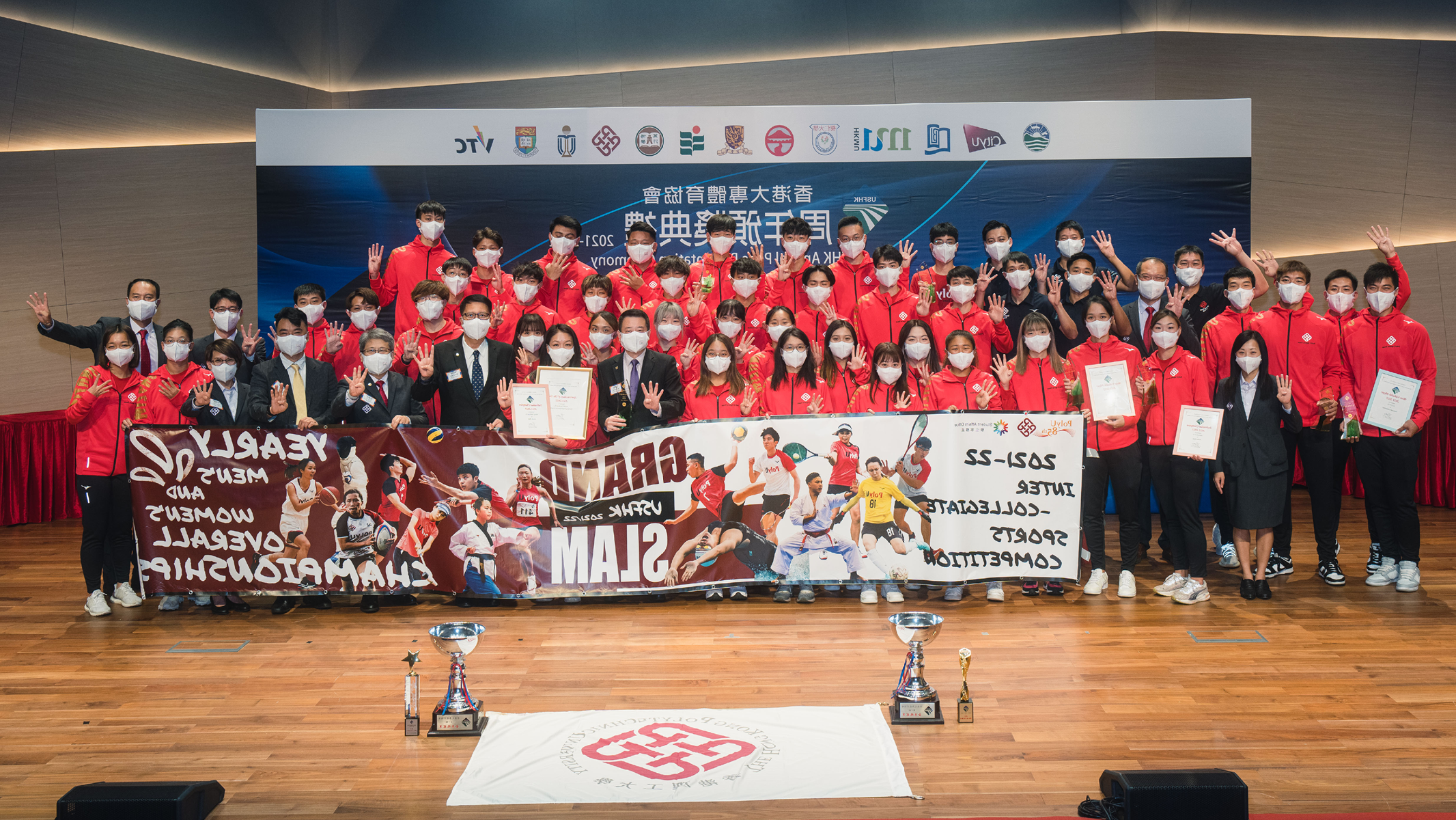 PolyU's Sports Teams at the USFHK Annual Prize Presentation Ceremony.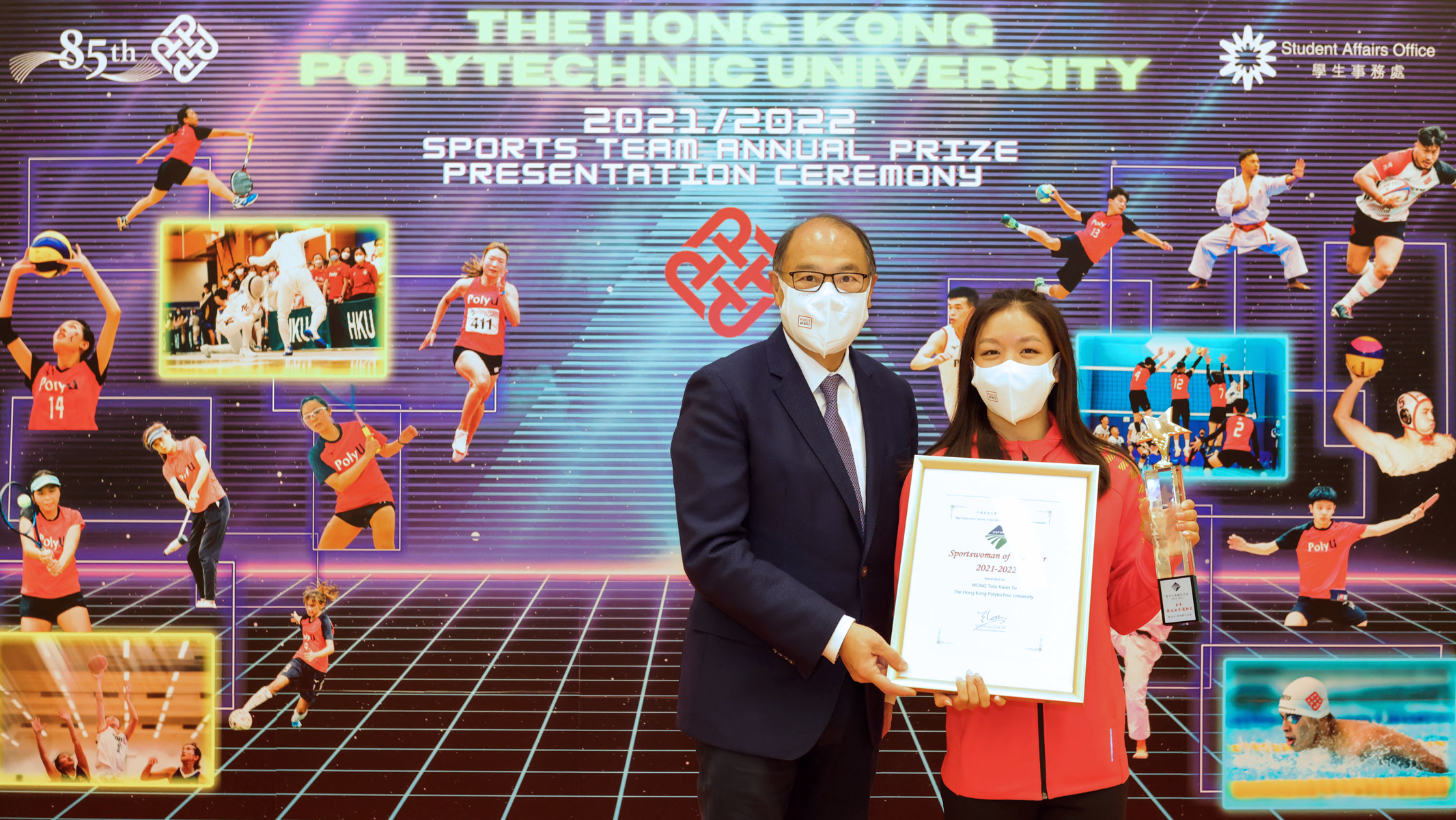 Toto Wong Kwan-to, a PolyU Optometry student and a member of the Hong Kong swimming team, was crowned Sportswoman of the Year and won an Individual Champion award in the 2021/22 Inter-Collegiate Competition.
Achievements of Sports Teams
Men's Teams
Seven championships

Women's Teams
Five championships

Categories

Positions

Categories

Positions

Athletics

1st runner up

Athletics

Champion

Badminton

1st runner up

Badminton

1st runner up

Basketball

Champion

Basketball

Champion

Handball

Champion

Handball

2nd runner up

Rugby

2nd runner up

Rugby

1st runner up

Squash

Champion

Soccer

1st runner up

Swimming

Champion

Squash

Champion

Table Tennis

Champion

Swimming

Champion

Tennis

3rd runner up

Tennis

1st runner up

Volleyball

Champion

Volleyball

1st runner up

Woodball

Champion

Woodball

Champion