Design that makes a difference: fostering inclusion and empathy
Dr Tulio Maximo
---
Bachelor of Science in Industrial Design, Universidade do Estado de Minas Gerais, Brazil (2006)

Master of Science in Ergonomics – Inclusive Design, Loughborough University, UK (2012)

Doctor of Philosophy in Disability Studies, Loughborough University, UK (2017)

Assistant Professor, PolyU School of Design (2018 – present)
---
"PolyU's School of Design (SD) offered me an opportunity that I always dreamed of, which is to engage in student-centric education and inclusive design," says Dr Tulio Maximo, Assistant Professor at SD, as he reflects on why he decided to join the School in 2018. He adds, "The School's vision to nurture open-minded creative leaders who make a positive impact also corresponds with my own values and inspired me to join this world-class School".
Success met with failures
Since joining SD, Dr Maximo has created an elective course focusing on inclusive design called "Design meets Disabilities", which applies empathy to guide students to design more user-friendly products, especially for people with disabilities. In particular, he encourages his students to develop a personal understanding of users' needs, by collaborating with potential users throughout the design process, starting from research and conceptualisation to product testing. He also equips students with tools to immerse themselves as an elderly or disabled person, simulating reduction of capabilities faced by this population and thinking about what kind of products would be suitable for them.
Dr Maximo's passion to promote empathy and inclusion is partly motivated by the example of his mother, who was a public-school teacher in Brazil. His mother was committed to helping and teaching others regardless of their background or personal circumstances. In fact, she went out of her way to help the most disadvantaged members of society. This spirit of serving others inspired Dr Maximo to do likewise through practising inclusive design. His own childhood diagnosis of attention-deficit/hyperactivity disorder also made him an advocate of inclusive education, which means providing a learning experience that respects students' neurodiversity (or difference in cognitive behaviours).
As a result of his devotion to inclusive design and education, Dr Maximo was presented with the prestigious 2022 UGC Teaching Award in the Early Career Faculty Members category, one of only three recipients this year. Please refer to page 23 to learn more about this award.
Design is thriving in Hong Kong
Since moving to Hong Kong after completing his PhD in the UK, Dr Maximo claims, "I greatly admire the design culture in Hong Kong. I think inclusive design is really valued here." He commends the local Government for promoting inclusive design through collaborative projects with the community. One example is the playground in Tuen Mun Park which was designed collaboratively with potential users, including children and seniors to make the playground user-oriented. He's also encouraged by SD students tackling social issues through their capstone projects or other design initiatives.
Inclusive design generates social and economic value
In Asia, Dr Maximo has been influenced by innovators such as Yohji Yamamoto, a Japanese fashion designer who has for decades been making gender-neutral clothes that can be worn by both men and women, thus pioneering inclusive design in the fashion industry. He's also impressed by the work of PolyU SD alumnus Dr Rico Chan, who founded a social enterprise called Beyond Vision Projects that aims to enhance the quality of life for visually impaired people. Whereas Comma Leung, an SD alumna, founded Mosi Mosi, a design studio which creates people-oriented products, including a wallet for visually impaired persons and a coin-purse for people with cerebral palsy. These examples, according to Dr Maximo, illustrate that inclusive design is not only socially beneficial, but can also be economically viable as a business. He hopes they inspire more designers at PolyU and in Hong Kong to champion user-centric design.
Significant personal projects
In terms of his own projects, Dr Maximo is proud of a project called Ciranda, which he undertook in Brazil at the Instituto Noisinho da Silva. Ciranda helps young children with physical disabilities to sit independently on the floor, enabling them to play and learn and interact with other children through a specially designed floor seat. Not only was this seat produced and commercialised, but parents from poor backgrounds who couldn't afford one were trained how to build their own seats, making Dr Maximo realise that design is not just about building products, but can also be about providing a service for the benefit of the community.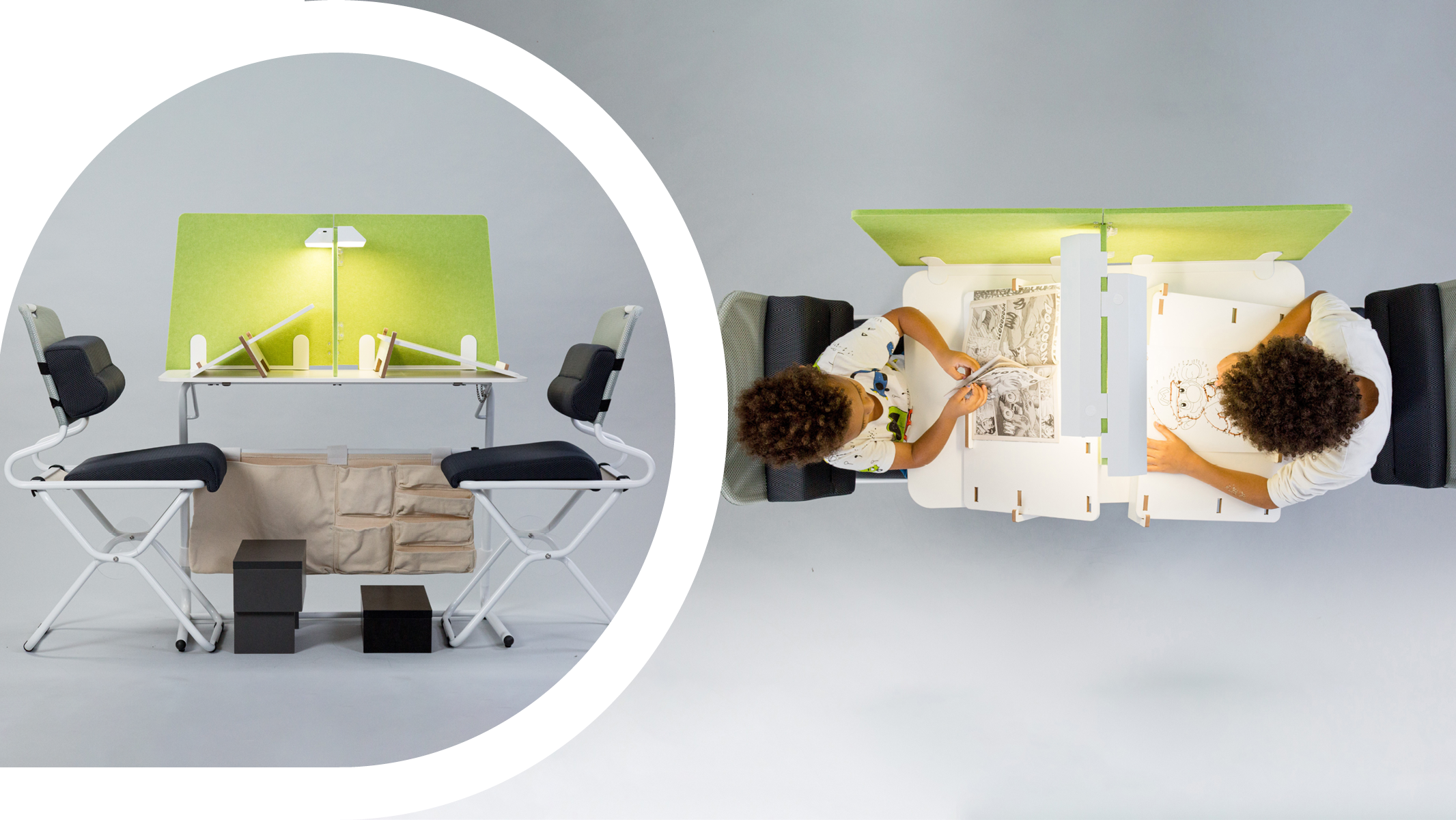 The Omni Study System
At PolyU, Dr Maximo is honoured to lead the multi-disciplinary 'Omni Study System' project, commissioned by the Jockey Club Design Institute for Social Innovation. This project comprises a low cost but systematic furniture solution including a folding table with divisor panel and integrated light; a seat that can be used on the bed, on the floor or on a stool; a tilt board; a storage bag; a set of cushions and a footrest to fit children of different sizes. The furniture system provides an optimal studying space for children in sub-divided flats to support their healthy development. The project won the prestigious Red Dot Award: Product Design 2022.
An enriching education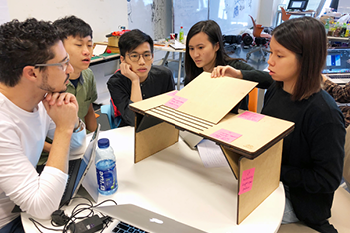 Ultimately, Dr Maximo wants his students to find their studies joyful and directed towards the well-being of others. He calls this 'value-creation education', a term originally coined by the Japanese educator Tsunesaburo Makiguchi and disseminated by the Japanese educator and philosopher Daisaku Ikeda. "I'm driven to provide happy and meaningful moments for my students, so that they leave my lessons feeling enriched and inspired," Dr Maximo explains, as he strives to nurture the next generation of user-centric designers.