Dr Ho Kwon-ping inducted into SHTM's Gallery of Honour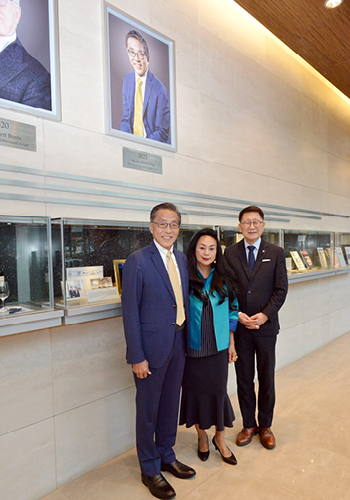 Dr Ho Kwon-ping, Founder and Executive Chairman of Banyan Tree Holdings Limited, was inducted into the Gallery of Honour of PolyU's School of Hotel and Tourism Management (SHTM). He was also awarded the prestigious SHTM Lifetime Achievement Award, in recognition of his contribution to defining the global hospitality landscape and advancing the industry.
A visionary innovator and a respected leader in the industry, Dr Ho is an ardent supporter of hospitality and tourism education besides being a longstanding partner of SHTM. A former Chairman of the SHTM International Advisory Board, he was conferred an honorary doctorate by PolyU in 2015.
SHTM's Gallery of Honour displays portraits of the SHTM Lifetime Achievement Award recipients, who represent the world's most successful hospitality organisations and recognisable brands.
Honoured with SHTM Lifetime Achievement Award
An award presentation ceremony of SHTM Lifetime Achievement Award was held in Dr Ho's honour. During the ceremony, Professor Wing-tak Wong, Deputy President and Provost of PolyU, praised Dr Ho as a stellar role model for all hospitality students worldwide.
Professor Kaye Chon, Dean and Chair Professor of SHTM, and Walter and Wendy Kwok Family Foundation Professor in International Hospitality Management, also expressed his heartfelt congratulations to Dr Ho on receiving the honour, "Dr Ho's exemplary accomplishments have not only played an important role in raising the level of the regional and global hospitality business, but also helped transform it through a distinctively Asian focus."
The SHTM Lifetime Achievement Award honours outstanding personalities who have contributed substantially to the development of hospitality and tourism in Hong Kong, the region, and the world.
I am deeply honoured and humbled to be conferred the SHTM Lifetime Achievement Award. The initial awardees were truly giants of our industry and inspired people of my generation. To join their ranks is truly an honour I could not have possibly envisaged.
~ Dr Ho Kwon-ping, Founder and Executive Chairman of Banyan Tree Holdings Limited