Rising PolyU fashion designers wow audience with creativity and imagination
As a world-class fashion and textiles education institution, PolyU's School of Fashion and Textiles (SFT) is dedicated to fostering students' development as independent designers, thinkers, leaders and entrepreneurs through a vibrant community. A long-standing tradition of SFT is to host a series of highly-anticipated fashion shows in town to showcase the innovative creations of its graduating students, providing them with a perfect platform to demonstrate their flair and talent to the fashion community.
PolyU Fashion Show 2023 - Bachelor of Arts (BA) (Honours) Scheme in Fashion and Textiles
The PolyU Fashion Show was held at the Hong Kong Convention and Exhibition Centre in June 2023. A total of 30 collections from BA graduating students made their debut, covering three major areas including fashion design, knitwear design, as well as intimate apparel and activewear design.
The Show was well-received, attracting an attendance of over 1,400 distinguished guests, renowned fashion designers, alumni and fashionistas. At the same time, a global audience of nearly 40,000 watched the Show through live stream.
Dean of SFT, Professor Erin Cho said, "The annual PolyU Fashion Show is a testament to the hard work, dedication and passion of our wonderfully gifted students. We were particularly proud to see so many amazing designs on stage and the way the work defined new aesthetics and pushed the boundaries of what fashion is and what fashion can contribute to society." Video.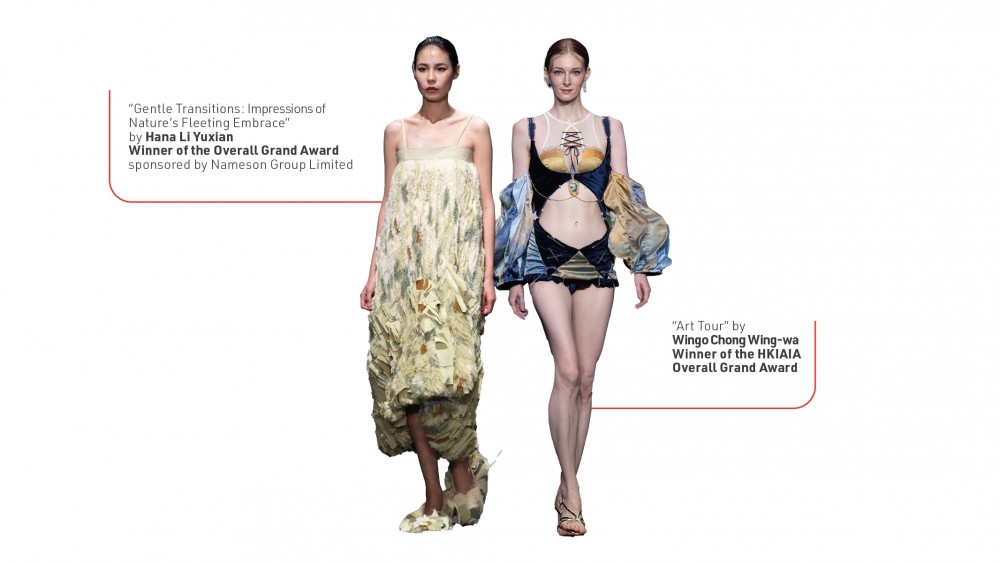 PolyU MA Graduation Fashion Show 2023 – Master of Arts (MA) in Fashion and Textile Design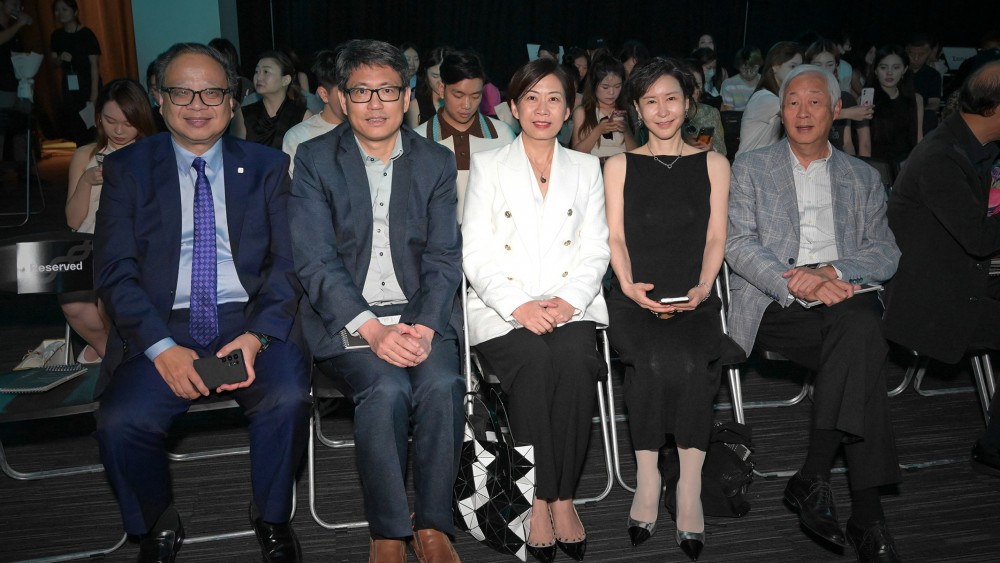 Dr Lawrence Li Kwok-chang, Deputy Council Chairman (first from right); Dr Miranda Lou, Executive Vice President (centre); Prof. Christopher Chao, Vice President (Research and Innovation) (second from left); Mr Simon Wong, Vice President (Campus Development and Facilities) (first from left) and Prof. Erin Cho, Dean of SFT (second from right) attended the PolyU MA Graduation Fashion Show 2023.
The MA Graduation Fashion Show was held in July 2023 at PMQ, a Grade 3 Historic Hong Kong Building, with 17 MA graduating students presenting a diverse collection of works. The theme of this year's Show was "I = x, y, z, w", implying a gateway for the audience to experience the designer's complex inner psyche (x, y, z, w).
The Show attracted over 300 distinguished guests, including home-grown designer Ms Lu Lu Cheung, as well as a global audience of nearly 24,000 through live stream.
Mr Ryan Scott Houlton, programme leader, hoped that talented and ambitious young designers could fully demonstrate their creative potential through this practical one-year course. He remarked, "This programme aims to nurture future industry mavericks, who are innovative and free-thinking. We also equip them with comprehensive skillsets. I look forward to seeing our graduates shine in the field, and become a new driving force and potential disrupters in the global fashion industry." Video.