Construction of new student hostel commences to promote holistic development
To help enrich the learning experience for PolyU students and ease the shortfall of student residential places, the University will construct a new student hostel at Tat Hong Avenue in Kowloon Tong, providing 1,680 student hostel places, and both indoor and outdoor recreational space for students. The new student hostel will attract outstanding non-local students to study in Hong Kong, thus helping to broaden the horizon of our local students.
The hostel's groundbreaking ceremony was held in May 2023, with Dr Lam Tai-fai, Council Chairman; Professor Jin-Guang Teng, President; members of the Council and the management team officiating. After the completion of construction works for student hostels at Kowloon Tong and Ho Man Tin, it is anticipated that students will be allowed to experience two years of hostel accommodation during their four-year studies.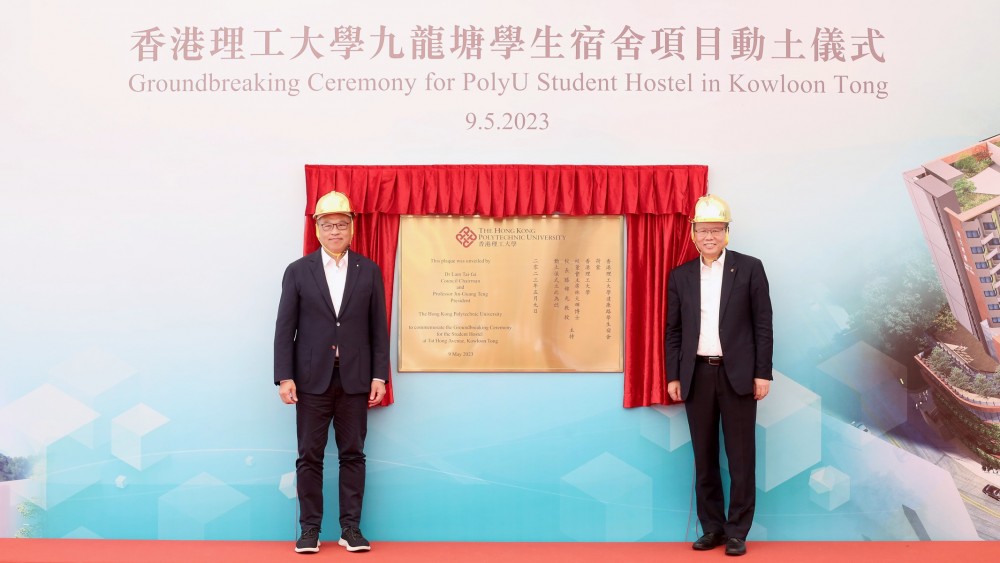 Dr Lam Tai-fai (left) and Prof. Jin-Guang Teng (right) also officiated at the plaque unveiling ceremony.
PolyU student hostel in Kowloon Tong

Location

Tat Hong Avenue, Kowloon Tong

Total gross floor area

about 50,200 square metres

Number of buildings

4

Number of hostel places

1,680

Facilities

include a canteen, multi-purpose rooms, common rooms, music rooms, gym room and recreation rooms

Target completion date

2028