ABarginase, a new drug curing multiple obesity-related diseases
Professor Thomas Leung Yun-chung
---
Director of University Research Facility in Life Sciences

Lo Ka Chung Charitable Foundation Professor in Pharmaceutical Sciences

Professor of the Department of Applied Biology and Chemical Technology
---
Professor Alisa Shum Sau-wun
---
Associate Professor, School of Biomedical Sciences, Faculty of Medicine, CUHK
---
Nowadays, patients often have to take multiple medications for treating various metabolic diseases related to obesity and insulin resistance. Researchers from PolyU and The Chinese University of Hong Kong (CUHK) have jointly made a ground-breaking drug discovery that opens the door for safe, long-lasting cures for multiple obesity-related diseases through an ingenious process – arginine starvation.
Who are the masterminds?
Always aspiring to bring new hope to patients with obesity-related metabolic diseases, Professor Thomas Leung Yun-chung of PolyU joined with Professor Alisa Shum Sau-wun of CUHK to develop ABarginase. It is the world's first therapy providing safe and effective treatment via arginine starvation for multiple metabolic diseases related to obesity and insulin resistance like prediabetes, type 2 diabetes and more importantly, non-alcoholic fatty liver disease for which there is no FDA-approved drug.
As scientists, we dream of building a better world. The successful development of ABarginase is an important step towards realising our dream.
~ Professor Leung and Professor Shum

How does ABarginase work?
The PolyU-CUHK research team discovered that a low level of arginine (a semi-essential amino acid) in the blood can suppress fat synthesis, promote fat breakdown and sensitise cells to insulin. Based on the discovery, the team developed ABarginase, a long-lasting recombinant human arginase.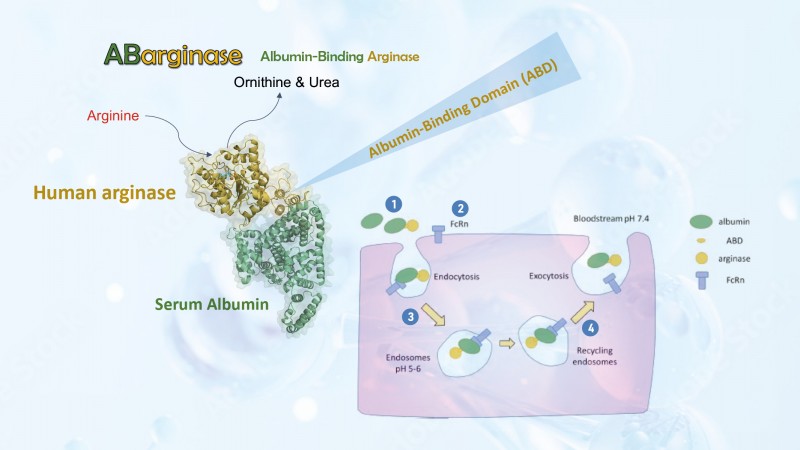 In the blood stream,(1) ABarginase's albumin-binding domain (ABD) attaches to albumin, (2) which then binds to the neonatal Fc receptor (FcRn) on the cell surface, (3) allowing the drug to enter the cell. Taking advantage of the natural recycling mechanism of FcRn, (4) the drug will be released back to the blood stream. In this way, the drug can circulate through the blood stream, and its circulatory half-life is considerably prolonged.
ABarginase contains an albumin-binding domain, attaching it to the stable and abundant albumin in the blood stream to extend its circulatory half-life by about 200 folds compared to native arginase. It exhibits strong catabolic activity and only requires once-weekly dosing to maintain circulating arginine at a low level to achieve arginine starvation.
What sets ABarginase apart?
Using an advanced fusion protein strategy, the team engineered ABarginase in an inexpensive and highly efficient fabrication process, making it cost-effective in production. As a result, it allows a lower selling price and potentially benefits many people. The new drug is long-acting and develops no drug resistance, thus safe for long-term use and widely adoptable for clinical applications.
What's next?
Patent applications for this invention have been filed in multiple countries. The research team is now scaling up the production of ABarginase at Good Manufacturing Practices (GMP) grade in preparation for conducting clinical trials.