PolyU scientists found new ways to treat Klebsiella pneumoniae strains
Professor Chen Sheng
---
Head of Department of Food Science and Nutrition

Chair Professor of Microbiology

Member of State Key Laboratory of Chemical Biology and Drug Discovery
---
The World Health Organization has repeatedly warned that the emergence and spread of multidrug-resistant "superbugs" could lead to the next wave of public health disasters. Among the known superbugs, Klebsiella pneumoniae is considered one of the most dangerous, as evolution of this organism has generated strains that are not only multidrug-resistant, but also hypervirulent. Such strains (CR-HvKP) were found to be able to cause potentially fatal infections with few treatment options, even among healthy people.
The PolyU research team which discovered CR-HvKP in 2017 has recently identified two promising therapeutic options that may be used alone or in combination to combat the growing threat of this superbug. Clinical trials to validate the findings will be conducted soon.
Who is the mastermind?
In 2017, the research team led by Professor Chen Sheng, discovered a multidrug-resistant and hypervirulent Klebsiella pneumoniae strain (CR-HvKP) through analysis of clinical samples of a patient in China. The patient eventually died of CR-HvKP infection. Subsequent studies in China showed a sharp increase in CR-HvKP infection in recent years, with a 25-45% mortality rate. Medical experts worldwide have classified CR-hvKP as an urgent threat to human health.
Five years since the discovery of the CR-HvKP strain, Professor Chen's team has made significant breakthroughs in their efforts to delineate the pathogenic mechanism of CR-HvKP. It was found that CR-HvKP produced virulence factors that triggered a strong inflammatory response in the host during the process of infection and that such inflammatory reactions could cause widespread tissue damage and septic shock in the host, resulting in an extremely high death rate.
How to fight the superbug?
Professor Chen's team devised two novel approaches for the treatment of CR-HvKP. The first involves the use of Acetylsalicylic acid (ASA), commonly known as Aspirin, to suppress the infiltration of inflammatory cells into the lungs and drastically reduce cytokine production in patients infected with CR-HvKP, thereby decreasing the likelihood of septic shock in the host.
Although ASA can protect patients against septic shock during CR-hvKP infection, this compound cannot eradicate the pathogen. The team then adopted a "drug repurposing" approach, involving the screening of drugs approved for the treatment of other illnesses, in order to identify those which can also be used as antimicrobial agent. The advantage of drug-repurposing is that effective and ready-to-use antimicrobial agents can be identified without having to go through a lengthy drug development and approval process.
The team eventually found that zidovudine, an anti- Human Immunodeficiency Virus (HIV) agent, could act synergistically with the antibiotic rifampicin to eradicate CR-hvKP. Doctors may therefore use a combination of zidovudine and rifampicin alongside immunosuppressants to treat critically ill CR-hvKP infection patients.
What's next?
This is the first time immunosuppressants have been reported to be useful for treating CR-hvKP infection, and the use of immunosuppressants together with zidovudine and rifampicin can further enhance treatment effectiveness. Such discovery provides an important insight into the development of new approaches for clinical management of diseases caused by Klebsiella pneumoniae, and possibly other microbial pathogens. Professor Chen said his team plans to validate the results in clinical trials soon and believes the research will significantly reduce the mortality rate of CR-hvKP-infected patients.
The research findings were featured in two publications, namely Signal Transduction and Targeted Therapy under Nature and Journal of Infection. The research was supported by the Research Grant Council's Theme-Based Research Scheme and Research Impact Fund. The related studies were also backed by the State Key Laboratory of Chemical Biology and Drug Discovery of PolyU. Part of the research was conducted at the City University of Hong Kong (CityU) in collaboration with a CityU researcher.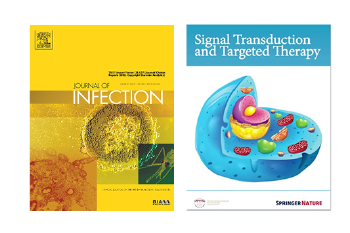 Their findings are published in two prestigious journals: Signal Transduction and Targeted Therapy under Nature and Journal of Infection.