Design infinity: unfolding creative universes at PolyU Design Show 2023
The PolyU Design Show 2023, organised by PolyU's School of Design, runs from 10 July to 25 October 2023. Themed "Grow to Discover. Expand to Show", this year's Design Show presents to the public more than 160 design projects created by individual students and co-presented by students across disciplines.
The annual Design Show has been a highlight for the creative and innovation industries in Hong Kong since 1970. It features the creative works of students from the School of Design's undergraduate programmes in Advertising Design, Communication Design, Digital Media, Environment and Interior Design, Interactive Media, Product Design and Social Design, and the postgraduate programmes in Innovative Business Design, Intelligent Systems Design, Multimedia and Entertainment Technology, Smart Service Design and Transitional Environments Design. Cross-disciplinary and cooperative client projects are also on display.
Addressing social needs with creativity
The exhibits address pressing issues that impact our day-to-day lives and reflect an amalgamation of innovative ideas and thorough user research. The projects demonstrate the students' proficient application of design disciplines and technologies and an understanding of social responsibility.
Professor K. P. Lee, Dean of School of Design, said, "As one of the world's top 20 tertiary institutions in art and design, PolyU's School of Design will mark its diamond anniversary next year. The School has been an important hub of design education and research in Hong Kong since 1964. PolyU's School of Design has long been nurturing designers who are not only innovative but also keep up with the trends in finding solutions to everyday problems."
Read More about PolyU Design Show 2023
Exhibits of PolyU Design Show 2023
Quexa by Foster Choi Wing-sing, BA (Hons) in Product Design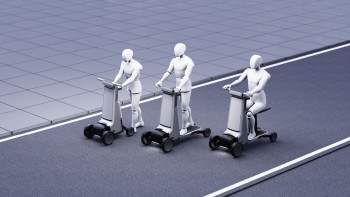 Tutor: Scott Chin
Quexa is a multifunctional short-range public mobility system for future microcities in Hong Kong's New Territories. The design intends to tackle the rising mobility needs in a newly contained city structure. Designed as an intuitive four-user mode convertible mobility, Quexa includes a dynamic steering system to suit every user, storage space for deliveries and other features to fit different age groups. Quexa's system utilises microcities' green energy as a power source while providing docking and battery-switching stations for users on the streets.
PolarisMaps by Chan Cheuk-yin and Tivona Tin Wing-kam, BA (Hons) in Interactive Media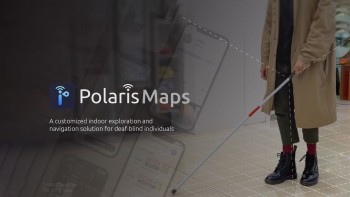 Tutor: Jeffrey Ho
PolarisMaps aims to help individuals with deafblindness travel independently through the provision of indoor navigation apps with customisable visual and auditory features. By offering a three-step solution consisting of planning, virtual exploration, and actual exploration, the project enables individuals with varying levels of deaf-blindness to navigate shopping malls comfortably. The vision of the project is to empower deaf-blind individuals to explore indoor environments confidently and safely, thereby enhancing their motivation to engage with the world actively.
eSee Mart by Daisy Lau Sin-yu, BA (Hons) in Communication Design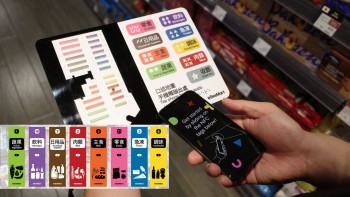 Tutor: Brian Kwok
eSee Mart is a possible design concept in collaboration with a local supermarket primarily designed for people with visual impairment (PVI). This project aims to empower PVI by creating an inclusive shopping experience while letting them accomplish everyday tasks independently and comfortably. The main design features include portable tactile map, visual-impairedfriendly wayfinding signages, near-field communication smart shelves and supermarket configuration. This design concept could be widely used in the future enabling PVI to live more independently than before.