PolyU establishes Artists' Alliance to advance art and culture
Dr Liza Wang, PolyU's Artist-in-Residence 2020/21, convened the first meeting of the PolyU Artists' Alliance in April. More than 30 well-known local artists from various fields, including music, visual art, Chinese opera, theatre, dance, and other genres have come together to create the Alliance, which aims to promote art and culture on campus and in the community, with a particular focus on engaging the younger generation.
| | |
| --- | --- |
| A student receiving guidance from Dr Liza Wang (right) on the art of Cantonese opera | Dr Chung King-fai (circled), Artist-in-Residence 2013/14, co-directed a performance of "Xiaojing Hutong" staged by the PolyU Theatre in 2017. |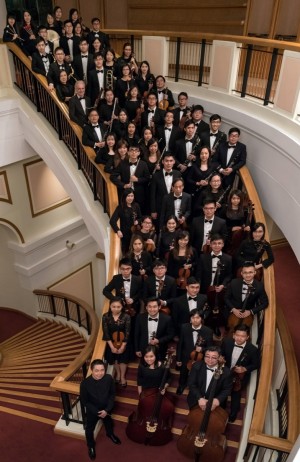 PolyU is committed to advancing art and culture as part of the University's effort to provide a holistic education. Since its establishment in 1999, the Artist-in-Residence Programme has received extensive support from many professional artists, fostering an appreciation for the arts among the University members. More importantly, numerous PolyU students have benefitted from the artists' direct guidance in their artistic development.
PolyU Artists' Alliance
Convenor
Dr Liza Wang
Members
Mr Albert Au
Mr Cheng Kok-kong
Mr Dominic Cheung Ho-kin
Mr Choi Ho-man
Mr Choi Hoi-ying
Dr Eric Fung
King's Harmonica Quintet 
  Dr Ho Pak-cheong
  Mr Chan Shu-keung Kenneth
  Mr Lau Chun-bong
  Mr Lok Ying-kei Rocky
  Mr Kuan Man-hou Johnny
Prof. Norman Ko
Mr Lai Ming 
Mr Leung Kin-fung
Mr James Mark
Dr Warren Mok
Ms Ng Yuet-lau
Mr Marco Szeto
Mr Tang Hoi-chiu
Dr Joseph Ting
Mr Shum Yat-fei
Mr To Kwok-wai
Ms Wang Bing Bing
Mr Ray Wong
Mr Wucius Wong
Mr Wong Kwok-chung
Ms Yao Jue 
Mr Yuen Siu-fai
Chung Ying Theatre Company
Hong Kong Dance Company
Hong Kong Repertory Theatre
PolyU management
Prof. Jin-Guang Teng, President
Dr Miranda Lou, Executive
Vice President
Prof. Ben Young, Vice President (Student and Global Affairs)
Prof. Geoffrey Shen, Associate Vice President (Global Partnerships)