UGC delegation visits PolyU's innovative teaching facilities
PolyU works closely with the University Grants Committee (UGC) to foster the development of the University and advance higher education. Mr Tim Lui, UGC's Chairman, recently visited PolyU with Professor James Tang, UGC's Secretary-General. They were welcomed by members of the central management team and deans of PolyU. During the visit, Dr Lam Tai-fai, Council Chairman of PolyU, and Professor Jin-Guang Teng, President of PolyU, shared the University's latest education, research, and innovation developments with the guests.
They visited the Research Centre for Deep Space Explorations, a major base for the research and manufacturing of space tools, and learned about PolyU's role in the Nation's lunar and Mars exploration projects.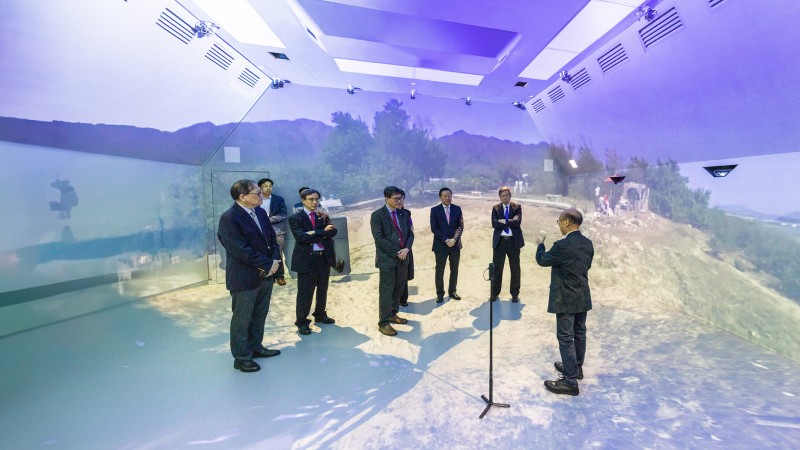 The delegation led by Mr Tim Lui (third from right) visited Hybrid Immersive Virtual Environment and experienced the virtual reality technology used for teaching and learning.
The delegation experienced innovative technology in the Artificial Intelligence and Robotics Lab (AIR Lab) and Hybrid Immersive Virtual Environment (HiVE). Developed by PolyU, HiVE is the world's first large-scale full immersive virtual reality classroom, allowing students to visualise abstract concepts and engage in experiences that may not be easy to access in the real world.
The delegation toured the Virtual Hospital and laboratories of the Faculty of Health and Social Sciences and learned about the Faculty's healthcare-related teaching pedagogies and research projects, such as the stand-alone therapeutic Music-with-Movement programme for elderly with cognitive impairment.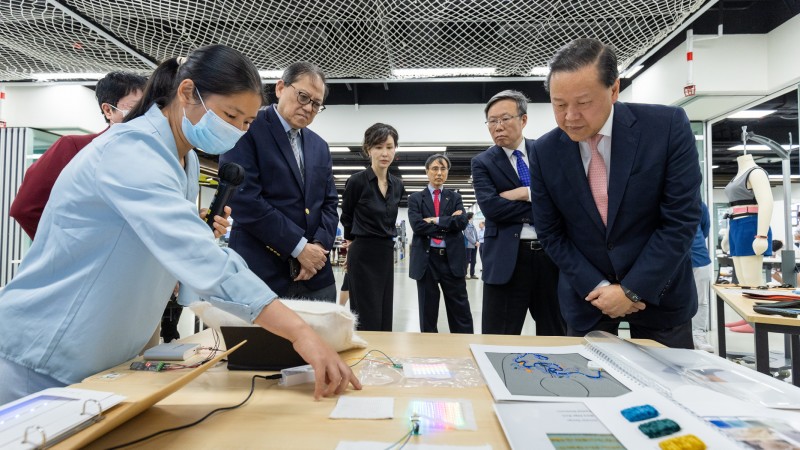 Mr Tim Lui visited the Research Institute for Intelligent Wearable Systems.
They also went to the Research Institute for Intelligent Wearable Systems to learn more about the University's innovations in human-centric wearables and the functions which can enhance our everyday lives.