New far infrared fibre with great potential for functional and healthcare textiles developed
Professor Lilly Li, from PolyU's Institute of Textiles and Clothing (ITC), has developed a new way of producing fibres that can absorb and emit far infrared (FIR) radiation more efficiently than conventional methods. The novel technology can be used to produce high-quality functional apparel and healthcare products. The innovation has benefits for both wearers of the garments and the textile industry.
The health benefits of FIR radiation
FIR rays can penetrate the human skin, gently raising the body's surface temperature to improve blood circulation, strengthen cardiovascular health, reduce aches and pains and boost immunity.
To benefit from these properties, the textile industry has been exploring the incorporation of FIR functional fibres into materials. These fibres absorb heat from sunlight or human body, transform the energy into FIR ray and emit it back to the body.
Traditionally, an FIR ceramic powder, or a chemical such as aluminum oxide or silicon oxide, is added to polymer fibres to make the FIR yarn.
Unlike the traditional method, Professor Li's innovative approach is chemical free. It works by modifying the structure of the cross section of man-made fibres from a conventional circular shape to a triangular one, which is significantly better at both FIR absorption and emission.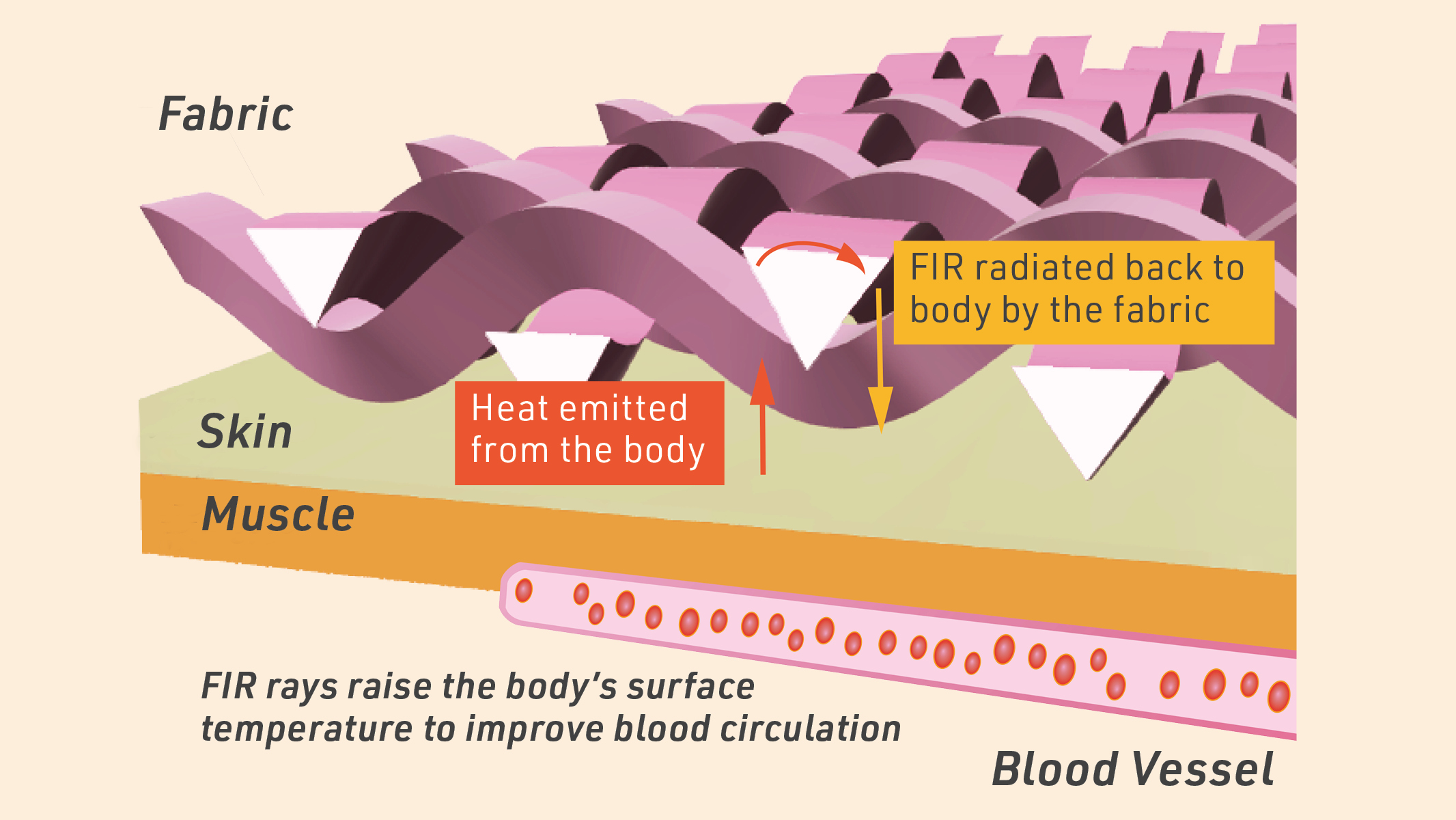 FIR textiles using synthetic fibres with a triangular crosssection absorb and emit FIR more efficiently, raising the body's temperature and bringing health benefits.
"The rotation angle of the triangular fibres inside a single yarn can be adapted to receive more FIR incident waves from different directions more efficiently than the circular one," Professor Li explains. "Furthermore, the received far-infrared is held inside the fibre longer to develop a larger optical path difference and, hence, a higher emission ability."
Industrial partnerships in the pipeline
Professor Li's innovation, which is applicable to different types of synthetic material, has further benefits over the conventional methods. The FIR function lasts much longer, meaning the textile products can be lighter, warmer, and more comfortable to wear. More importantly, the chemical-free method is eco-friendly and cost-effective.
Trademarks have been filed for the innovation in Mainland China, Europe, the US, and Hong Kong. It has been licensed to and adopted by an industrial company. "Our next step is to conduct more research with human subjects to understand better the advantages of FIR fibres. We will focus on developing applications such as sportswear and sleepwear, and we are exploring commercialisation with business partners," Professor Li said.

The innovation has won Professor Li a Gold Medal and a Special Merit Award (the Best International Invention, National Research Council of Thailand) at the 47th International Exhibition of Inventions of Geneva 2019 and a Gold Award at the 4th China (Shanghai) International Exhibition of Invention and Innovation 2021.