A rendezvous with National Team Olympians at PolyU
Six national team Olympians who participated in the Tokyo 2020 Games visited PolyU, sharing their inspiring stories with an enthusiastic audience of about 800 PolyU students, alumni and staff as well as members of the public in a meet-and-greet session in December 2021. The rendezvous was staged as a major event of PolyU's 85th Anniversary celebrations.
The sports stars, including five athletes and a coach, informed the audience about the ups and downs in their quest for Olympic glory. They charmed supporters and young students in the audience by sharing their motivational journeys of exertion, willpower and tenacity.
---
Cui Xiaotong
Rower, gold medallist in women's quadruple sculls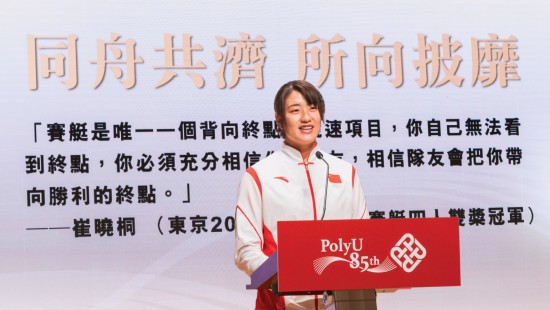 At the Tokyo Games, Cui Xiaotong and her teammates of the women's quadruple sculls crew paddled to win for China its second Olympic gold medal in rowing after the first in 2008. Cui began her training in rowing when she was 13. She had regarded the many championships she won a duty, and rowing a job, without much reflection on how significant the sport would mean to her, until she held the gold trophy in her hands at the Henley Royal Regatta 2019 . "We won the gold trophy in one of the oldest competitions on the River Thames, UK where rowing was born," Cui said. That experience changed her connection with her sport - she began to love rowing. "From then on, what drives me to keep rowing is not the fame or the awards, but the passion."
Lu Xiaojun
Weightlifter, gold medallist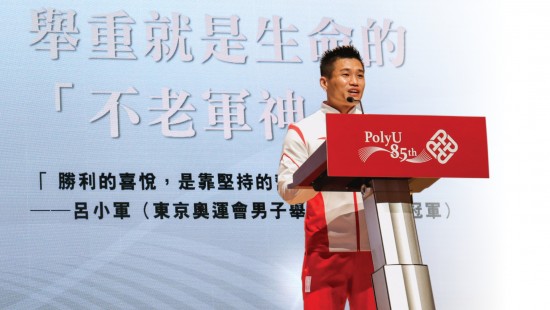 The 37-year-old weightlifter Lu Xiaojun won the gold medal in the 81 kilograms category at Tokyo 2020, making him the oldest gold medallist in Olympic weightlifting history. He shared a secret with the audience at PolyU, saying, "My secret to staying youthful in weightlifting is my scientific training programme." Lu said that he enjoys his daily training like a young man enjoys working out in the gym. He also told the audience how he endured the pain from an injury to his waist when he lifted a weight to break a world record and win the championship in a competition in 2019. He stressed how recovery therapy and fitness training have become highly important to athletes like him, helping them to stay in the game.
Ma Long
The first five-time Olympic gold medallist in table tennis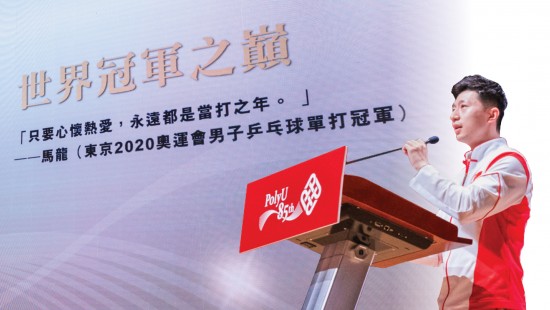 Ma Long, a table tennis sensation, is a 33-year old veteran of the sport who won the men's singles gold medal in the Tokyo Olympic Games. Ma is also the first-ever five-time Olympic gold medallist in table tennis. Since 2018, he was troubled by an injury to his knee. Three months after an operation, he returned to competition, only to find that he was trapped in the gloomiest years of his sporting life. "Sports is not just about winning or losing; the most important thing in sports is the courage to restart after failure, as well as the belief of never giving up," he said. "Hold on to your passion and you will always be in your athletic prime." He encouraged the audience, regardless of their age, to act now in pursuit of their dreams.
Su Bingtian
Sprinter, Asian record holder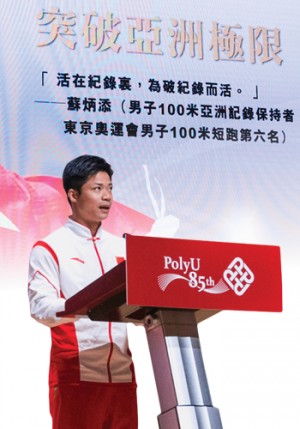 Su is the first Chinese sprinter to qualify for a men's 100-metre final in the Olympic Games and the first Asian born athlete to run the 100 metres in under 10 seconds. He has made unrelenting efforts to achieve success. "My daily training goal is to be 0.01 second faster than my original target," he said. "If you want to achieve anything, the first thing is to believe you can do it." Eventually, he made a new Asian record at the Tokyo Olympics with 9.83 seconds. Dubbed "God Su" by netizens, he spoke highly of the retired Hong Kong Paralympian So Wah-wai. Su said So is his own "God So", and he saw in So the persevering qualities of young people in Hong Kong and the Mainland – namely, that they will not give in to fate and will fight hard for their dreams.
Sun Yiwen
Fencer, gold medallist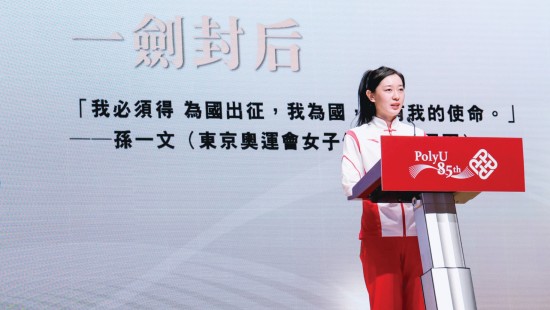 At PolyU, she revealed that what she treasured most about the Games was the process of challenging and surpassing herself. To prepare for the Tokyo Olympics, she deliberately abandoned the fencing style and strategy she had adopted for years and started from scratch. She has become who she is because of her passion, imagination, hard work, and willingness to change. "The wise have no hesitation; the brave have no fear," she quoted an ancient Chinese proverb. "The championship is glamourous, but the true spirit of sports, for me, is the painstaking struggle for excellence."
Wang Aimin
Swimming coach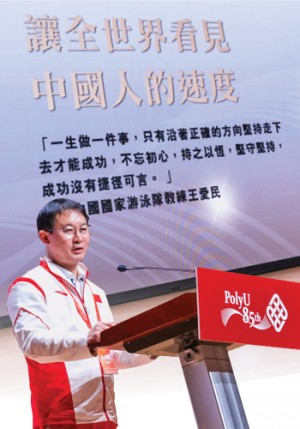 Wang Aimin, who coaches the national swimming team, has a motto to live by: "In your whole life, do one thing and do it well". He has devoted his own life to coaching swimmers to excel and to show the world "the Chinese speed". He added that a balanced life would help enhance one's performance. "I practice calligraphy together with my swimming team members," he said. "It enriches their leisure time, reduces their stress in training and competition, and increases their ability to concentrate – these enable my team members to stay cool and think."
---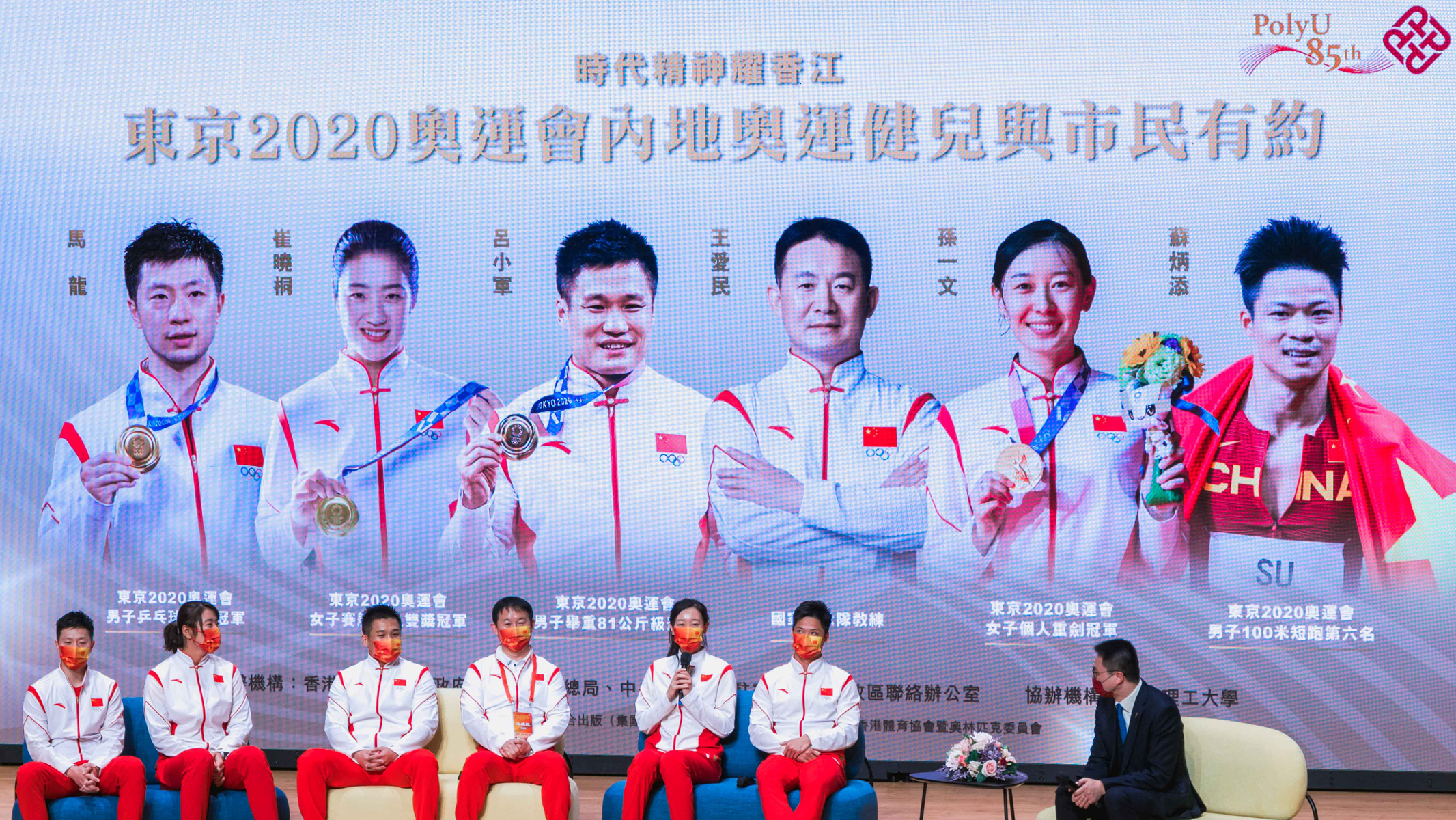 The Olympians chatted with the audience in the exchange portion of the meet-and-greet session moderated by Professor Lu Haitian, PolyU's Director of Mainland Development (right).
In welcoming the delegation, Dr Lam Tai-fai, Council Chairman of PolyU, said he was proud of the exertion and achievements of both Mainland and Hong Kong athletes at the Tokyo Games, adding that PolyU is committed to supporting sports development. "Hong Kong is honoured to host the 15th National Games in 2025 together with Guangdong province and Macau. By leveraging our leadership in sports sciences and sports physiotherapy, PolyU will strengthen its teaching and learning as well as R&D in these areas, and nurture more outstanding athletes so as to further contribute to sports development," he said.
The event was graced with the presence of Mr Caspar Tsui, Secretary for Home Affairs. In addressing the audience, he said, "PolyU has been very supportive to athletes in pursuit of their dreams. By enabling elite athletes to receive tertiary education while they are still committed to full-time training, PolyU helps athletes tremendously in developing their full potential and paving their future career options."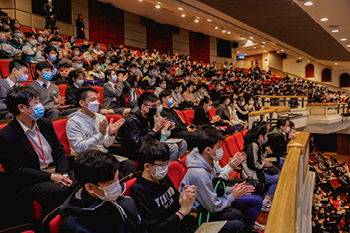 The Olympians' meet-and-greet was co-organised by the Hong Kong SAR Government, the General Administration of Sport of China, and the Liaison Office of the Central People's Government in the Hong Kong SAR. Ms Yang Ning, Deputy Director of the General Administration of Sport of China; Mr Zhang Zhihua, Director of the Department of Youth Affairs of the Liaison Office; Professor Jin-Guang Teng, President of PolyU; and Dr Katherine Ngan, University Court Chairman of PolyU, also attended the event.
PolyU launched the Outstanding Sportsmen Recommendation Scheme in 1998. Since then, the University has admitted more than 1,000 elite athletes to various full-time programmes. PolyU has also partnered with the Hong Kong Sports Institute since 2017, providing flexible tertiary study for the city's elite athletes.