New Dean of Students passes on his knowledge and caring spirit
Professor Albert Chan
---
Higher Diploma and Associateship in Building Technology and Management, Hong Kong Polytechnic

MSc in Construction Management and Economics, Aston University, UK

PhD in Project Management, University of South Australia, Australia

Chair Professor of Construction Engineering and Management

Able Professor in Construction Health and Safety

Head of Department of Building and Real Estate (2015 – 2021)

Dean of Students
---
The PolyU campus, with its distinctive red-brick architecture, holds a special place in the heart of Professor Albert Chan, Chair Professor at the Department of Building and Real Estate. It is filled with fond memories not only from his days as a student at the then Hong Kong Polytechnic, but also of becoming an acclaimed scholar at his alma mater and pursuing impactful research for society.
In September 2021, Professor Chan assumed a new role as PolyU's Dean of Students. Expressing his vision, he said: "PolyU has given me some of the most enjoyable moments in my life. I hope to give our students a fruitful university life, where they can discover their talents, and feel the love and care of the University as much as I did as a student here."
Supporting the holistic growth of students
As the Dean of Students, Professor Chan leads the Student Affairs Office in supporting the all-round development of students. Alongside offering counselling services and career guidance, the Student Affairs Office hosts a broad array of extra-curricular activities, such as the PolyU's Got Talent show. It also provides training for sports teams, with student athletes representing Hong Kong in many international sports competitions, including the Tokyo 2020 Olympic Games.
"We put a strong emphasis on the holistic growth of students in addition to academic development. Through our diverse programmes, students can develop their creativity and talents as well as hone their leadership, communication and critical thinking skills," he said.
Professor Chan encourages students to broaden their horizons through taking part in different activities, such as the Global Student Ambassador Programme and the Student Exchange Programme, which can lead to unexpected gains. "Through these programmes, students can connect with people of various cultures and from all walks of life. A student told me that she has even got several job offers prior to graduation thanks to her exposure through these programmes."
Also serving as the Warden at the student residence Min Yin Hall, Professor Chan believes hall activities are beneficial to students' growth. At the hall, local students can learn about different cultures from their international counterparts. He said that before the COVID-19 pandemic, students enjoyed the annual 'international food party' most, for which they prepared signature dishes from their hometowns to share with others.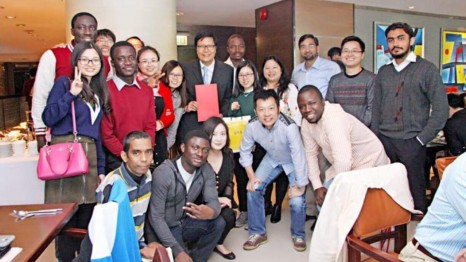 To break down language barriers, the hall has a buddy programme, while Cantonese classes are offered to international students. "Sometimes, I treat the students to a meal, and listen to their adventures in the city. We have a good laugh at the funny jokes about using Cantonese in communication," Professor Chan said.
Passing on knowledge and guidance
Professor Chan is a PolyU alumnus who studied building technology and management at the then Hong Kong Polytechnic. He was a student representative during that time. "At first, I was just doing some donkey work, like printing handouts for professors. Gradually I started to join meetings as a student member to voice students' opinions," he said.
He is thankful for the love and guidance he has received at the University over the years. "There was a law-related course that we, as science students, often struggled with. I initiated peer tutoring and sought guidance from business students who were more familiar with law. They agreed to help immediately," he recalled. During his master studies in the UK, he continued to receive useful advice from PolyU professors.
Having been teaching at PolyU for 26 years, Professor Chan is committed to passing on his knowledge and care to students, so that they can benefit society. He teaches by example. One major success for his inter-disciplinary research team has been the invention of the Anti-heat Stress Uniform, which is designed to protect construction workers from the heat. It has now become a standard uniform in all public works carried out by the Hong Kong Government, benefitting countless workers in the industry.
"I often tell my students that if they have ever received useful knowledge and guidance from me, just pass that on and inspire others. This is the best way of giving back to me," he said.
Professor Chan acknowledges that the road to success is often filled with challenges and failures, but there is always a way through if you persevere. He gives his research for the Anti-heat Stress Uniform as an example. "We came up with many ideas at the beginning, but they later proved to be unsuccessful. Of course, there was disappointment, but we would cheer up each other and continue our dedicated efforts. We eventually succeeded."
To encourage students, he added: "Similarly, there are ups and downs in life. And I believe that one can ultimately overcome adversities with hard work and perseverance."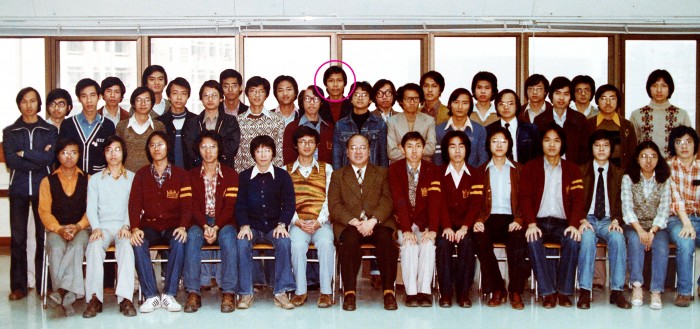 Professor Chan (circled) and his classmates at the then Hong Kong Polytechnic