New Junior Research Mentoring Programme supports secondary students in research projects
PolyU has completed its first Junior Research Mentoring Programme (JRMP) offering secondary school students the opportunity to participate in research projects under the guidance of University academics. The programme not only nurtures students' analytical and research skills but also introduces them to undergraduate programmes and helps them make informed choices about their future academic studies and careers.
Keen participation from 36 schools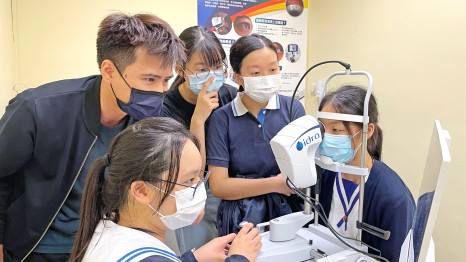 More than 60 PolyU academics from a range of departments participated in the programme, and nearly 100 students from 36 local secondary and international schools were selected to take part in the inaugural programme.
Under the mentorship of PolyU academics, the students conducted research in groups over a three-month period. Their topics covered an array of subjects, ranging from rehabilitation sciences, optometry, nursing and biomedical engineering, to hotel and tourism management, design, languages and business.
Professor Ben Young, Vice-President (Student and Global Affairs), said: "The newly launched Junior Research Mentoring Programme serves to deepen understanding of research work among young people, enabling them to gain practical experience in research and broaden their academic horizons."
An invaluable personal and academic experience
Under the guidance of Dr Arnold Wong, Associate Professor of the Department of Rehabilitation Sciences, four students from Good Hope School and Diocesan Girls' School conducted research on musculoskeletal pain and looked into the associated risk factors among secondary students.
Reflecting on their first research journey, the students said: "During the process, we came across challenges in identifying interviewees and processing data, which were solved through collaboration within the team and the aid of PolyU's mentors. It was an invaluable experience to strengthen our critical thinking and analytical skills."
The upcoming Junior Research Mentoring Programme will open for applications in early 2022, and is expected to run between April and August.