Fostering the success of a "unicorn" – Hai Robotics
Hai Robotics, one of PolyU's strategic partners, was nurtured under the University's entrepreneurship ecosystem and has recently become a unicorn after completing its 7th round of financing with institutional investors.

The startup has grown rapidly by capitalising on the manufacturing advantages of the GBA and the opportunities of the Mainland China market. With a valuation exceeding US$1 billion, the company is widely recognised as a pioneer and leader in autonomous case-handling robotic (ACR) systems.

Hai Robotics was founded in 2016 by two graduates of PolyU's Department of Electronic and Information Engineering —— Mr Richie Chen (2012) and Mr Bing Fang (2014). The two first partnered up during their undergraduate studies when their supervisor Professor Chao Lu challenged them with postgraduate level research projects.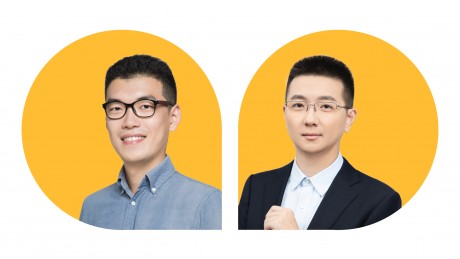 | | | | |
| --- | --- | --- | --- |
| | | Mr Richie Chen, | Mr Bing Fang, |
| | | Chief Executive Officer and Founder | Chief Operating Officer and Co-Founder |
The pair continued to receive PolyU's entrepreneurship education after graduation. With funding support of RMB200,000 from the University's cross-border entrepreneurship seed fund, they founded their first startup in 2014.
Their first product was an optical communication control module, for which they received orders from the world's top laboratories, including NASA, Huawei and Bell.
Subsequently, they envisioned high future demand for robots due to an ageing society, and decided to devote themselves to robotics R&D, leveraging experience they gained from the robotics competition at PolyU.
Devoted to robotics R&D
In 2016, having identified a significant market for warehouse robots, the partners visited more than 30 warehouses to understand the industry's pain points. But they were held back from developing their business idea by a lack of capital. Again, it was their alma mater which gave them the necessary support, granting them an entrepreneurship fund of HK$700,000, enabling them to forge ahead in their entrepreneurial journey.
World's first autonomous case-handling robot creates "blue ocean" market
They spent more than four years on research and development before Hai Robotics launched the world's first ACR, HAIPICK. The robot can increase customers' storage density by 80 to 130 percent and offers a threefold to fourfold improvement in efficiency. The system is also able to respond swiftly to changes in storage requirements. In addition, the two PolyU alumni developed an ancillary intelligent management platform, a multifunctional workstation and an intelligent charging station.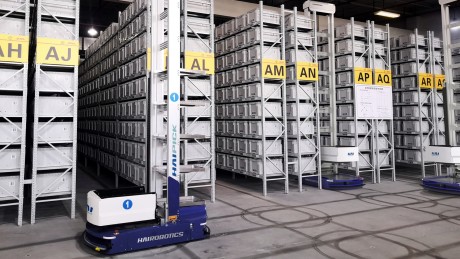 HAIPICK, the world's first autonomous case-handling robot launched by Hai Robotics, operating in a client's warehouse
Since its inception, Hai Robotics has sold more than 1,500 robots to customers from a wide range of industries, including footwear, medical, electronics, power and retail, in more than 20 countries, including China, Japan, South Korea, Australia, Europe and the United States. It has set up wholly-owned subsidiaries in the United States, Japan, Singapore and the Netherlands, and accumulated more than 400 intellectual property rights to maintain its leading position.
Planting the seeds of entrepreneurship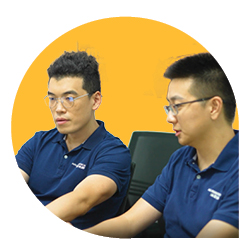 "PolyU's entrepreneurship education and support cultivated our ability to innovate and cope with challenges, and provided financial assistance when we were short of capital," Bing said.
In May 2021, to recognise young business leaders who have created value, Fortune China released a list of 40 elites aged below 40, on which Richie appeared.
Looking back on his entrepreneurship journey, Richie said: "PolyU planted the seeds of entrepreneurship and irrigated our growth to allow us to survive the initial difficult years. The company is still in its growth phase. We are grateful that PolyU continues to provide help for our talents and market expansion."
PolyU's entrepreneurship ecosystem cultivates its first unicorn
PolyU is proud that Hai Robotics is the first unicorn startup nurtured under its ecosystem. In recent years, PolyU has continued to encourage innovation, promoted undergraduate scientific research, set up a problem-oriented interdisciplinary scientific research platform, and facilitated school-enterprise partnerships to support scientific research and entrepreneurship. It has also supported pre-incubation for entrepreneurs, increased resources to help commercialise laboratory technology, and set up venture capital funds for midstream and downstream investment to promote the commercialisation of scientific research results. More unicorns are expected to emerge from PolyU's innovation ecosystem in the near future.