Driving interdisciplinary research for societal impact
New Director of PolyU Academy for Interdisciplinary Research shares his vision
Professor Chen Qingyan
---
BEng, Tsinghua University (1983)

MEng and PhD, Delft University of Technology, the Netherlands (1985 and 1988)

Assistant and Associate Professor, the Massachusetts Institute of Technology (MIT) (1995 – 2002)

Professor, Vincent P. Reilly Professor, and James G. Dwyer Professor of Mechanical Engineering, Purdue University (2002 – 2021)

Willis J. Whitfield Award, Institute of Environmental Sciences and Technology (2007)

John Rydberg Gold Medal, Scandinavian Federation of Heating, Ventilating and Sanitary Engineering Associations (2011)

Distinguished Achievement Award, International Building Performance Simulation Association (2013)

Director of PolyU Academy for Interdisciplinary Research (PAIR) and Chair Professor of Building Thermal Science, PolyU (since August 2021)
---
Prior to joining PolyU, Professor Chen Qingyan spent a quarter of a century at two of the most innovative universities in the world: the Massachusetts Institute of Technology (MIT) and Purdue University.
From MIT and Purdue to PolyU
"At MIT and Purdue, I immersed myself in interdisciplinary research to spark innovative results," Professor Chen says. "Both universities have had establishments like PolyU Academy for Interdisciplinary Research (PAIR) for years. They have built a full-fledged technology transfer ecosystem — from basic research to applied research to industry applications, and have consequently spun off and started up many enterprises."

Professor Chen thinks PolyU's recent developments show it has the potential to model itself on these two pioneers and create a robust ecosystem to channel basic research into something that has societal impact and industrial benefits. He commends PolyU's state-of-the-art laboratories and the many distinguished professors who excel at conducting translational research.
Strategic perspective of PAIR
The Director of PAIR has set himself two challenges for leading PolyU's new research and innovation hub. He aims to build it into a world-class research organisation in the areas in which PolyU has significant strategic advantages or interests, such as artificial intelligence, carbon neutrality, deep space exploration, smart cities, and smart energy. He also wants to make PolyU research translational and applicable so that it has a positive impact on society.

Professor Chen has identified five strategies to achieve these goals. First, he suggests developing innovative interdisciplinary research projects, which can apply for large research grants from Hong Kong, Mainland China and international sources. The internal funding from the Research Institutes (RIs) or Research Centres (RCs) under PAIR can act as seed funds. He adds that interdisciplinary collaboration should enable researchers to spark more ideas for innovation from each other.
Secondly, he thinks enhancing research collaboration with first-class universities in the world is essential. He explains that by partnering with the cream of scientists and research bodies, PolyU academics will be able to appreciate what issues concern the best minds and advance pre-competitive research. "Our researchers will be likely to envisage the future global developments and thus be in a better position to get ahead of the curve," he says.

Thirdly, research collaboration with industry should also be strengthened, according to Professor Chen. He hopes to see the establishment of university-industry research centres where PolyU researchers can apply their research findings to produce services and products with societal benefits.

Fourthly, the Director of PAIR is eager to assist PolyU academics to become entrepreneurs. He sees that entrepreneurs should effectively communicate, sell, focus, learn and strategise, in addition to driving technology innovations. He will work with the Knowledge Transfer and Entrepreneurship Office to enhance PolyU's entrepreneurial environment.

Finally, Professor Chen thinks the University should boost its effort in promoting its excellent research capability and outputs to the public. The effort can enhance the visibility and reputation of the University as a world leader in its strategic focus areas.
~~
Research Institutes and Research Centres under PAIR
Otto Poon Charitable Foundation Research Institute for Smart Energy
Otto Poon Charitable Foundation Smart Cities Research Institute
Photonics Research Institute
Research Institute for Advanced Manufacturing
Research Institute for Artificial Intelligence of Things
Research Institute for Future Food
Research Institute for Intelligent Wearable Systems
Research Institute for Land and Space
Research Institute for Smart Ageing
Research Institute for Sustainable Urban Development
Mental Health Research Centre
Research Centre for Chinese Medicine Innovation
Research Centre for Deep Space Explorations
Research Centre for Resources Engineering towards Carbon Neutrality
Research Centre for SHARP Vision
~~
People are the lifeblood of the University
"While the ten RIs and five RCs under PAIR are progressing on the right trajectory, it is our priority to actively support the newly established ones. We will offer assistance in recruiting researchers, preparing proposals, managing funding and providing promotional and administrative support," Professor Chen says.

To encourage interdisciplinary exchanges, Professor Chen plans to bring together researchers from different RIs and RCs to activities such as research salons and informal gatherings to inspire each other with ideas and perspectives. He says: "Exciting discovery could be found in a research domain linking two or more RIs and RCs." He also wants RIs and RCs to share talents and knowledge.
Professor Chen considers the Postdoctoral Researchers and Research Assistant Professors to be central to building up the University's research capabilities. He likens the University to a human body: "If the research institutes and centres are the organs, people are the lifeblood."
An accomplished academic himself, Professor Chen urges researchers to develop perseverance and go the extra mile. He says: "Even if there is only a one percent chance of success, I will give 100 percent effort to achieve it."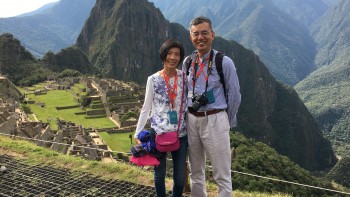 Professor Chen has literally walked many miles. He is fond of travelling and hiking, and has visited 61 countries so far. He says: "When visiting a new place, meeting new people, and learning about a new culture, the benefit to my life is immense. It also brings what I learn back to the workplace, and I see a new horizon."