A conversation with Vice President (Student and Global Affairs) Professor Ben Young – Wide-ranging efforts for fruitful university life
With his contribution to the internationalisation and student development aspects of the higher education sector, together with plenty of accolades such as the Best Teacher Award and Outstanding Researcher Award, Professor Ben Young was appointed Vice President (Student and Global Affairs) of PolyU in December 2018. He oversees institutional policies and plans related to student development and culture promotion as well as global engagement endeavours in educational initiatives. Professor Young is also Chair Professor of Steel Structures and has been listed by Clarivate Analytics as the "Top 1% scholars" worldwide by citations for many years.
---
PolyU's vision is to provide holistic education to students. Can you share with us some initiatives related to student development?
PolyU has been providing a range of activities, including student exchange, Service-Learning (both outbound and within Hong Kong), Work-Integrated Education and study tours to enhance holistic education.
More recently, we have launched the Global Student Hub for local and non-local students to have more opportunities to mingle together, in order to promote cross-cultural exchange and student connectivity.
We have also established a new undergraduate research initiative, through partnering with Mitacs, a Canadian not-for-profit organisation, offering a Globalink Research Internship Programme with universities worldwide. From 2022 to 2024, as many as 60 PolyU full-time senior undergraduates of any discipline will have the opportunity to participate in summer research internships at renowned Canadian universities. They will be able to acquire valuable hands-on research skills as well as gain international experience.
Can you also share with us some initiatives on culture promotion?
The University launched its first Curator-in-Residence programme in 2021/22. Mr Tang Hoi-chiu organised a meaningful exhibition showcasing 120 invaluable original sketches and paintings of Master Gao Jianfu, a renowned master of the Lingnan School of Painting.
Since 1999, we have promoted art and culture on campus through our Artist-in-Residence Programme. In 2020/21, we were honoured to have Dr Liza Wang, a highly respected multi-talented performing artist and a PolyU Fellow, as our Artist-in-Residence. She had an interactive session with our students in which she shared some basic elements of Cantonese opera. In addition, she contributed exhibits for the exhibition on Cantonese opera held on campus. She also gave a talk on her life experience, with the theme of "Self-respect, Self-motivation and Self-confidence".
We aim at enriching the artistic and cultural lives of PolyU members by providing opportunities to interact with masters of different artistic disciplines.
You oversee the recruitment of local and non-local students. What are the University's initiatives in attracting outstanding students?
We are in the process of setting up collaborative offices with leading universities in various countries such as Malaysia and Thailand to enhance our student recruitment drive. We are also exploring expanding our dual/joint programmes with various universities.
In Hong Kong, our newly-launched Junior Research Mentoring Programme was well-received. In May 2021, about 100 students from 36 local secondary schools and international schools were selected to participate in the programme and work on small-scale research projects across different fields under the guidance of PolyU academics. We plan to increase the scale of the programme in 2022.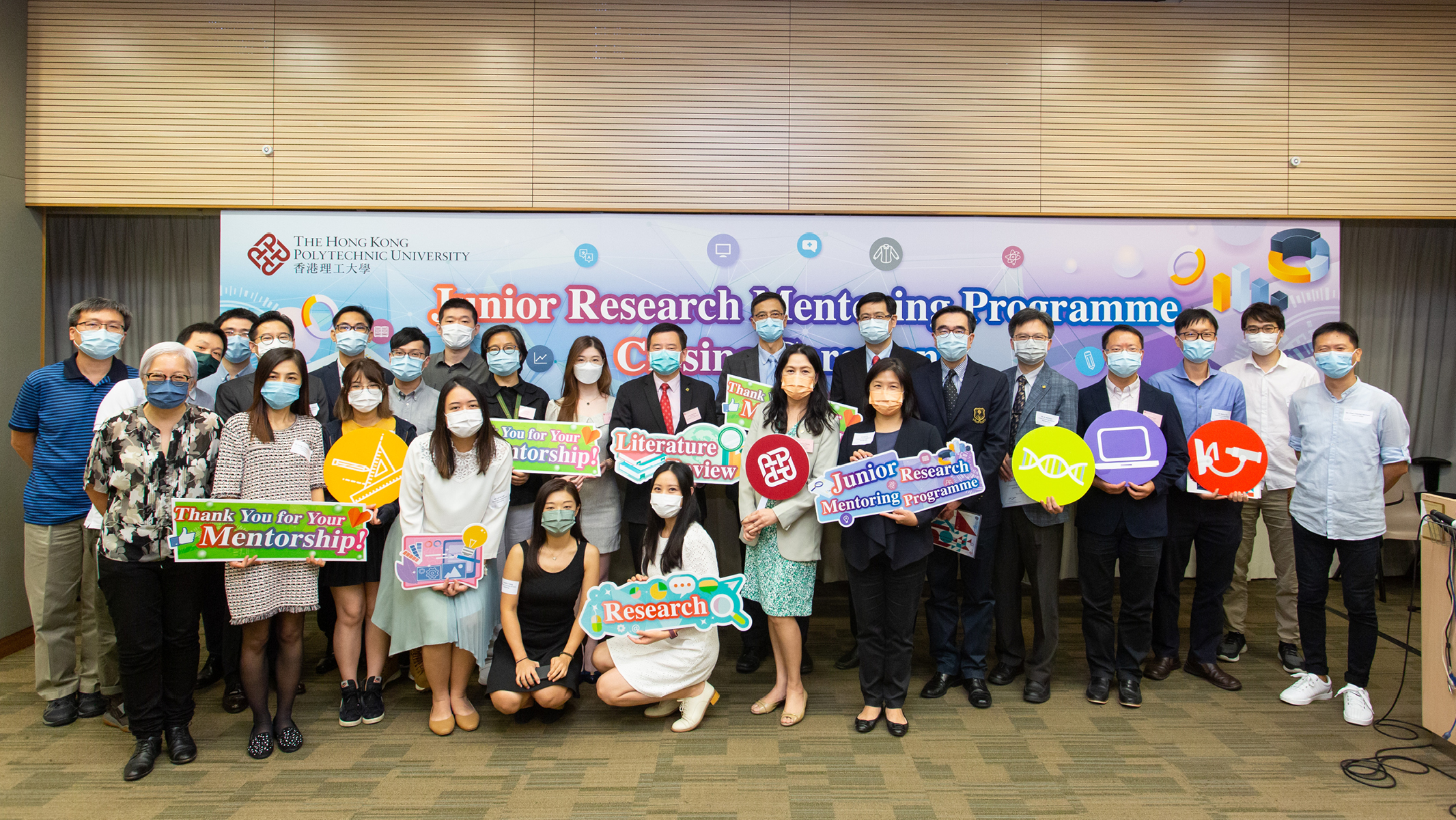 PolyU launches the Junior Research Mentoring Programme to deepen understanding of research work among young people under the guidance of experienced academics.
The University is also organising a new initiative, the "Science World: Exploring Space to Benefit Mankind" Education Programme, in 2021/22 to introduce space science and technologies to secondary students. The activities, comprising lectures, lab visits and a competition, will help arouse students' interest in science and attract bright minds to join PolyU.
You were one of the code writers for the "Hong Kong Code of Practice for the Structural Use of Steel" published by the Buildings Department of the HKSAR Government. Can you share with us the significance of your research on steel structures?
I am also an advisory member of the Committee on Structural Stainless Steel of the American Institute of Steel Construction, and have contributed some equations for use in the construction industry. My research focuses on metallic structures, including high string steel, aluminium and stainless steel, looking at their structural behaviour under ambient and high temperature.
Technology creates new materials, and each new material has differing behaviours. We have to test these materials in order to come up with design equations for structural engineers.
How did your experience of studying in Australia help with your work in student development and internationalisation?
I realised that academic studies are only part of university life, and I also deliberately stayed in an
international house of the student hall during my last year of study at the University of Sydney to get a taste of other cultures. I interacted with students from around the world, which gave me a better understanding of the needs of students studying in a foreign place.
What is your motto?
My motto is: Always do your best, don't give up.
How do you spend your free time? Do you have any hobbies?
I am occupied with administration work that I often return to campus to do research or meet with students at weekends. But most nights during the week, I go for a walk with my wife after dinner along the Tsim Sha Tsui waterfront. It is good exercise, and part of my routine is to walk 10,000 steps a day.
I like skiing, but that was not possible during the past two years due to the pandemic.