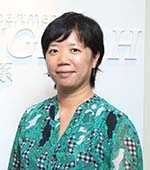 Wong, Dora (Dr)
Instructor

Qualifications:
Professional Translator (NATTI)



AG414

2766 7557

This email address is being protected from spambots. You need JavaScript enabled to view it.
Teaching Areas
English for professional context
Creative media contents
Digital news writing
Service learning

Research Interests
e-learning & teaching
ESL writing
Language arts
Translation
Research Projects
2014-current A community multimedia guidebook on social media network
2012-2015 Digital story making with the community
2011-2012 Building up a student e-learning community for active collaboration via electronic tools.
Research Output
Book Chapters and Journal Papers
Wong, D.(in Press). Digital storytelling using both pen and keyboard, in Tso, A. and Tam, K.K. (ed.) Digital Humanities and New Ways of Teaching, Vol. One, Springer.
Wong, D. (in Press) A Corpus-Based Study of Peer Comments and Self-Reflections, International Journal of Online Pedagogy and Course Design, 8(4).
Wong, D. (2016). Online Peer review of ESL E-News Writing, Doctoral Dissertation, University of Bristol.
Wong, D.(2014). Investigating metatalk and paralinguistic features on collaborative learning and negotiation in ESL: A Conversation Analysis in Qian, D. and Li, L (eds.) Teaching and Learning English in East Asian Universities, pp323-344, Newcastle upon Tyne: Cambridge Scholars.
Li, L., Wong, D., Gui, D. and AuYeung, G. (2012). Collaborative learning in the virtual English class: A Hong Kong case study in Yang. H. and Wang, Y (eds.) Cases on Formal, Non-Formal, and Informal Online Learning: Opportunities and Practices, Chapter 16, pp343-370. New York: IGI Global.
Gui, D., Li, L., Wong, D. and AuYeung, G. (2011). Good to use for virtual consultation time: Second Life activities for and beyond the technical and web-based English writing classroom. Metaverse Creativity, 2(1) 57-76.
Hodgson, P. and Wong, D. (2011). Developing professional skills in journalism through blogs, Assessment & Evaluation in Higher Education, 36(2), 197- 211.
Conference Proceedings
Wong, D. and Lau, C. K.H. (2013). When events management meets ESP - Enhancing student learning experience through multidisciplinary projects, China Tourism Forum 2013, Hong Kong.
(2011). It's Just a Game?: A cross examination of teachers and students' perspectives on using Second Life for TESOL in higher education. E-Learn 2011, Hawaii.
Hodgson, P. and Wong, D. (2008). Motivation, engagement and quality of writing through blogs, International Conference on ICT in Teaching and Learning 2008, Hong Kong.
(2006) Learning and teaching English through the affective approach: A case study, 7th International Symposium on Applied Linguistics and Language Teaching, Hong Kong.
Workshops
Write, Share and Review Using Digital Tools, Writing Roundtable, 2015, The English Language Centre, The Hong Kong Polytechnic University.
Return of the Prodigal Son: Creative Writing Using Language Arts, TEFO Conference 2015 on Drama Education, Hong Kong.
Other Activities
2013-2015 City sans Drugs- Buddy and Mentorship Program for the Nepali Community in Yau Tsim Mong, Beat Drugs Fund