With 'Linguistic Excellence in Professional Contexts' as our mission, our research in the department focuses on applied linguistics, sociolinguistics and professional communication. Thematically, our research covers major areas such as health communication, political communication, digital media communication, advertising and (city) branding, language teaching and learning, as well as core areas in linguistics, including the study of language in society and discourse analysis.
Our Research Centres
Much of our research is conducted under the auspices of our two internationally-oriented research centres:
Research Centre for Advancement of Healthcare Communication (IRCAHC)
IRCAHC sits across two faculties (Humanities and Health and Social Science). It recognizes that the ability of people to understand and communicate information about health and care is fundamental to the provision of safe and high quality healthcare services. IRCAHC is actively involved in a range of teaching and research projects in Hong Kong and internationally that will improve healthcare for patients and clinicians. IRCAHC does this through a unique collaborative approach that brings together experts from the fields of linguistics, discourse analysis, social psychology of language and communication.
Research Centre for Professional Communication in English (RCPCE)
The mission of the RCPCE is to create and host on-line specialized corpora related to Hong Kong; to promote the applied research which underpins the professional communication focus of our undergraduate and postgraduate programmes; to provide an environment which attracts research students committed to pursuing applied research within the broad area of professional communication; and to provide forums for academics and practitioners with an interest in communication in professional settings to engage with each other and exchange ideas.
Highlight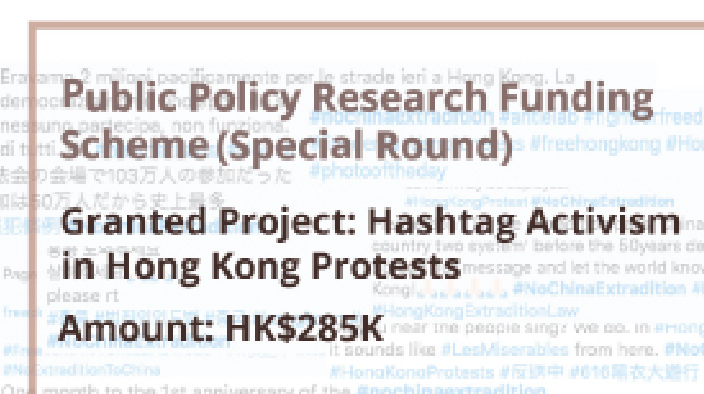 Hashtag Activism in Hong Kong Protests
Congrats to our Dr Aditi Bhatia and Dr Andrew Ross from University of Sydney for receiving the grant for this joint research!