Father of optometry blazing a trail in eye care
Professor George Woo
---
Doctor of Optometry, College of Optometry of Ontario, University of Waterloo, Canada (1964)

MSc and PhD in Physiological Optics, Indiana University, USA (MSc in 1968; PhD in 1970)

Founding Head and Professor of the Department of Diagnostic Sciences, Hong Kong Polytechnic (1987 – 1990)

Chair Professor of Optometry and Dean of the Faculty of Health and Social Sciences, PolyU (1997 – 2004, 2008 – 2011)

Doctor of Science, honoris causa, the University of Waterloo, Canada (2019)

Emeritus Professor and Senior Advisor of the School of Optometry, PolyU
---
Professor George Woo, the Emeritus Professor and Senior Advisor of PolyU's School of Optometry, is an acclaimed international scholar in vision science. In a career spanning more than five decades, he has made a significant contribution to raising the standards of optometric education and eye care.
For more than 40 years, PolyU has been the sole provider of the BSc (Hons) in Optometry in Hong Kong, and has nurtured over 1,000 professional optometrists who are registered in the 'Part 1' category - the highest level of registration under the Optometrists Board. Professor Woo is one of the key figures behind this success, and he is hailed as the father of optometry in Hong Kong for his contributions to the field.
Establishing the first optometry degree programme in Hong Kong
Raised in a family that ran an optical business in Hong Kong, Professor Woo had a long-standing enthusiasm for visual science. He travelled to Canada and the US to pursue undergraduate and postgraduate studies in optometry, advancing to hold a professorship in 1980 at his alma mater, the University of Waterloo in Canada.
"After attaining a professorship, I started to think about returning to my hometown," the 80-year-old said. He came back to Hong Kong in 1987 while he was on unpaid leave. "I hoped to further the development of optometry in Hong Kong from prescriptions for glasses to eye examinations and eye health."
To achieve his goals, he joined the then Hong Kong Polytechnic as the founding Head and Professor of the Department of Diagnostic Sciences, a position he held until 1990. At that time, the Department was a leader in optometric education, offering higher certificate and professional diploma courses for the industry. Professor Woo went on to establish the first degree programme in optometry in Hong Kong.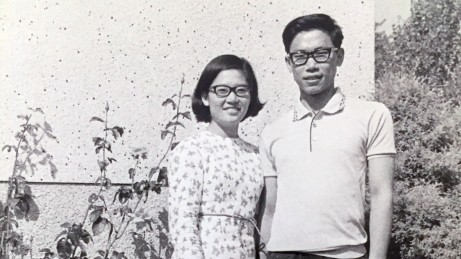 Leveraging his experience and connections from universities, government and the industry, he realised his ambition in around two years. Not only did the programme successfully launch in 1990, he also secured PolyU's first medical grant from the Research Grants Council for myopia control research. Such grants have since inspired many outstanding scholars at the School of Optometry to advance in the field.
"During those two years in Hong Kong, I also wrote 55 letters to editors of local newspapers to express my views on medical development, in a bid to raise awareness about primary eye care," he said.
An advocate for excellence in clinical practice
In the years that followed, Professor Woo took on other key positions at PolyU, including becoming Chair Professor of Optometry, and Dean of the Faculty of Health and Social Sciences.
He set out a three-stage vision for healthcare professional development, starting with education, then progressing to research, and finally clinical practice. After establishing well-developed programmes and leading research at the School, he moved on to advocate for excellence in clinical practice.
"Optometry is not only about prescribing glasses, but also caring for eye health through the early detection of eye diseases," he said. "Many people in Hong Kong are not aware of the professionalism of optometrists, but the industry can raise their awareness by enhancing service standards."
He believed that educating students to follow the best practices was crucial to raising this awareness. In addition to teaching ethics, he also set high standards at PolyU's Optometry Clinic, where students gain clinical experience serving the public. "The Clinic provides a wide range of eye care services, such as glaucoma investigation and vision rehabilitation services, where our students learn about the responsibilities of professional optometrists," he explained. He added that the profession is highly recognised in many countries, such as Australia and Canada.
To recognise his distinguished accomplishments in optometry, his alma mater, the University of Waterloo, presented him with an honorary Doctor of Science degree, in 2019.
Hopes for PolyU and life
While the Faculty of Health and Social Sciences has enjoyed increasing recognition, Professor Woo would like to see PolyU set up a medical school in the future, building on the Faculty's expertise in optometry, nursing, rehabilitation sciences and biomedical sciences.
Despite retiring 10 years ago, the 80-year-old still continues to give back to the community. Last year, he received the Hong Kong Humanity Award 2020 for his 18 years of voluntary service at The Samaritans. While volunteering, he considered himself the beneficiary who could "listen to people's pain and feel the pulse of society".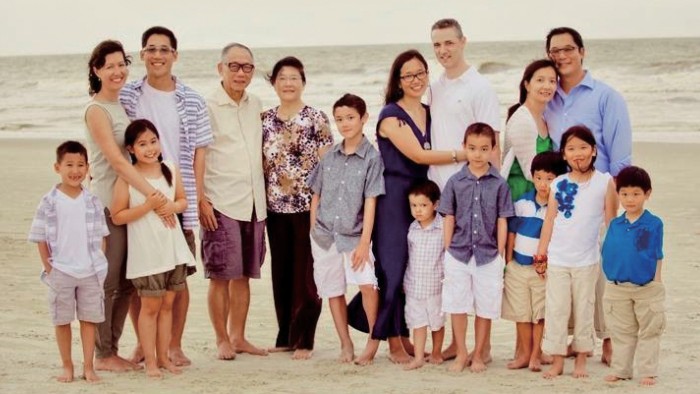 Professor Woo's happy family
Professor Woo swims and plays golf to stay healthy and energetic. He is also a football fanatic who enjoys watching local matches.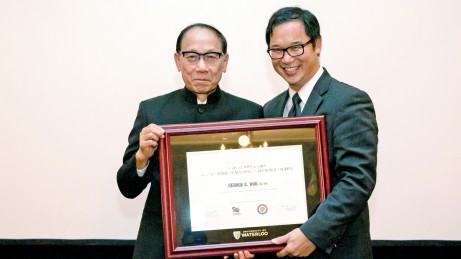 He is proud that his son has followed in his footsteps and is now Director of the School of Optometry and Vision Science and Associate Dean of the Faculty of Science at his alma mater in Canada. "Together, we will help people see," he said, reflecting the cross-generational passion for optometry between him and his son.