Advancing OLED technologies for an energy-efficient future
Energy is crucial to modern society, making energy generation and saving a significant challenge for the world. As illumination consumes large amounts of electricity, researchers are exploring alternatives to conventional liquid-crystal display and fluorescent tube lighting for eco-friendly and energy-saving applications.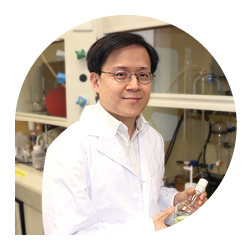 Professor Raymond Wong Wai-yeung, Dean of Faculty of Applied Science and Textiles and Clarea Au Professor in Energy at PolyU, is collaborating with Professor Wang Lixiang, from the Changchun Institute of Applied Chemistry (CIAC) at the Chinese Academy of Sciences (CAS), to carry out research on developing environmentally-friendly light sources that consume little power. Their CAS-Croucher Funding Scheme for Joint Laboratories project, "Efficient, Stable Blue and White Solution-Processed Organic Light-Emitting Devices (s-OLEDs): Material and Device Studies", recently received funding of HK$3 million from the Croucher Foundation to develop advanced OLED technologies.
OLEDs are gaining momentum with breakthroughs in material and device performances. However, Professor Wong said: "There are still many problems which hinder commercialisation of the products, such as scarcity of efficient and stable blue emitter, material instability, low power efficiency, short lifetime, performance uncertainty and insufficient device encapsulation."
The new project will tackle these problems by focusing on both fundamental and applied research with an interdisciplinary approach to the molecular design, material syntheses and characterisation, as well as device fabrication and characterisation of blue and white s-OLEDs. The researchers will develop novel classes of solution-processable, highly efficient and stable organic blue light-emitting materials for such applications.
PolyU and CIAC aim to establish a joint laboratory for the large-scale production of organic optoelectronic materials for blue and white s-OLEDs, creating advanced materials and related technologies that can lead to new commercial products.
"The project serves as a high-level platform for both academic research and technology incubation," Professor Wong said. "It will pave the way for more commercial s-OLEDs that can meet the world's energy demand with less environmental impact."