Modernising the library to inspire creativity and collaboration
The University Library of PolyU, officially known as Pao Yue-kong Library, has provided students with millions of books and journals for more than 45 years. But in the eyes of Dr Shirley Chiu-Wing Wong, the University Librarian, it does much more than that.
"The library should be a learning hub with a wide variety of information and facilities, inspiring our students and scholars to acquire, create and share knowledge," she spoke of her vision.
Introducing student-first initiatives
During nearly a decade of leadership, Dr Wong has introduced a series of initiatives to facilitate a better learning experience in the library for our students.
The six-storey building now not only accommodates rich learning and teaching resources, but also includes spacious quiet zones for studying and creative collaboration zones for group work. One of the students' favourite areas is the i-Space, where they can delve into emerging technologies, ranging from virtual reality and 3D scanning and printing, to laser cutting and vinyl cutting. PolyU is the first university in Hong Kong equipped with such makerspace in its library.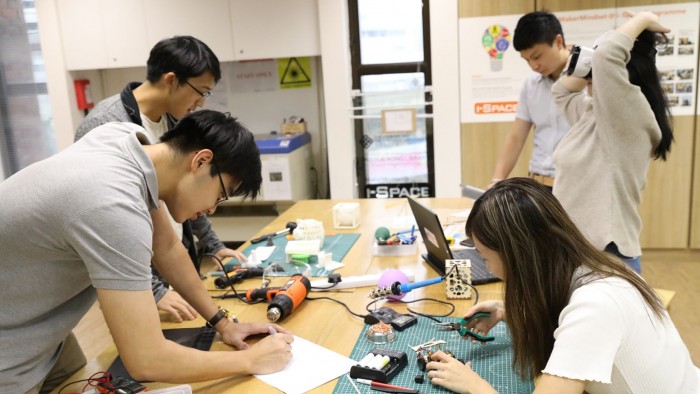 PolyU students crafting their works at the i-Space, a digital makerspace for them to explore emerging technologies
"Not all students can afford their own tools, so we hope to give them access to adequate equipment to support their studies and research," Dr Wong explained.
The Library has also established the "Outstanding Work by Students" portal to build up students' pride by exhibiting their excellent work online. During exam periods, Dr Wong sets up a 'Wall of Wishes' on the Library's podium floor so that students could cheer each other up with inspiring messages.
Connecting academics and students to the world
Dr Wong and her team's work is pivotal to research, teaching and learning activities. For example, they have created the PolyU Institutional Research Archive, an open access repository to showcase the University's research outputs to the public. "We took pride in setting up this archive, seeing it as a scholarly gateway to help share the work of our academics and research students with the world," she said.
An inspiring vision for the Library's development
The University Library is currently undergoing an extension and revitalisation project. Scheduled for completion by the end of 2023, it includes constructing an additional 2,080 m2 of floor space, and revitalising 14,600 m2 of existing floor space. It will include new space for collaborative learning, information technology workstation areas, and a 24-hour learning centre, as well as areas for presentation forums and showcasing students' work.
"Our library will be transformed into a modern learning hub. It will not only be a place for students to gain knowledge, but also a stage where they present their creations and build up confidence," Dr Wong envisaged.