Engineering a sustainable future for Hong Kong
Ir Eric Ma Siu-cheung
---
Diploma in Structural Engineering, Hong Kong Polytechnic (1982)

Higher Diploma in Structural Engineering, Hong Kong Polytechnic (1984)

Bachelor of Science in Engineering (Civil), The University of Hong Kong (1986)

Master of Engineering in Transportation Planning, Monash University, Australia (1994)

Former Secretary for Development, Development Bureau, HKSAR Government

Executive Director and Chief Executive Officer, NWS Holdings Ltd
---
Ir Eric Ma Siu-cheung, Executive Director and Chief Executive Officer of NWS Holdings Ltd, often stared out of the classroom window when he was studying in secondary school. "I was fascinated by the construction site next to my school and wanted to know how the skyscraper was being built," he said. This curiosity about construction gradually developed into a passion that led to a career in engineering.
Ir Ma studied structural and civil engineering, first at the then Hong Kong Polytechnic and later in universities in Hong Kong and Australia. Starting his career as an engineer, he went on to become a senior business executive at multinational engineering consulting firms, before serving the Development Bureau of the HKSAR Government. Since 2018, Ir Ma has worked at NWS Holdings Ltd, a conglomerate with businesses spanning roads, aviation, construction, insurance, environment, logistics and facilities management. He was appointed Chief Executive Officer of NWS Holdings Ltd in 2019.
Looking back over his career, Ir Ma attributes his success to the willingness to step outside his comfort zone. "It is imperative to be open-minded and always be ready to acquire new knowledge and skills, and to embrace challenges," he said.
Serving society with expertise
During the early years of his career, Ir Ma took on a wide range of large-scale, multidisciplinary infrastructure projects in Hong Kong and abroad including the new town developments in Hong Kong, the Hong Kong International Airport Terminal 2 Expansion and the High Speed Rail's Hong Kong West Kowloon Station.
Ir Ma built up leadership skills, as well as expertise in town planning, building design, land use and transportation. He also gained insights into the related government policies, giving rise to an unexpected opportunity to change the direction of his career.
"At a dinner party, I was sitting next to Mr Paul Chan, the then Secretary for Development," Ir Ma recalled. "He asked if I would like to serve Hong Kong with my expertise in land development." Ir Ma took up the challenge without hesitation. From 2014 to 2017, he served as the Under Secretary for Development of the HKSAR Government, followed by a stint as the Secretary for Development in 2017.
Apart from addressing Hong Kong's supply-demand imbalance for land and housing, Ir Ma was also keen on promoting the use of technology to advance the construction industry. He supported the adoption of Modular Integrated Construction (MiC) technology in Hong Kong when he was the Secretary for Development. "MiC helps overcome many problems in the construction industry, such as labour shortage and inefficiency," Ir Ma explained. "With the use of Building Information Modelling and MiC, productivity is greatly enhanced."
Giving back to his alma mater
Ir Ma remembers having many good teachers who taught with passion when he was at Hong Kong Polytechnic. "Studying at Hong Kong Polytechnic, a place which encouraged self-learning, was a turning point for me," Ir Ma said. "I came to realise that Structural Engineering was the subject I loved and my attitude to learning underwent a big change." He graduated with flying colours.
Despite his busy schedule, Ir Ma maintains close ties with PolyU. In 2017, he was honoured with the Outstanding PolyU Alumni Award in recognition of his distinguished achievements and contributions to society.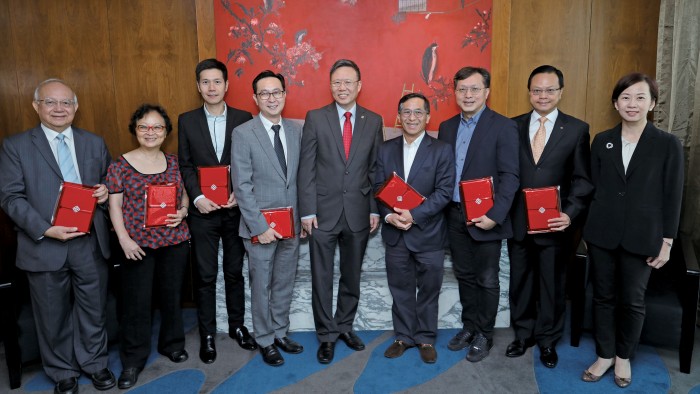 Ir Ma (fourth from left), President of the Outstanding PolyU Alumni Association (OPAA), and a few OPAA Directors meet with President Jin-Guang Teng (centre) and Executive Vice President Dr Miranda Lou (right).
Over the years, Ir Ma has actively participated in PolyU's alumni activities and taken up important roles at the University. He became President of the Outstanding PolyU Alumni Association (OPAA) in 2018. "Under the OPAA UNITE initiative, we leverage the University's vibrant alumni community to engage more outstanding alumni to support PolyU's development through their expertise, networks and resources." He added that many alumni serve as mentors and share their experience with students, while others participate in projects related to technology advancement, knowledge transfer and commercialisation.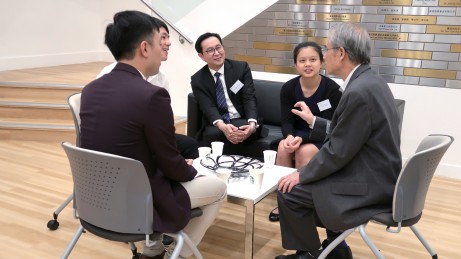 In addition to being a student mentor, Ir Ma is also an Adjunct Professor at the Department of Civil and Environmental Engineering. He advises students to develop soft skills which are crucial to their career development. He said: "It is also important that students get to know more about the society they live in and seek ways to improve the wellbeing of the public with what they learn at university."
Since joining the Governing Committee of the PolyU Foundation in 2019, Ir Ma has dedicated time and effort to securing funding resources for the University, as well as offering valuable advice to senior management on institutional advancement.