Design to improve life
Ms Emily Tang
---
BA (Hons) in Design (Industrial & Product) (2015)

Recipient of James Dyson Award - International Top 20 & Winner in Hong Kong (2015)

Recipient of CreateSmart Young Design Talent Special Award (2015)

Recipient of the fifth Spirit of Hong Kong Awards - Innovating for Good Award (2017)

Co-founder of Studio Doozy
---
Still in her 20s, Emily Tang is already the co-founder of her start-up Studio Doozy, which specialises in products and consultancy on healthcare. "Having grown up with my grandparents, I always want to design something to enhance their living, so I have focused my designs in healthcare products since studying at PolyU," the graduate of the School of Design said.
Now she is a step closer to her dream, presenting an inclusive toilet design called "Doozy Violet", which has drawn attention with its clever blend of functionality and modernity. The stylish toilet comprises three configurations, including Basic, Handles and Transfer Bench, to address the varying needs of people with physical impairments and their families.
"The professor of the School once shared that the success of a product does not only rely on an attractive look, but it should also consider users' experience, so that it can ultimately improve their lives," she explained, adding that it became one of her principles of design.
Success met with failures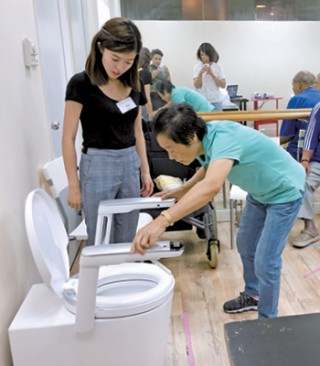 Her first attempt to design an inclusive toilet dates back to 2015, when she was working on her final year project. Emily's grandpa was diagnosed with Parkinson's disease back then. He was often reluctant to receive help in the bathroom despite having difficulty in movement. This was the inspiration for Emily to design an inclusive toilet called "Libue" for her project.
Libue featured a saddle-shaped seat, so that patients of Parkinson's disease can directly sit on the seat without turning around. Emily explained it could help reduce the risk of falling down.
The design was successful at first, winning awards like the James Dyson Award 2015. But after receiving feedback from the elderly, Emily discovered that it was not user-friendly enough. The users responded that the toilet seat was inconvenient to use, and more importantly, they felt labelled by using a seat that looked so different from others.
"It was a heartbreaking blow, but I realised that my product could hardly succeed if I cannot empathise with the users," the 27-year-old said.
Learn from the world
To gain insights into product development, Emily is always keen to learn from other parts of the world. During her university years, she joined a summer internship in the US, where she helped design a transparent medical mask. In 2015, she won the CreateSmart Young Design Talent Special Award with her healthcare product designs including Libue. Supported by the government and PolyU's School of Design, the Award offered financial sponsorship for her to work overseas for a year. She then travelled to Barcelona and secured a job as the first non-local designer at the headquarters of Roca, a Spanish company that produces advanced bathroom products.
"The experience was inspiring and eye-opening, especially since I could work with different professionals like engineers throughout the product development process, from ideation and prototyping to manufacturing," she said.
Design for an "ageing-friendly" society
In late 2017, Emily decided to set up Studio Doozy with a partner, aiming to improve people's lives with their products. "We are glad to have received support from the PolyU Micro Fund. It helped accelerate our prototyping process and provided us with excellent mentors, who are familiar with the start-up environment and gave us constructive feedback," she said.
As a fresh entrepreneur, she had to overcome challenges in promotion and pitching to investors. She said that the business operation skills learnt from the School of Design were eventually put into practice. "There was a programme called Design Direct, which helped us to design and realise our products. We also pitched our concepts to external parties, created promotional videos and developed product websites. These skills are now very useful," she laughed.
Now her studio has expanded from a team of two to eight, including four interns this summer. With a stronger team, Emily has also set up a number of goals. On the one hand, she keeps refining the design of Doozy Violet toilet and aims to put it into production in future. On the other hand, she is developing other products – sometimes in collaboration with other organisations – to facilitate healthy living.
Her recent consultancy works include a more affordable medical imaging device called "Gense Imaging", and the "Go Active" platform that promotes events for the elderly. "My ultimate goal is to launch a series of inclusive products for an ageing-friendly society," she revealed. "A smart home in future should be inclusive in its design, allowing people to age with joy and dignity."
Empathise with the needy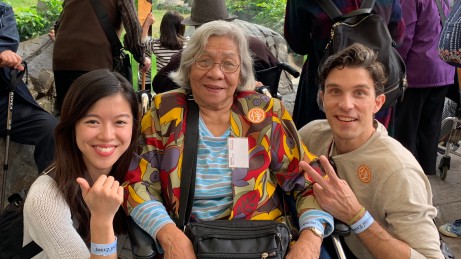 Emily is always wearing a smile, constantly spreading joy to her team and even the needy. She volunteers for a sailing organisation for intellectually disabled children every Saturday, and pays a monthly visit to elderly people who live alone.
Even with a packed schedule from weekdays to weekends, she does not see it as a burden but rather a way to empathise with the needy. This helps her to design better products to suit their needs. "The voluntary work also enriches my life as I can learn from different people's life experience," she smiled gently.