PolyU hosts symposium on learning and teaching in times of crisis
PolyU was proud to host the Excellent Teachers on Teaching Excellence Symposium 2021 to share insights on pedagogy and exchange experiences of best practices. In the face of the COVID-19 pandemic, the theme of the symposium was "Turning Challenges into Opportunities for Learning and Teaching in Times of Crisis". More than 400 academics and students from Hong Kong, Macau, Singapore, Germany, USA and other parts of the world participated in the event.
In his opening speech, Professor Jin-Guang Teng, President of PolyU, highlighted how the COVID-19 pandemic had changed the higher education landscape. He said: "In the new normal, a hybrid mode of teaching and learning activities could be employed for the internationalisation of classes. Local students could attend a class in person, interacting with non-local students from afar via online channels, fostering a beneficial exchange of perspectives between students from different backgrounds. The experience of online teaching will have an enduring effect, and real-time online teaching will become an important component of university education after the pandemic."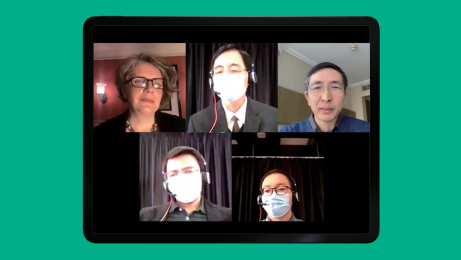 The Symposium consisted of four plenaries and four corresponding discussions in which a number of esteemed experts from local and overseas universities shared their insights. Topics included what the new normal would be in higher education, how to conduct assessments during the pandemic, how to ensure the desired learning outcomes are achieved through online courses, and different approaches for carrying out practical sessions.
Guest speakers included Professor Mary Wright, Associate Provost of Teaching and Learning at Brown University, USA; Professor David Carless from The University of Hong Kong; Professor Alexander Taffe from the University of Applied Sciences Berlin, Germany; and Professor Irwin King from The Chinese University of Hong Kong.
The outbreak of the pandemic has accelerated PolyU's adoption of technology and new approaches to teaching and learning. To help teachers and students adapt to the new pedagogy, the University has offered a range of support, including services such as live eLearning Clinics, a WhatsApp enquiry service, online webinars, and a new website with ample resources on online learning, teaching and alternative assessment. Through these services and a number of other initiatives, PolyU has explored the new modality for learning and teaching online. At the Symposium, PolyU academics and students, among others, shared their experiences of adapting to this new mode of education.
PolyU's Educational Development Centre has organised Excellent Teachers on Teaching Excellence Symposiums since 2009. It is a major platform to celebrate good teaching, and share insights on higher education and teaching philosophies from academic faculty including the recipients of the President's Awards for Outstanding Achievement in Teaching.