PolyU academic-led start-ups and researchers win six awards at 2021 Inventions Geneva Evaluation Days
PolyU's scholars are committed to translating research outcomes into viable solutions that have a real-world impact. The University also offers significant support to foster entrepreneurship among academics and students to advance social and economic developments.
At the Special Edition 2021 Inventions Geneva Evaluation Days – Virtual Event held in March, PolyU scholars won three Gold Medals and three Silver Medals for their inventions in the fields of healthcare, environmental monitoring, smart cities and automotive safety. Two of these winning innovations have already been commercialised through PolyU-supported start-ups led by the University's researchers. The recognition PolyU achieved is not only a testament to the University's research excellence, but also demonstrates the strength of PolyU scholars in transforming research breakthroughs into real-world solutions.
Awards won by PolyU academic-led start-ups
CareCoatexTM: A Biomaterial-based Core-Shell Particles for Safe and Effective Antibacterial and Antiviral Applications
Principal Investigator: Professor Pauline Li Pei | Department of Applied Biology and Chemical Technology | Co-founder of Grand Rise Technology Limited (a PolyU academic-led start-up)
Gold Medal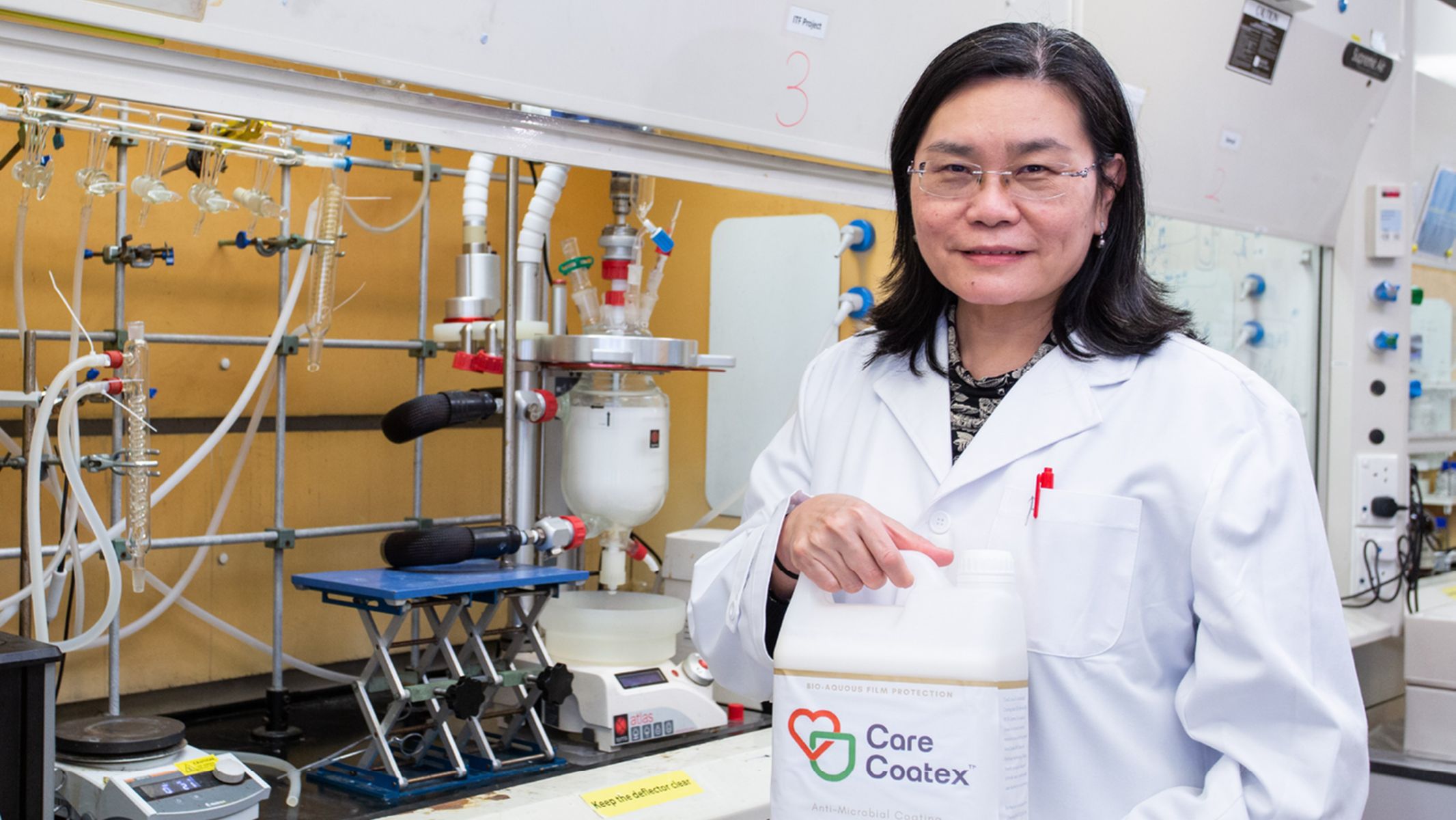 The research team has developed a biocompatible, non-toxic and eco-friendly antibacterial and antiviral coating, which has been commercialised under the brand name CareCoatexTM. It provides both contact killing and time-release killing for up to six months. With proven effectiveness for rapidly killing 99% of common bacteria and viruses, the coating is ideal for disinfection, contamination control and epidemic prevention. CareCoatex can be sprayed at room temperature and in normal conditions, making it easy to apply to various surfaces.
~~
Liverscan: Palm-sized Real-time B-mode Ultrasound Imaging Guided System for Liver Fibrosis Assessment
Principal Investigator: Ir Professor Zheng Yongping | Henry G. Leong Professor in Biomedical Engineering | Department of Biomedical Engineering | Founder of Eieling Technology Limited (a PolyU academic-led start-up)
Silver Medal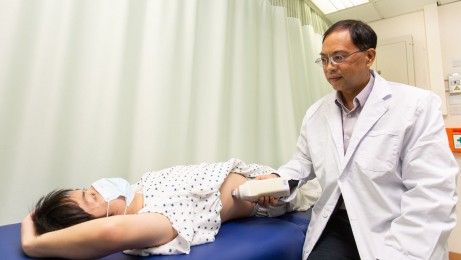 The Liverscan is a palm-sized portable tool for conveniently detecting and staging liver fibrosis, especially in the early stages of the disease, through taking non-invasive measurements of liver stiffness. It features a PolyU-patented technique which uses a real-time image guided process of transient elastography to enhance the accuracy of measurements. The system provides a safer, more effective and comprehensive diagnostic solution.
~~
Awards won by PolyU academics
Smart City Platform: A Comprehensive System for Spatial Data Infrastructure
Principal Investigator: Professor John Shi Wenzhong | Otto Poon Charitable Foundation Professor in Urban Informatics | Department of Land Surveying and Geo-Informatics
Gold Medal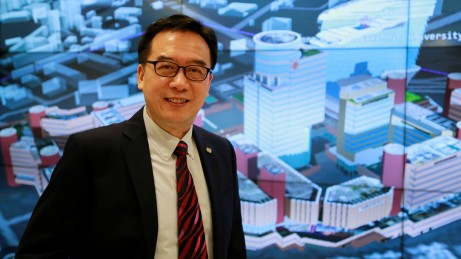 The Smart City platform incorporates a series of the latest patented technologies in 3D city modelling, AI-based urban object cognition, as well as spatial big data analytics and visualisation. The platform can be used to acquire and process massive urban spatial information, 3D LiDAR data, and multi-scale image data, to create high-precision smart city data infrastructure. By providing a range of urban sensing, urban computing, and urban analytics functions, the platform can be used to support a wide range of smart city applications, such as smart governmental policy-making, smart environmental management, smart transport optimisation, and smart citizen services.
~~
Smart Monitoring System for Urban Tree Management
Principal Investigator: Dr Charles Wong Man-sing | Department of Land Surveying and Geo-Informatics
Gold Medal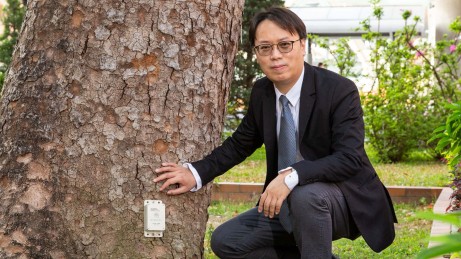 The system employs smart sensing technology to measure tree tilt and displacement. With AI algorithms and Spatial Big Data Analytics, it can evaluate the leaning trend of trees and potential risk factors correlated to tree failure. The system enables large-scale monitoring of tree stability, allowing timely and appropriate mitigation action to be taken. (Read more)
~~
A Smart All-electric Antilock Braking System
Principal Investigator: Professor Eric Cheng Ka-wai | Department of Electrical Engineering
Silver Medal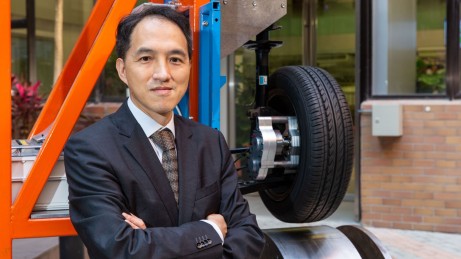 The research team has developed a smart all-electric Anti-lock Braking System (ABS). The system takes into account road conditions and calculates the maximum tire-road adhesion coefficient needed in order to control the angular wheel acceleration and generate an accurate braking torque through its electric control unit. Compared with conventional hydraulic ABS, this system provides more reliable, responsive and accurate braking torque control, effectively shortening both braking time and distance.
~~
Biomimicking Photocrosslinkable Nanocomposite Bone Graft
Principal Investigator: Dr Zhao Xin | Department of Biomedical Engineering
Silver Medal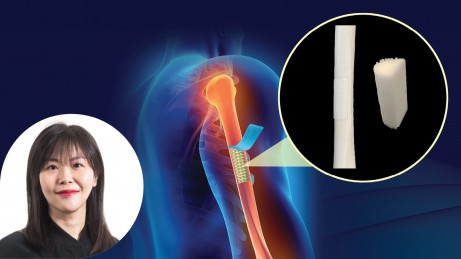 Under ultraviolet illumination at 36°C, this novel photocrosslinkable nanocomposite can be expeditiously fabricated into bone graft materials that resemble the natural bone structure. The material promotes bone regeneration and activates cell signaling pathways to facilitate osteogenesis and angiogenesis, both part of the healing process, simultaneously. It also provides optimal mechanical support to the injured area, accelerating recovery from bone injuries and fractures.
---
The International Exhibition of Inventions of Geneva is one of the most important annual events in the world devoted exclusively to inventions. This year's virtual event attracted around 600 exhibitors from more than 20 countries and regions.