PolyU scientist wins award for research to tackle water scarcity
Dr Wang Peng, Associate Professor at the Department of Civil and Environmental Engineering, has won a prestigious international award for his work on promoting sustainability in the solar-energy-water nexus. Dr Wang was awarded the Prince Sultan Bin Abdulaziz International Prize for Water in the category of Alternative Water Resources. The award ceremony took place online on 22 March 2021, which was also World Water Day. President of the United Nations (UN) General Assembly Mr Volkan Bozkir and UN Secretary-General Mr António Guterres both addressed the award ceremony.
Before joining PolyU in 2019, Dr Wang spent 10 years conducting research in the Middle East. "The region's rich solar energy and lack of natural fresh water resources inspired me to focus my research on solar energy and water resources," he said. Dr Wang explained that a key theme of his work was using solar energy to produce freshwater from unconventional sources, while using accessible water to enhance the efficiency of solar electricity generation.
Harnessing solar energy to harvest water and vice versa
The award recognised Dr Wang's work in three key areas. The first area involved the development of an integrated solar photovoltaic (PV) panel-membrane distillation device to turn the waste heat generated by PV panels into an energy source to power water desalination. The device, which can be attached to the underside of a commercial solar cell, is capable of simultaneously cooling the PV, producing fresh water, and generating solar electricity. This represents a new paradigm of decentralised green energy and water production. Dr Wang is passionate about promoting this technology so it can contribute towards achieving the UN's Sustainable Development Goals (SDGs), especially the 6th and 7th SDGs which cover clean water as well as affordable and clean energy, by 2030.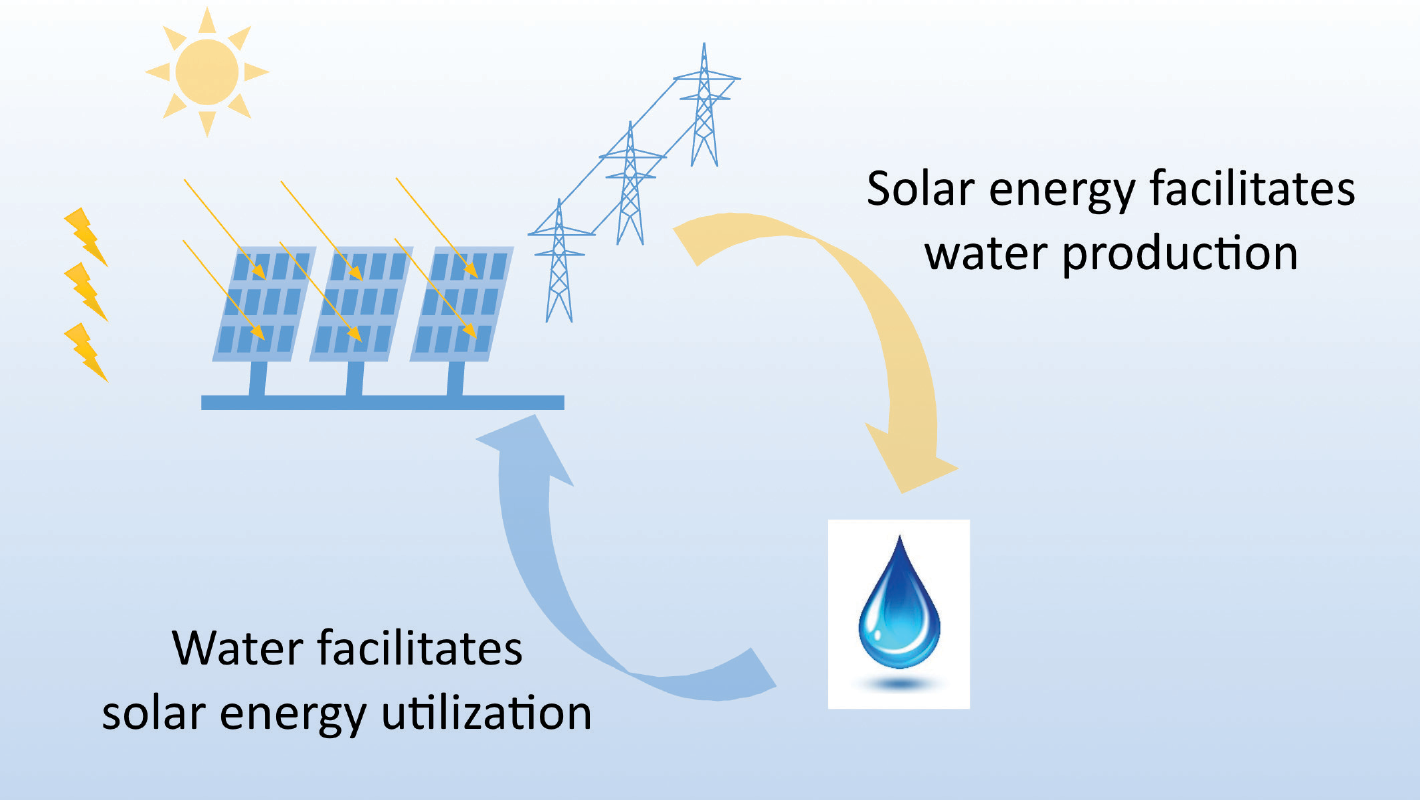 Dr Wang's research on using solar energy to produce water, and vice versa, contributes to water sustainability.
The second area of Dr Wang's research focused on enabling energy-efficient and continuous salt crystallisation from waste brine generated by seawater desalination. The ultimate aim is to achieve zero-liquid discharge seawater desalination. "The salt crystalliser we developed produces solid salt as the only byproduct and uses sunlight as the only energy source," Dr Wang explained. "The valorisation of the produced salt is our next target."
The third area of research has included harvesting atmospheric water vapour to produce drinking water for point-of-use consumption, as well as using atmospheric water vapour sorption-desorption to cool PV panels and buildings. "The total amount of water in the air is six times greater than all river water on Earth. This makes the atmospheric water an alternative and attractive fresh water source and a giant energy source," Dr Wang said.
"There are substantial difficulties when turning these concepts into real-life usage to produce impact. However, I am glad that there is a very strong team spirit at PolyU which also offers many initiatives for the transformation of research outcomes into impactful applications," he said.