Transforming with technology - How a technology leader sees changes in the post-pandemic world
Mr Horace Chow Chok-kee
---
Diploma in Computing Studies, Hong Kong Polytechnic (1985)
Bachelor of Science in Computer Science, University of Portsmouth, the UK (1989)
Chief Operating Officer, Microsoft China
Recipient of Distinguished Alumni Award, Department of Computing, PolyU (2014)
Chairman, Departmental Advisory Committee, Department of Computing, PolyU (2015 - 2020)
---
From an anxious student who did not know how to log on to a computer, to a veteran of a tech giant, Mr Horace Chow Chok-kee, Chief Operating Officer of Microsoft China, has undergone a dramatic transformation since he first joined Hong Kong Polytechnic (a predecessor of PolyU) more than 30 years ago.
For decades, technology has not only shaped Horace, but it has also revolutionised enterprises and changed the daily lives of people across the world. Today, Horace helps his clients get to grips with these changes, guiding them through their digital transformation journeys, and acting as a bridge between technology and ordinary people.
From novice to expert
Before entering the Polytechnic in the 1980s, Horace did not know anything about computers. "My elder brothers filled out the application form for me, choosing mechanical engineering programmes. I was disobedient. I crossed out their choices and ticked computing studies instead - a subject I knew nothing about," he remembers. "In the admission test, I was only able to answer questions on language and mathematics, and I left all those relating to computers empty," he says. Surprisingly, Horace's application was successful.
While his classmates appeared knowledgeable about computers, Horace outshone many of them with his excellent communication and coordination skills. In his second year of the computing studies programme, he managed to master programming skills, gradually developing his interest in the information technology (IT) field.
"I feel so blessed to have entered the Polytechnic," Horace says. "I am always fascinated by PolyU's signature red brick architecture and beautiful library. It is a landmark in the city. I like the campus which is open and cosy."
Horace's curiosity to experience life outside of Hong Kong motivated him to pursue further studies in the UK after graduating from the diploma programme. A few years later, he obtained his bachelor's degree from the University of Portsmouth.
His ability to take on any challenge, anywhere has enabled him to develop a global perspective. Over the past 20 years, he has worked in a number of different countries, such as Japan, Korea, Australia, Singapore, Thailand, the Philippines and India, to name a few. In 2017, his global exposure was further increased when he was appointed Chief Operating Officer of Microsoft China. Since then, he has been based in Beijing, playing a pivotal role in guiding customers and partners in Mainland China through their digital transformation journeys.
Transformation in enterprises
Horace's experience of different countries has left him well adapted to operating in diverse cultures and unexpected working environment. He thinks the COVID-19 pandemic has illustrated the importance of adaptability to everyone. "The pandemic changed the way we work and accelerated digital transformation," Horace says. "For instance, when commuting was considered risky and remote working practices became the 'new normal', most of us relied on videoconferencing technologies."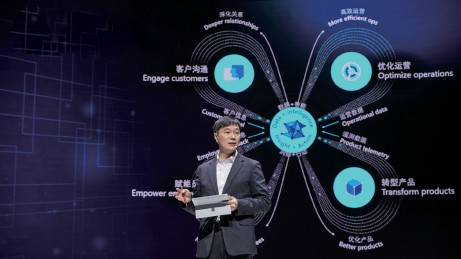 As an advocate of technology, Horace expects remote working arrangements, supported by technology, to remain even once the pandemic has subsided. "Nowadays, nobody can say they do not need technology. Technology is everywhere. Companies see the benefits. The use of technology facilitates innovation, saves time, minimises business travel, and significantly reduces costs. Digital transformation has become a trend in every industry," Horace explains.
In the post-pandemic era, he expects the workplace transformation to continue. "While employers may not meet their staff in person, they will need lots of trust. We will also need to have more one-to-one quality communications with each other, offering a personal touch to complement the remote working model that keeps people apart," he says.
Horace believes being open-minded, having an appreciative attitude and being collaborative are all key attributes to successfully coping with changing working practices.
Technology transforms the world
With digital transformation spanning across every industry and profession, IT professionals play a key role in bridging the gaps between technology and ordinary people. Horace actively encourages IT students to take on this role in the tech-driven world. In 2015, when he was the General Manager of Microsoft Hong Kong, he contributed to his alma mater by setting up the PolyU-Microsoft Smart Computing Laboratory, which provides students with opportunities to integrate their knowledge into practical work. He is also the former Chairman of the Departmental Advisory Committee of the Department of Computing (COMP). His outstanding achievements in career and significant contributions to PolyU were recognised with a COMP Distinguished Alumni Award in 2014.
When asked what advice he would give to young graduates, Horace says: "Think global. Know more about what is happening in the world. Be open. Be appreciative. Seek diversified knowledge in areas other than just your own profession. Put your trust in teamwork. When your team shines, so do you."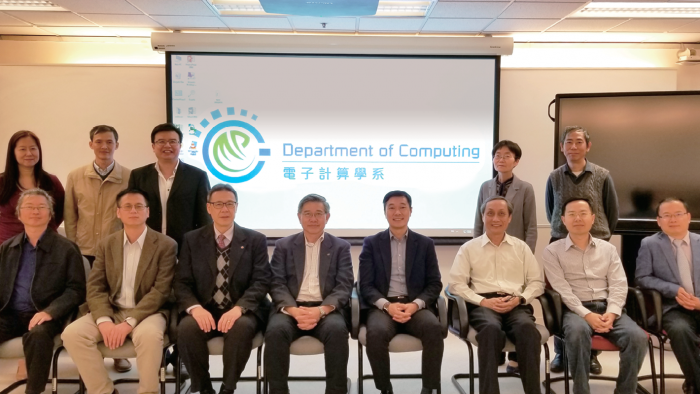 Horace (front row, fourth from right), a recipient of COMP Distinguished Alumni Award, often visits PolyU and contributes to the University with his expertise.