A conversation with Chairman of the University Court Dr Katherine Ngan — Dedicated to expanding PolyU's reach and impact
Dr Katherine Ngan Ng Yu-ying is a distinguished entrepreneur and President of May Cheong Group. She is also a strong supporter of PolyU, serving as the Chairman of the University Court since January 2020 and Chairman of the PolyU Foundation since 2018. Over the years, Dr Ngan had served in several different positions, including Council Member of PolyU, Director of the Hotel ICON Board, and Chairman of the Organising Committees of Fundraising Dinners of the University. Her outstanding achievements and contributions have seen her win a string of honours, such as the Hong Kong Young Industrialist Award, and an Honorary Doctorate of Business Administration from PolyU.
---
For more than 20 years, you have been an ardent supporter of PolyU. What has impressed you most about the University over the years?
The University's steadfast commitment to producing research and innovation that makes a positive contribution to society has always impressed me the most. An inspiring example of this is the way in which PolyU leveraged its research and scientific expertise to help the community combat the pandemic. This included developing the world's most comprehensive fully automated diagnostic system that can detect up to 40 infectious respiratory pathogens, including COVID-19, in one test within an hour. In addition it used 3D printing technology to design and produce face fields for local medical professionals.
Over the years, I have also been impressed by the new facilities at the University that offer students an interactive and dynamic learning environment. For instance, PolyU's Innovation Tower has become a landmark in Hong Kong and provides a creative and interdisciplinary setting in which PolyU's design students can thrive. Hotel ICON, the University's unique teaching and research hotel, is equipped with state-of-the-art facilities and gives students a valuable learning experience in a real-life hospitality environment. It is also one of the reasons why PolyU's School of Hotel and Tourism Management is ranked among the top in the world.
As Chairman of the University Court, can you explain how the Court helps with the University's development?
The Court advises the University on matters of broad policy and direction, as well as enhancing its profile. Its members are elites from different sectors. They can provide counsel, share their experiences, and broaden the University's network in order to enhance its development. They are also keen to give advice and help connect PolyU scholars with companies, so that their inventions or research output can be commercialised for the benefit of society. To move with the times, we can also invite leaders from emerging fields, such as biotech and fintech, to join the University Court.
You became the Deputy Chairman of the PolyU Foundation in 2014 and were made Chairman in 2018. How have you helped to promote public recognition and support for the University in those roles?
PolyU has gained global recognition for its quality education and research, and it has developed close ties with business and industry. The University has nurtured professionals who are highly sought-after talent in society, such as occupational therapists, physiotherapists, optometrists, nurses, and product designers, all of whom have the capacity to contribute to the betterment of the community. I have advocated for the skillsets and competence of the University's graduates to different sectors, to help them understand how PolyU's talent can meet their evolving needs.
The PolyU Foundation also plays a match-making role, helping the University source funding for specific research projects. Potential donors can visit the disciplines for which the University is famous, and see for themselves the many impactful projects that can benefit different target groups. Over the years, the Foundation has facilitated contributions from benefactors who are keen to support PolyU's development in different aspects, such as enhancing its facilities, promoting academic and research initiatives, as well as establishing specialist centres. We are so grateful to our supporters.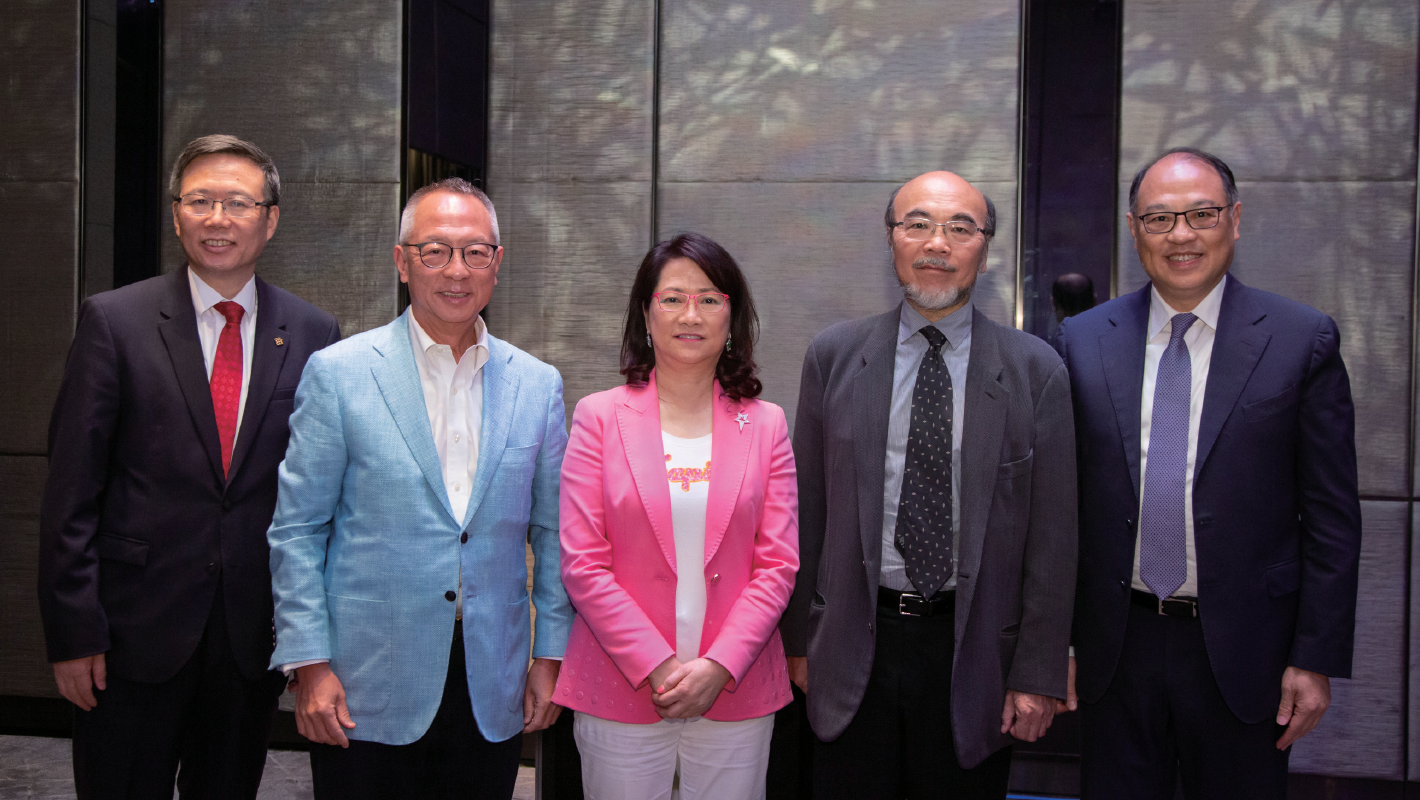 Dr Ngan (centre), and (from right) PolyU Council Chairman Dr Lam Tai-fai, Honorary Court Chairmen Dr the Hon. Victor Lo and Dr Roy Chung, and President Jin-Guang Teng
How do you think PolyU can assist with Hong Kong's re-industrialisation drive?
Hong Kong has entered the industrialisation 4.0 era in which new game-changing industries and technologies are becoming prominent. Due to the pandemic, people's lifestyles and the business environment have also been transformed with remote working and digitisation becoming the new norm. PolyU should step up its research in emerging technologies which are changing our world, such as artificial intelligence, new materials, automation, and bio-medical technology.
How can young people develop an innovative mindset and an entrepreneurial spirit?
By setting goals for themselves. By daring to try, not being afraid of failure, and having a forward-thinking mindset. I also believe that students should visit enterprises more. Whether it is a small or large enterprise, there will be crucial lessons students can learn from it, such as the reasons for its success or mere survival. Students should put their heart into whatever endeavour interests them, as passion is a key ingredient of success.
In addition to professional expertise, what personal attributes should be nurtured among university students?
The ability to get along, communicate with others and work in a team is incredibly important. Students should also have an open mind and seek to expand their personal network. I like making friends with people of different ages and backgrounds. To me, having exchanges with diverse people expands my horizons and gives me the opportunity to engage in lifelong learning. It is also important to have an international outlook, and to stay positive. Successful entrepreneurs are not easily deterred by setbacks.
May Cheong Group has more than 10,000 staff worldwide, what is the secret of your success? What is your motto?
My motto is "Keep challenging yourself, and never give up." In running my business, I am also people-oriented. By people, I mean both staff and customers. Many of my clients have worked with me for decades because we have established mutually beneficial relationships. I am still passionate about learning and taking on new challenges. Opportunities abound in today's world, but you have to seize them quickly, otherwise they will be gone.